12 Underrated Sitcoms That You Should Check Out
In this era of so-called peak TV, television networks, cable channels, and streaming services continue to disgorge a head-spinning array of content on a seemingly daily basis. Watching all this content is simply a physical impossibility for one person. Given the sheer volume of television shows competing for viewers' attention, it's not surprising that a select few shows will inevitably rise to the top while others face the cruel axe of cancellation. 
Yet this has always been the case since not every TV series deserves to become a hit. However, there have also been many shows that were high-quality but never quite managed to find the audiences that they should have. 
This is particularly true when it comes to the situation comedy, which is a genre that dates back to the earliest days of television and has remained a staple with viewers. Some sitcoms, such as "Friends," "Seinfeld," and "The Office," have managed to become hugely popular during their original runs while also maintaining (and even increasing) that popularity years later by attracting new generations of fans. Yet those examples are few and far between. 
Far more common are the truly brilliant and utterly hilarious TV comedies that have fallen by the wayside, never hitting those levels of success, yet still remain well worth watching. Some sitcoms are highly underrated and worth checking out. 
Happy Endings
The superficial similarities between "Happy Endings" and "Friends" are impossible to ignore: Both shows involve six friends (three male, three female), and the pilot episode for both shows opens with a wedding in which the bride leaves the groom at the altar. In "Happy Endings," this leaves Dave (Zachary Knighton) devastated when fiancée Alex (Elisha Cuthbert) bails on their wedding. 
The ex-couple's friend group consists of A-type, overachieving spouses Brad (Damon Wayans, Jr.) and Jane (Eliza Coupe), who is also Alex's sister, immature slacker Max (Adam Pally), and love-starved Penny (Casey Wilson).
Beyond that, "Happy Endings" diverges into completely different territory than the Central Perk Six. The show featured razor-sharp writing, the considerable improv skills of the cast (particularly a standout performance from "Saturday Night" Live alum Wilson), and some of the best chemistry ever seen among an ensemble cast; however, it only managed to carve out a tiny but rabidly devoted fanbase. 
As Wilson writes in her memoir, you've either seen "Happy Endings" and have loved it or have simply never heard of it. So why did such a brilliantly funny show ultimately fail? Coupe complained to Complex that the publicity was inadequate and that even the marketing posters around town only featured a photo of a wedding cake.   
Party Down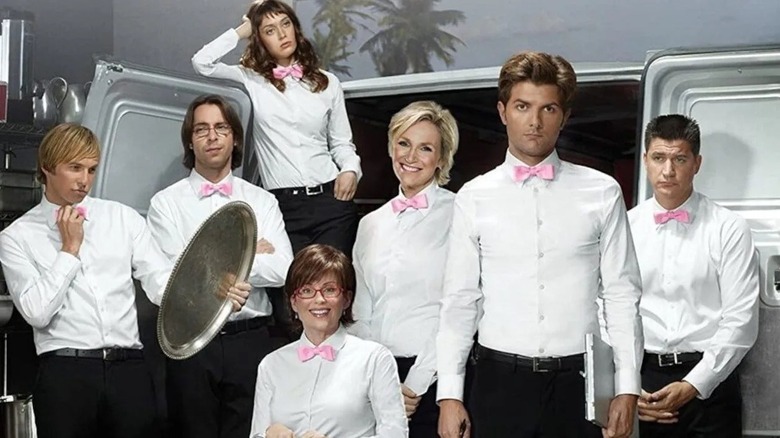 Starz
"Party Down" made its television debut in 2009 on Starz. The show is about a crew of hopeful Hollywood strivers working as cater waiters in Los Angeles until their big break arrives. Even though the show aired for just two seasons to a relatively small audience, the sitcom has grown to become something of a cult classic.
That's not surprising, given the combination of top-notch writing and an enviable comedy cast that comprised of "Veronica Mars" standout Ryan Hansen, "Will & Grace" alum Megan Mullally, Ken Marino of "Burning Love" fame, plus a pre-"2 Broke Girls" Lizzy Caplan, pre-"Glee" Jane Lynch, pre-"Parks and Recreation" Adam Scott, and pre-"Silicon Valley" Martin Starr, and a roster of guest stars including J.K. Simmons, Jennifer Coolidge, Kristen Bell and more. 
Lynch proved to be the series' standout (although she had to leave the show toward the end of the first season due to her commitment to "Glee") as Constance Carmell, whose relentless optimism belies the fact that her brief-yet-mediocre Hollywood acting career has long since evaporated. 
While much of the show's laughs spring from the cater waiters' ever-eroding hope that their big breaks are right around the corner, it's tough to escape the irony that most of the cast went on to experience the success their characters so desperately longed for. Meanwhile, in late 2021 Variety reported that a six-episode revival season was in the works with Scott, Lynch, Marino, Starr, Hansen, and Mullally officially on board.
You're the Worst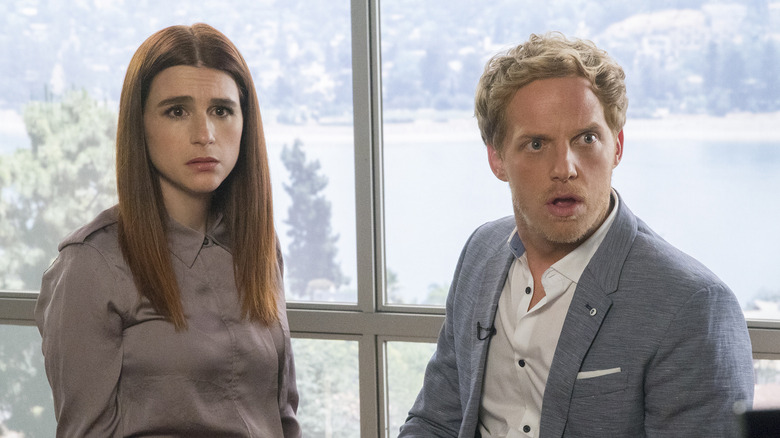 FXX
Mental illness, family dysfunction, substance abuse, and PTSD aren't typically fodder for hilarious comedy, yet somehow, they manage to form the basis of much laughter in "You're the Worst." 
This boldly inventive FXX sitcom focused on the unlikely train wreck of a romance between two deeply damaged people in modern-day Los Angeles: Jimmy Shive-Overly (Chris Geere), a narcissistic novelist from Britain, and Gretchen Cutler (Aya Cash), a music industry publicist struggling with deeply depressive tendencies and a self-destructive streak. 
Their respective best friends are also thrown into the mix; Edgar Quintero (Desmond Borges), an Iraq War veteran battling PTSD, and Lindsay Jillian, a party girl who married nerdy Paul Jillian (Allan McLeod) for his money. Other supporting characters include Becca Barbara (Janet Varney), Lindsay's sister (and Jimmy's ex), and her husband Vernon (Todd Robert Anderson), an orthopedic surgeon with a frat-boy sensibility. 
Few TV comedies have done a better job at melding such serious issues with a sense of absurdist silliness, particularly with the show's fan-favorite "Sunday Funday" episodes, which took the concept of a boozy brunch to surrealistic heights ("Sunday Funday, better than a Monday, you can only do it one day, and that is the drunk way," goes the gang's infectious theme song). Despite the characters' overweening cynicism and casual cruelty, "You're the Worst" is ultimately about forming human connections and all the pain, joy, and confusion that can bring.
Andy Richter Controls the Universe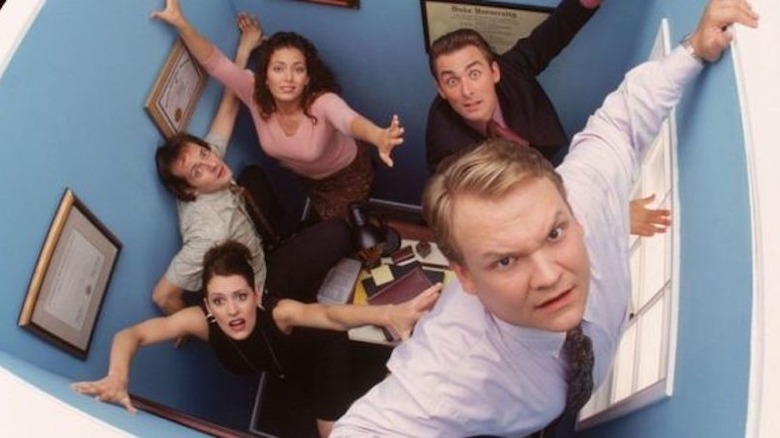 Fox
Andy Richter, in his first project after leaving "Late Night with Conan O'Brien," went from late-night second banana to sitcom star with the 2002-2003 sitcom "Andy Richter Controls the Universe." 
Series creator Victor Fresco (who went on to create such series as "Better Off Ted" and "Santa Clarita Diet") melded Monty Python-esque absurdity with a Walter Mitty-like premise, with Richter playing aspiring novelist Andy Richter, who pays the bills writing technical manuals for Chicago-based Pickering Industries. 
The show's hook features Richter concocting elaborate fantasies in which situations play out far better for him (and far more entertainingly) than they do in real life, such as imagining a mundane office conversation as a Broadway musical or becoming the most popular guy in the office by wearing a coat filled with adorable puppies. Then there's the top-notch supporting cast, particularly Paget Brewster as Andy's high-strung and intense boss, Jessica. 
The rest of the ensemble consists of John Patrick Stewart as Keith, Andy's best friend and co-worker; Jonathan Slavin as Byron, the nerdy graphic designer with whom Andy shares a workspace; Irene Molloy as Wendy, the office receptionist on whom Andy nurses a secret crush; and John Bliss as long-dead company founder Mr. Pickering, who appears in Andy's imagination to offer terrible Victorian-era advice. Conan O'Brien even appears in one episode as the company's bonkers new CEO. The series consists of just 18 episodes, and it makes for an enjoyably loopy binge-watch.
Trial and Error
True crime docuseries are all the rage, and the 2017 "mockuseries" served as a hilarious parody of the genre, particularly HBO's "The Staircase." John Lithgow starred as Larry Henderson, an eccentric poetry professor on trial for the murder of his wife. While Larry proclaims his innocence, his actions hardly support that; during the 911 call in which he reports her homicide, he places the operator on hold to take a call from the cable installer he's been waiting for all day. 
The supporting cast included Nicholas D'Agosto as Larry's defense lawyer, Josh Segal, Jayma Mays as the Assistant District Attorney trying to prove Larry's guilt, Steven Boyer as the lead investigator for the defense, Sherri Shepherd as Josh's assistant, and Krysta Rodriguez as Larry's daughter. 
While Lithgow won acclaim for performances ranging from the deeply dramatic and to the unabashedly silly, he told USA Today that his "Trial and Error" character is from the same lineage as wacky extraterrestrial Dick Solomon from "3rd Rock from the Sun." 
When the series returned for a second season, Lithgow, who had only committed to a single season, wasn't part of it. As a result, Season 2, subtitled "Lady, Killer," reunited the rest of the cast: Kristen Chenoweth was brought in to the play Lavinia Peck-Foster, a socialite accused of murdering her husband after his corpse was discovered stuffed into a suitcase in the back of her car. Amanda Payton was also added to play a podcaster covering Lavinia's case.
Great News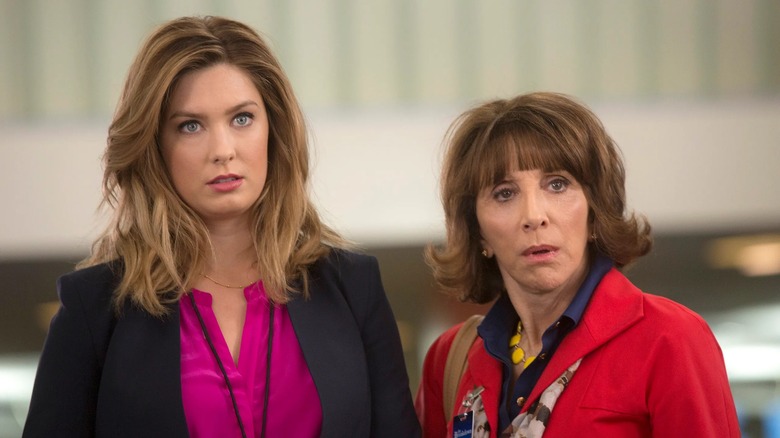 NBC
In the wake of brilliantly funny comedies like "30 Rock" and "Unbreakable Kimmy Schmidt," series creators Tina Fey and Robert Carlock also produced "Great News." The NBC sitcom was written and created by Tracey Wigfield and set in the world of television news. The show focuses on Katie Wendelson (Briga Heelan), who has just landed her  dream job as a segment producer on the cable news show "The Breakdown." 
A huge complication arises when her over-nurturing mom Carol ("SCTV" great Andrea Martin) is hired by the show as an intern. Other characters include the show's anchors, Chuck Pierce (John Michael Higgins) and Portia Scott-Griffith (Nicole Richie), executive producer Greg Walsh (Adam Campbell), and video editor Justin ("SNL" alum Horatio Sanz), with series creator Wigfield in the recurring role as meteorologist Beth Vierk. Meanwhile, Fey herself also appeared in a three-episode stint as Diana St. Tropez, the new head of the MMN cable news network. 
Obviously, Martin is the standout here. In fact, her performance as a nudge-y Jewish mother is truly something to behold, a role she chomps into with all the aplomb of a television and stage veteran who's won two Tonys. And while Martin is the glue that holds the show together, "Great News" also offers a canny portrayal of office power dynamics and a prescient look at the current struggles of cable news networks. Ultimately, "Great News" is a great show that flew under the radar but is a rewarding watch.
Don't Trust the B---- in Apartment 23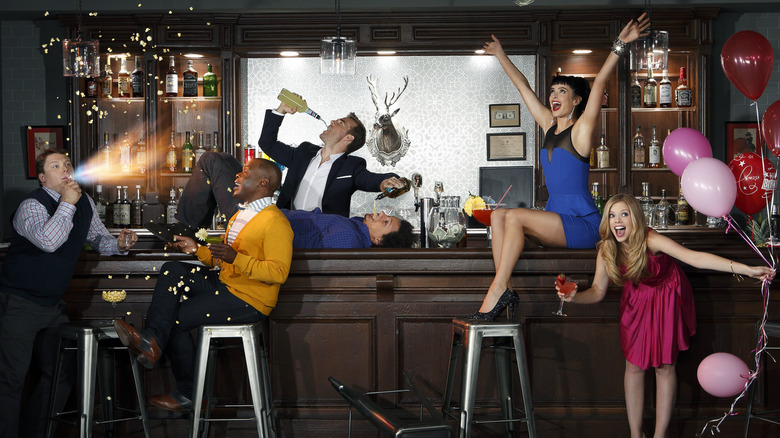 ABC
"Don't Trust the B—- in Apartment 23" ran for just two seasons between 2012 and 2014. It follows June Colburn (Dreama Walker), who moves from her hometown in Indiana to New York City to begin her dream job and live in a sweet corporate apartment. Upon arriving, she discovers both the job and the apartment evaporated and that the company has abruptly gone under. 
She winds up moving in with Chloe (Krysten Ritter), a manipulative party girl who's cooked up a devious scam to live rent-free: Bring in a roommate, demand rent up front, and then behave so abhorrently that said roommate is forced to flee. June, however, refuses to budge, leading the two women to form an unlikely friendship. 
Other characters include Mark (the always hilarious Eric Andre), June's erstwhile manager who went to work at a coffee shop when their company went bust; Eli (Michael Blalklock), their pervy next-door neighbor; and Chloe's good friend (and Dawson's Creek alum) James Van Der Beek playing an insanely skewed version of himself (think Neil Patrick Harris in the "Harold & Kumar" movies).
One likely reason this devilishly funny series never caught on with viewers was that ABC aired many of the episodes out of order, causing confusion among viewers thanks to multi-episode story arcs that made no sense because of the timing. However, when watched in order, "Don't Trust the B—- in Apartment 23" is a hidden TV gem well worth watching.
Childrens Hospital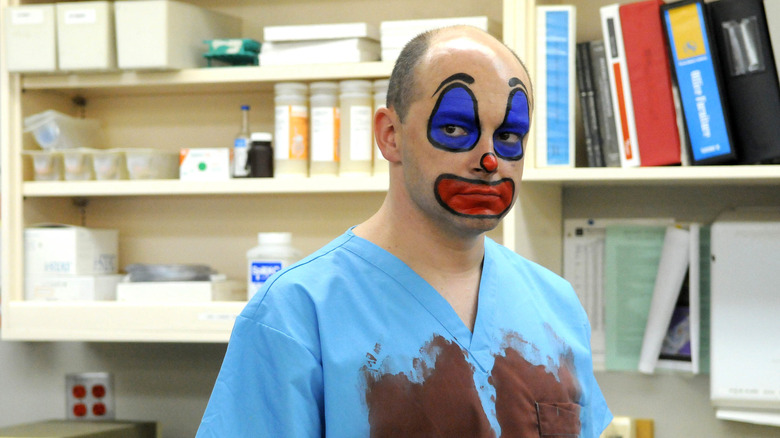 Adult Swim
No sitcom in TV history has better spoofed the tried-and-true medical drama better or in a more hilariously surreal fashion than "Childrens Hospital." Even the show's title is a goof: While the setting is indeed a hospital for children, the lack of an apostrophe is because the place is named after the founder, Arthur Childrens. 
The show, which aired on Adult Swim, was the brainchild of Rob Corddry, who created the series and starred as Dr. Blake Downs, whose literal belief that laughter is the best medicine causes him to adopt wear horrifying clown makeup that terrifies the young patients. Ken Marino (of "Party Down") plays Dr. Glenn Richie, a hospital playboy. 
Megan Mullaly is Chief, which refers to her position as head of Childrens Hospital's medical staff but is also her given name, chosen by her mother via Scrabble. Chief walks with the help of a walker, parodying Laura Innes' Dr. Kerry Weaver from "E.R." Other stars include Lake Bell, Rob Huebel, Erinn Hayes, Malin Akerman, and Henry Winkler. 
Meanwhile, the show also boasted a comedy world who's who of guest stars ranging from Nick Kroll (as a six-year-old boy with an aging disease) to Michael Cera (as the unseen voice making bizarre announcements on the hospital intercom) to "Mad Men" star Jon Hamm as Derrick Childrens, son of the hospital's founder, and, bizarrely, the alter ego of Akerman's Dr. Valerie Flame, and that's just scratching the surface on the show's delightfully dada-esque weirdness. 
Crashing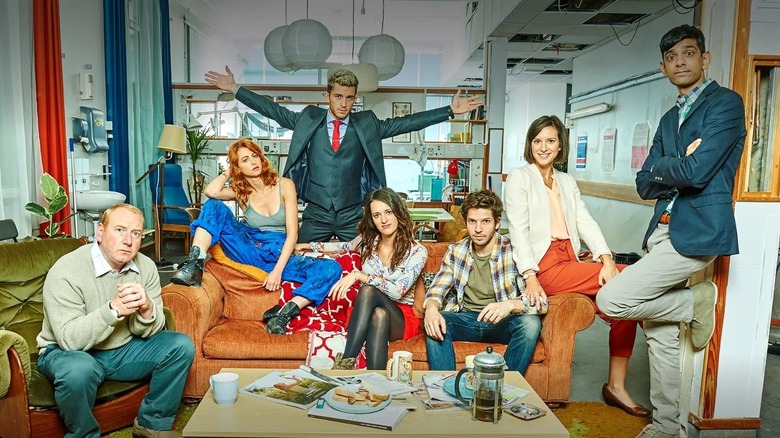 Netflix
Before Phoebe Waller-Bridge starred in and created her revolutionary comedy "Fleabag" (based on her one-woman stage show of the same name), she also headlined (and created) this quirky British comedy that ran for a single six-episode season in 2016. Waller-Bridge played Lulu, who pays a visit to her longtime friend Anthony (Damien Moloney), who lives in an abandoned London hospital with a bunch of disparate people who become unlikely roommates because of the cheap rent. 
Lulu arrives in the midst of a raging party and is invited by Kate (Anthony's fiancee, played by Louise Ford) to move into a spare room in the place. The series follows Lulu's experience getting to know her eccentric new roommates, including recently divorced Colin (Adrian Scarborough), French artist Melody (Julie Dray), sex addict Sam (Jonathan Bailey), and his gay friend Fred (Amit Shah).
Complications, both romantic and otherwise, ensue, particularly given Lulu's life-long crush on Anthony and Kate's drunken admission that she doesn't really love him. Lulu's acclimation to her new surroundings is short-lived when the group receives a notice of eviction due to plans to demolish the hospital. 
As Waller-Bridge told the Evening Standard, the idea sprang from an actual condemned hospital she knew of that housed an odd assortment of people. She noted that while it was an interesting way to live, it probably wasn't a safe one. 
Ultimately, viewers who enjoyed "Fleabag" will find plenty to love in her earlier television effort.
Miracle Workers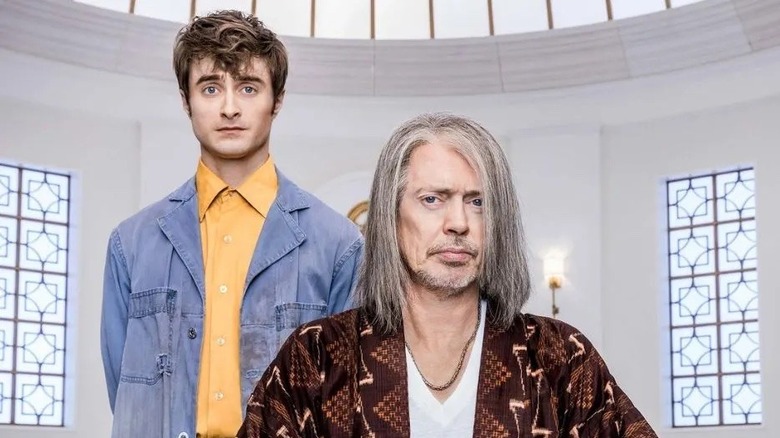 TBS
Television has no shortage of workplace comedies, but arguably none have boasted a concept as audaciously original as the show "Miracle Workers," created by Simon Rich (who also created FXX cult comedy "Man Seeking Woman"). The series began in 2019, and it was initially set in the offices of Heaven Inc., with "Harry Potter" and "Weird: The Al Yankovic Story" star Daniel Radcliffe portraying an angel named Craig, whose job is to process and respond to the prayers. 
When Craig is overwhelmed by the sheer volume of pleas, he receives the help of Eliza (Geraldine Viswanathan), a recent transfer to the Department of Answered Prayers. The job isn't made any easier due to the fact that their boss, God (played by Steve Buscemi), is completely disengaged and has pretty much checked out. When the Almighty's negligence threatens to result in the destruction of Earth, it's up to Craig and Eliza to pull off the miracle of all miracles.
When the show returned for a second season, it was revealed to be an anthology series, with the cast returning for a completely different setting and story. 
That season, titled "Miracle Workers: Dark Ages," was set in the early Middle Ages, and the third, subtitled "Oregon Trail," was set in the Old West. The fourth season, set to begin in January 2023, is subtitled "End Times" and set in a post-apocalyptic wasteland in the wake of nuclear war. 
Vice Principals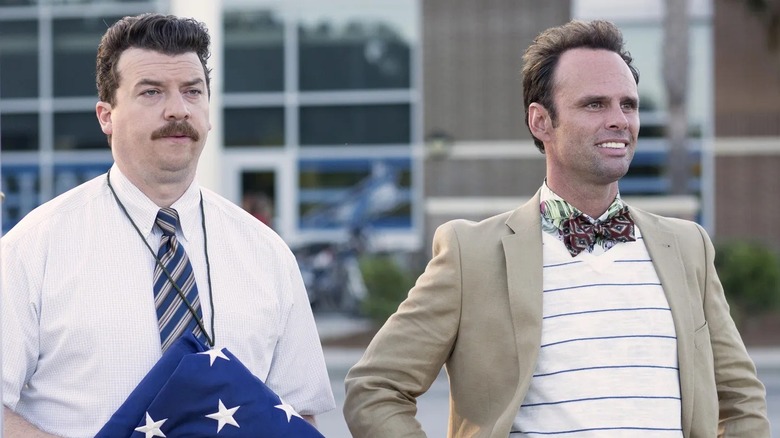 HBO
After introducing what may be television's least likable protagonist, washed-up MLB pitcher Kenny Powers in HBO's "Eastbound and Down," star and series co-creator Danny McBride returned with an even more outrageous follow-up. This time, McBride co-starred with "Justified" alum Walton Goggins: The two play Neil Gamby and Lee Russell, respectively, who share the vice-principal duties at North Jackson High School. 
The retirement of the school's principal (played in the series pilot by Bill Murray) is impending, and the two rivals jockey for position to take over the top job, only to discover he has passed over both of them in favor of bringing in an outsider for the job, Dr. Belinda Brown, (Kimberly Hébert Gregory).
These two equally loathsome teachers set aside their hatred of each other to join forces in order to bring down their new boss. Their efforts are both inept and sociopathic (think Wile E. Coyote meets Tony Soprano) as their increasingly dangerous and self-destructive schemes escalate to blackmail and even an assassination attempt. 
What they hadn't counted on, however, was the deranged lunacy of fellow teacher Mrs. Abbott (Edi Patterson), who goes on a bullet-spewing rampage that somehow also includes a mauling tiger. Ultimately, though, these two horrendous men manage to gain a form of redemption, to a degree. McBride told TVLine that they're both idiots.
Rutherford Falls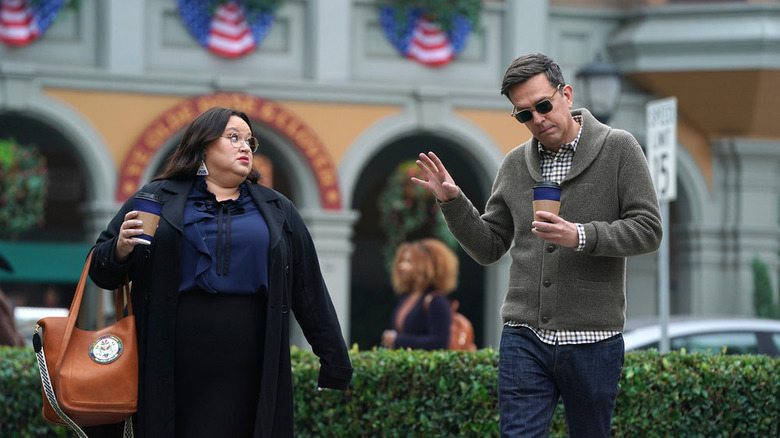 Photo by: Greg Gayne/Peacock
Peacock comedy "Rutherford Falls" ran for just two seasons. It attracted rave reviews and critical acclaim but, sadly, not a lot of viewers. "The Office" alum Ed Helms starred as Nathan Rutherford, who finds himself at odds with lifelong friend Reagan Wells (Hana Schmieding) over plans to take down a statue of the town's founder, Nathan's descendent Lawrence Rutherford. 
The statue's positioning, right in the middle of the town's main road, has resulted in numerous traffic accidents, which is the reason why the mayor wants to remove the statue). While Nathan views it as representing his own family heritage, Reagan, a member of the Minnetonka tribe that co-founded the town with Nathan's descendent, comes to see the statue as symbolizing the centuries-long oppression of her people.
Rutherford Falls was co-created by Helms, Michael Schur (whose credits include "The Office," "Parks and Recreation," and "The Good Place"), and Navajo filmmaker and screenwriter Sierra Teller Ornelas. The show tackled some serious topics; however, it also managed to pull off that delicate balancing act of introducing big issues alongside big laughs in a way that never felt preachy but was continually eye-opening. 
While "Rutherford Falls" may not have achieved the success it deserved, it remains a sitcom that's well worth watching, offering rich rewards for viewers on multiple levels.