TV Bits: 'Shameless' And 'Magic City' Trailers, Plus: 'Person Of Interest', 'Homeland', 'Damages', 'Boss', 'Pan Am', '2 Broke Girls'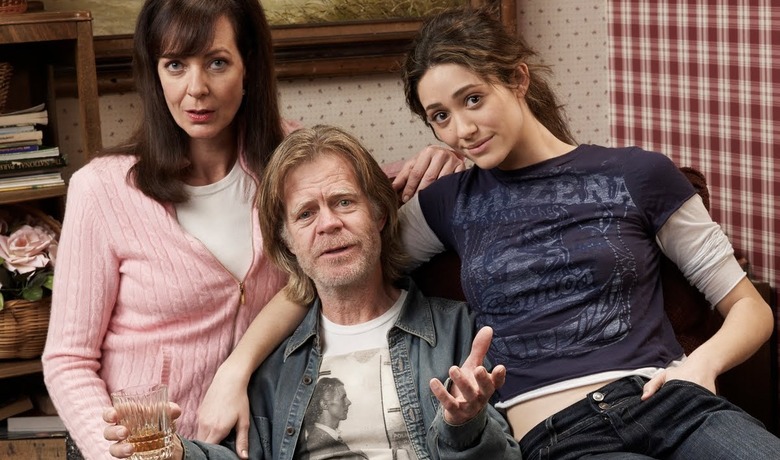 There's some bad and some good in today's TV Bits, but I'd say there's more of the latter — more Shameless, more Homeland, more Jennifer Coolidge, and Olga Kurylenko in late '50s Miami all count as pluses, right? After the jump:
Showtime's Shameless get a Season 2 trailer — and invites fans to play Truth or Dare with one of the characters
Starz debuts a trailer for Magic City, starring Jeffrey Dean Morgan, Olga Kurylenko, and Danny Huston
CBS gives full season orders to Unforgettable and Person of Interest
Showtime renews freshman series Homeland
Jennifer Coolidge signs on for CBS' 2 Broke Girls
Jenna Elfman boards the fifth season of DirecTV's Damages
Starz' Boss loses its two showrunners
ABC's Pan Am gets a new showrunner
It's been seven long months for fans of Shameless, Showtime's series about the out-of-control Gallagher family, but their patience will be rewarded soon(ish). With the second season is set to premiere January 8, 2012, the network has begun releasing teasers showing that, nope, these miscreants haven't changed one bit.
[via Zap2It]
In addition, Showtime will be releasing an interactive web series revolving around the oldest brother, Lip Gallagher (Jeremy Allen White). Fans can play truth or dare with the character by submitting either truth questions or dares to Lip via Facebook or Twitter, using the hashtags #liptruth or #lipdare. The network will select their favorite requests and film Lip either answering the questions or doing the dares in up to ten webisodes. [The Hollywood Reporter]
We also have the first trailer for Starz' Magic City, a period drama set in 1959 Miami. Jeffrey Dean Morgan stars as Ike Evans, a hotelier with mob connections, with Olga Kurylenko playing his wife and Danny Huston a mob boss. The teaser starts out looking like the California-set episodes of Mad Men, and then moves into some more violent territory that makes it seem like, I don't know, a more lighthearted Boardwalk Empire? See for yourself:
Magic City will premiere this spring on Starz. [Deadline]
Moving right along to the pickups: CBS has given full season orders to its first-year dramas Unforgettable and Person of Interest, which have been doing quite well in the ratings despite lackluster reviews. A Gifted Man is now the only new CBS show whose future remains uncertain, as 2 Broke Girls has already been picked up and How to Be a Gentleman has been cancelled (twice). [Vulture]
Meanwhile, Showtime has renewed its CIA thriller Homeland for a second season, following four well-received episodes. The show has only increased its viewership since it debuted to 4.4 million viewers across all platforms, and has become the network's highest-rated freshman drama. Production on the 12-episode seaon is scheduled to begin next spring. [Variety]
And now, for some casting.
Jenna Elfman, formerly of Accidentally on Purpose and Dharma & Greg, has joined the cast of DirecTV's Damages for its fifth and final season. Elfman will play a bank employee who may reveal some unsavory truths about her employers. Also set to appear in the upcoming season are Ryan Phillippe and John Hannah. The legal drama, which stars Glenn Close and Rose Byrne, will return in summer 2012. [TVOvermind]
Over at CBS, Jennifer Coolidge has signed on for a recurring role on 2 Broke Girls, which stars Kat Dennings and Beth Behrs as twentysomething waitresses living in Williamsburg, Brooklyn. She'll play the girls' hardworking new neighbor Sophie, a character that was created specifically for Coolidge. I'm pretty much always happy to see Coolidge, so she sounds like a great addition to the show.
Also appearing on the comedy will be Marsha Thomason (White Collar), who'll drop in during November sweeps to play a romantic rival to Dennings' character. [Deadline, Zap2It]
Finally, let's talk about some showrunner shake-ups. Starz' Boss has lost its two executive producers/co-showrunners Richard Levine and Lyn Greene, just after the series premiered earlier this week. Creator/executive producer Farhad Safinia apparently on board. The drama, which stars Kelsey Grammar as a Chicago mayor who's been diagnosed with a degenerative neurological disorder, has received generally positive reviews, and was renewed for a second season last month. (Yup, it was renewed before the premiere ever aired.)
Boss' other executive producers include Grammer, director Gus Van Sant, Brian Sher, and Stella Bulochnikov. The search for a new writing executive producer is already underway. [Deadline]
And ABC's period drama Pan Am has found a new showrunner in TV vet Steven Maeda, who previously worked on CSI: Miami, Miami Medical, and Lie to Me. He also served as co-executive producer and writer for the second season of Lost, during which the series won Writers Guild of America awards for Best Dramatic Series. Pan Am has yet to receive a back-nine order, but especially now that Maeda's involved, it's probably likely to get picked up soon. [The Hollywood Reporter]