Tom Cruise Did 13,000 Practice Runs To Prepare For Mission Impossible 7's Motorcycle Jump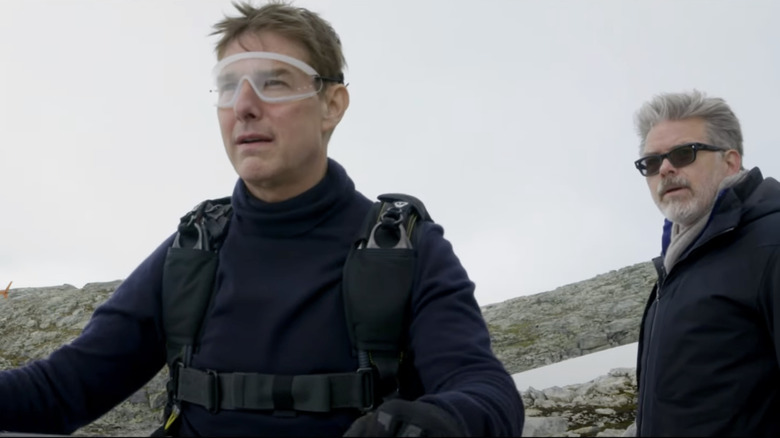 Paramount Pictures
Even at 60 years old, Tom Cruise is obsessed with raising the bar for himself and his daredevil Hollywood persona. But where do you go after the halo jump and helicopter chases in 2018's critically beloved "Mission: Impossible — Fallout," or learning to fly real jet planes for "Top Gun: Maverick" (a legacy sequel that ranks as the highest earning film of 2022 at the time of writing)?
If you caught "Avatar: The Way of Water" in an IMAX theater during its opening weekend, you might have gotten a behind the scenes look at Cruise's next project/collaboration with Cruise-whisperer Christopher McQuarrie, "Mission: Impossible — Dead Reckoning Part One." More specifically, you might have gotten a sneak peek at Cruise performing one of the most dangerous stunts of his career for the film: riding a motorcycle off a cliff and free-falling straight into the air.
Now, an even longer featurette has been released in order to further hype the second-to-last chapter in Ethan Hunt's run with the IMF. Determined to execute said stunt with a crucial amount of safety and precaution, Cruise and Co. use the video as an opportunity to showcase all the rehearsal time and dedication that went making this cliff-jump a reality.
"You train and drill every little aspect over and over and over and over again" Cruise explains in the featurette. Expanding on this, "Dead Reckoning" second unit director/stunt coordinator Wade Eastwood notes that Cruise performed "over 13,000 motocross jumps" in preparation for the final stunt.
The danger zone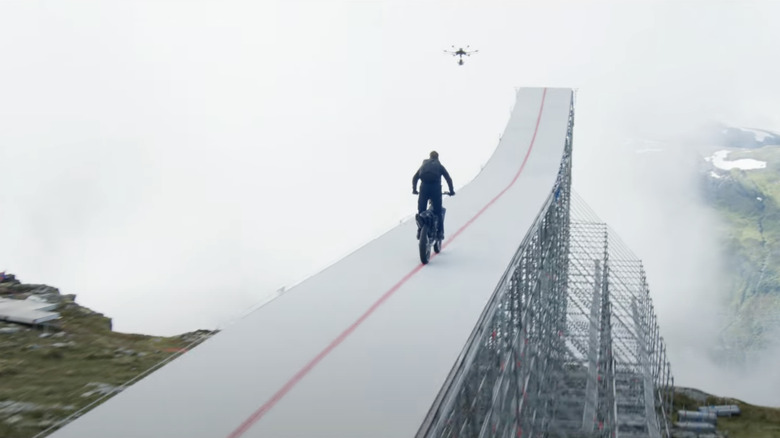 Paramount Pictures
Somehow, Tom Cruise's motocross jumps are just one piece of the entire maneuver. Speaking in the featurette, Christopher McQuarrie reveals that Cruise also did "30 free-falling jumps a day" to prepare for his latest leap of faith.
Obviously, while safety and proper context of experience for the type of stunt work Cruise is pulling off in this franchise is important, rehearsals play a large part in maximizing his precision. Because Cruise is being filmed with hi-tech drones and expensive cutting-edge cameras, it's not enough for him to pull off the stunt and come out the other end alive. The stunt itself needs to be fully captured for the audience to see, which also means it's important that Cruise doesn't miss his mark.
"Coming up with the stunt is only one of the technical challenges. The other is putting a camera in a place where you can see Tom is doing it," McQuarrie explains in the featurette. "Even two years ago, the cameras wouldn't exist that would allow us to do what we're trying to do today ... That means the camera has to be in front of Tom and as close to him as possible."
Naturally, as audience members, we're afforded an innate sense of comfort that Cruise's co-workers aren't. When we watch the trailers and featurettes for his films and see the actor going on talk shows to promote his work, we know he's fine and won't literally die on-screen in his next movie. Those on set do not have that luxury, however, so watching their gasps and sighs of relief at the end of this featurette is almost cathartic in a way. Maverick has truly never left Tom Cruise.
"Mission: Impossible — Dead Reckoning Part One" arrives in theaters on July 14, 2023.