The Hours Review: An Ambitious Movie-Adapted Opera With Sweeping Emotions Across Time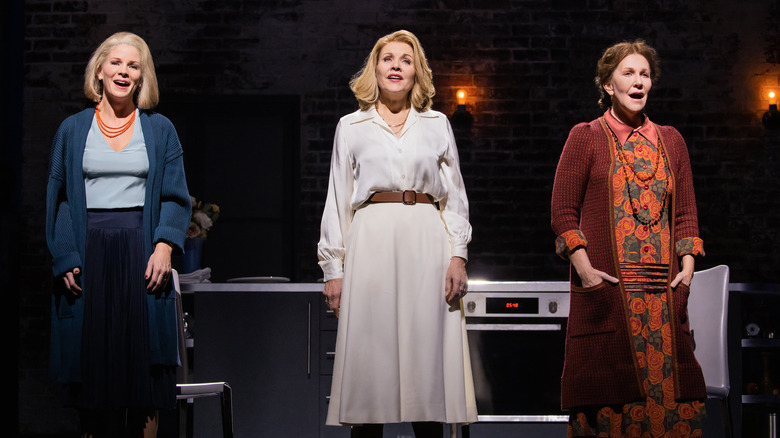 Evan Zimmerman/Met Opera
"Someone will die at the end of the day." A fictionalized Virginia Woolf (Joyce DiDonato) announces this as she sullenly stares at a dead bird. She's referring to the plot development of her 1925 novel, "Mrs. Dalloway," and she hasn't decided who will die yet in her novel, which would be considered a modernist masterpiece long after her 1941 suicide. She's also echoing her own suicidal dread. She also doesn't know that she's portending another woman's ending.
Based on Michael Cunningham's novel and the 2002 Paramount Pictures film adaptation directed by Stephen Daldry, "The Hours" opera premiere on the Metropolitan Stage is an ambitious undertaking. Balancing out three women's narratives from different time periods, both text and movie contain multitudes: the exhaustion of ordinary living, mental illness, queer lives, and the connective tissue of literature. This may sound lofty for an opera but the medium has a favorable condition: a large stage where time periods — and the specific individual emotions contained in them — share a temporal space. Owing to the staging by Phelim McDermott, this operatic version is resplendent in the emotions propelled by Kevin Puts's music and its three leading ladies (succeeding the movie leads Meryl Streep, Julianne Moore, and Nicole Kidman).
The construction of Woolf's novel in 1923 Richmond, London is paralleled with the day-in-the-life of other women living decades after. In 1999 Manhattan, literary editor Clarissa Vaughan (Renée Fleming) is throwing her dying poet friend-cum-former-lover a party to celebrate his recent literary prize. Coincidentally sharing a namesake of Woolf's Clarissa Dalloway heroine (it's an inside joke with her friend), Clarissa doesn't know that she's living in a modern retelling of Mrs. Dalloway's life — down to the purchase of flowers like in the novel's opening. Meanwhile, in 1949 Los Angeles, a pregnant housewife Laura Brown (Kelli O'Hara, from "The Gilded Age") reads "Mrs. Dalloway" as a distraction from domestic labor.
Each woman is undergoing an existential crisis. Woolf obsesses over her novel and her feelings of inadequacy. For Laura, heteronormative expectations suffocate her. Baking her husband (Brandon Cedel, with perfect hubby oblivion in bass-baritone) a perfect birthday cake is taking a toll on her sanity. Later, her impulsive kiss with a female neighbor (Sylvia D'Eramo) drives her deeper into despair. As for Clarissa, she frets over her partner (Denyce Graves) wanting a child and mourns for the passionate romance between her and her dying ex-lover, Richard (a splendid bass-baritone Kyle Ketelsen). He is her last connection to a past idealism.
An enthralling design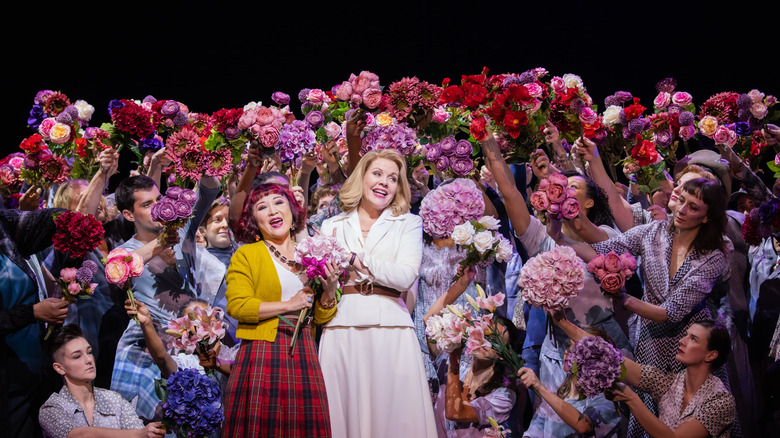 Evan Zimmerman/Met Opera
McDermott has a theatre tapestry that includes the likes of "Akhnaten" (and he's now directing the "My Neighbour Totoro" staging on the West End). While maintaining his signature for abstractions, "The Hours" assumes a more subdued palette than his work on "Akhnaten" and "Satyagraha."
Designed by Tom Pye, square sets represent each woman's respective interiority and their time period: a drab mustard wall for Virginia, bright floral blues and yellows for Laura, and brick red for Clarissa. In Pye's characteristic costuming, Virginia stands dour in browns and reds to suggest her closeness to the dirt; Laura wears silky blue with floral patterns; and Clarissa dons a confident veneer of bright white that belies her insecurities.
Both top-of-their-game sopranos, Fleming and O'Hara emanate sorrow and longing in their bones. With a heavy dramatic soprano approach, Fleming plays it cool and collected before events shatter her confidence. With a more buttery lyric soprano voice, O'Hara straddles the line between Laura's dreams of escape or recommitment to her facade. But DiDonato's earthly mezzo voice bellows a power and mania that keep the other two in her orbit (whether you sat on the highest family circle balcony or watched the live transmission). Their three voices blended for the finale weave a planetary alignment of emotions, almost like reassuring hand squeezes between the three, even if the trio never touch.
Specters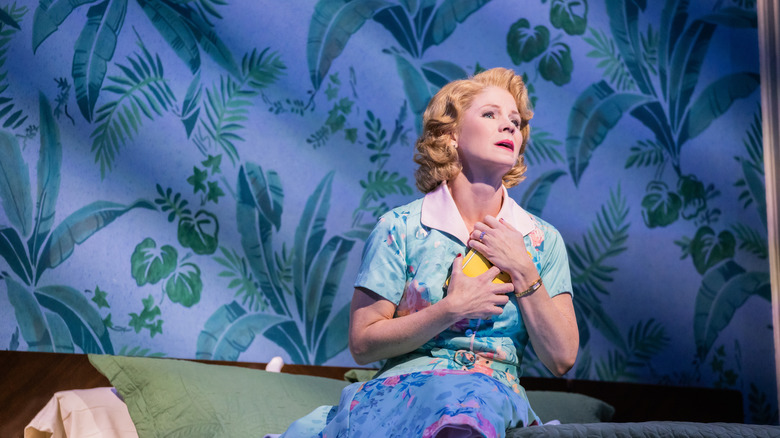 Evan Zimmerman/Met Opera
While there aren't necessarily any ghosts, the opera is brimming with an atmosphere of specters to convey the unfathomable wavelengths of melancholy. The giant curtains flutter like ghosts of memory. With choreography by Annie-B Parsons, the gray-attired dancers move in a cross between fluid ballet and automations forcing their joints into movement. A man in a suit, credited as the Man Under the Arch (an eerie countertenor John Holiday), wanders the opera as an implied reaper figure who orbits the women's woes—or at one point, he seems to coax Virginia to the "other side."
It's difficult to not ignore another specter: the composer Philip Glass, who constructed the movie adaptation score (and also happens to be a frequent opera collaborator with McDermott). Puts has likened his compositional task to writing a "Star Wars" opera without John Williams' music. Luckily, Puts' music elicits its self-contained pensiveness to Greg Pierce's libretto ("the flowers, the flowers, the flowers"), while some of the string patterns pay light homage to Glass's minimalism. However, Puts' music does not match the grabbings of contemporary operas like Ellen Reid's "Prism," Matthew Aucoin's "Eurydice," or Terence Blanchard's "Fire Shut Up in My Bones." It could take time and critical consensus to indicate how Puts's score will be regarded in the league of modern opera.
How does it hold up as a gateway opera?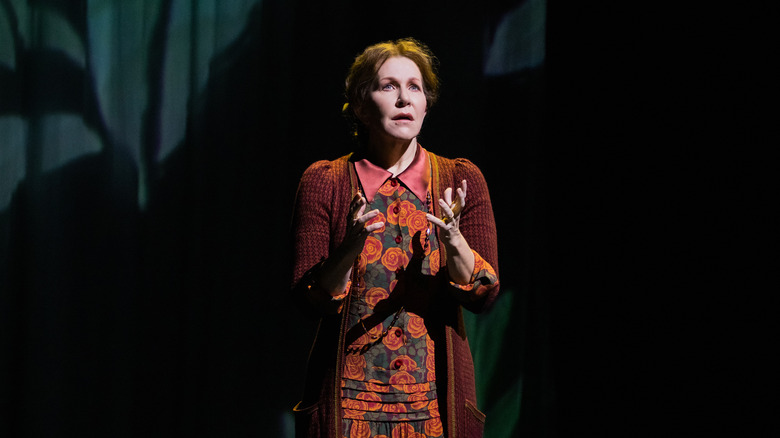 Evan Zimmerman/Met Opera
There is one other compositional letdown. Whenever the duets serve as connective tissues between the women across time, Puts does not unite era textures in interesting soundscapes. By the end of Act 1, it sheds most of its perceptible distinctions between the time periods (such as the predominate piano of Woolf's introductory aria and the swing of Laura's nostalgic 50s) in favor of a generic contemporary style. While the distant duet ("Is this the end?") between Laura and Virginia is gut-wrenching in their dread of mortality, Puts doesn't fold character textures upon each other.
You probably notice there's rarely a /Film review of operas. So addressing newcomers to the modern movie-to-opera form, "The Hours" (in its accessible streaming form) may be challenging. Its narrative interweavings are more complex than its fellow movie-to-opera adaptations like "The Exterminating Angel" and "Marnie" (based on the novel but marketing relied on familiarity with the Hitchcock movie). Just as opera-goers generally rely on the printed program to follow the synopsis scene-by-scene, a newcomer to opera might benefit from watching the movie or reading Cunningham's novel (both of which are moving, in my opinion). Still, watching it in isolation, "The Hours" represents the possibilities of opera that can invite a new audience to the art form.
"The Hours" opera will play at theatrical encore screenings on December 14. At an unspecified date, "The Hours" will stream on Met Opera on Demand. Every noted opera (with the exception of "Prism") in this review are available on Met on Demand streaming.