A Christmas Carol Gets A Gruesome Twist In SNL Sketch Starring Martin Short As Scrooge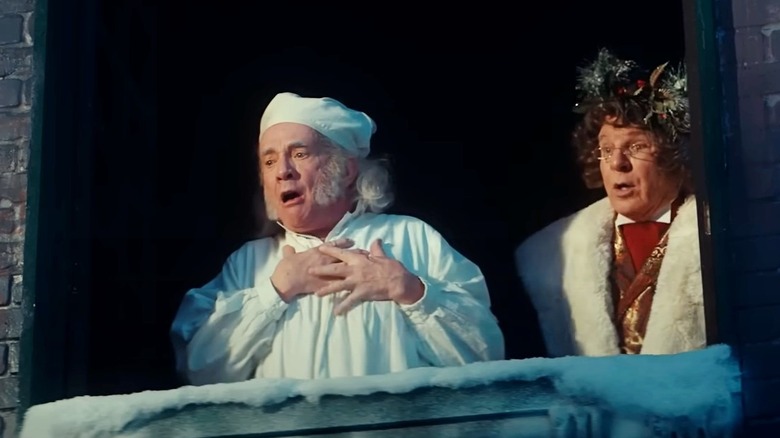 NBC
At the rate that adaptations of "A Christmas Carol" are made, there will likely come a time in every aging Hollywood actor's life when they're called upon to play Ebenezer Scrooge, whether in film or on TV. As a live show with a season that spans Halloween, Christmas, and Easter — among other holidays — "Saturday Night Live" is just as willing as Hollywood to go back to the "A Christmas Carol" well. In just the last decade, SNL has put out both 2013's "A Christmas Past" and 2017's "Scrudge." On the latest episode, co-host Martin Short, who has already graced our screens as Christmas icon Jack Frost in 2006's "The Santa Clause 3," summoned his holiday spirit again to helm the role of Scrooge for the sketch show's latest interpretation of Charles Dickens' classic novel.
The pre-taped sketch drops us in what should be the most lighthearted and cheerful moments of the "A Christmas Carol" tale, with Martin Short bringing the full effort and energy that he does to any role. After a restless night of sleep, the affluent Scrooge has finally seen the error in his animosity towards Christmas and has emerged from his sleeping quarters to announce his reformation to the streets of London in a scene that is tonally reminiscent of Scrooge's surprise cameo in 2007's "Hot Rod."
From there, the sketch takes a dark twisted turn. Scrooge may be a changed man, but he still lacks the courtesy to come down from his ivory tower. As he showers the paupers of London with golden coins, things do not exactly go as planned. Check out SNL's latest "A Christmas Carol" sketch below.
An eye for an eye
After Scrooge asks a young orphan to run down to the store and buy the biggest prized goose he can find for Tiny Tim's family, the coin he flips to cover the expenses gruesomely lodges itself in an orphan's eye in a moment straight out of Jordan Peele's "Nope." Throwing a penny off the Empire State Building may not be as dangerous as the urban myth goes, but even after directly witnessing the damage he can do from the height of his own balcony, Scrooge continues his attempts at retribution until the child is blind in both eyes.
Hoping to correct the situation, the Ghost of Christmas Present — played by Steve Martin, Short's "SNL" co-host and co-star in the "Father of the Bride" films and Hulu's "Only Murders in the Building" — suddenly appears to give Scrooge a few lessons on his coin-throwing technique. But after throwing an icicle through the orphan's heart in horrifying fashion, the Ghost unhelpfully reminds Scrooge that no one can see him anyway, so he's on his own. This goes on until Tiny Tim falls into the sewer and the entire London square has been butchered by the glass shards of Scrooge's casement windows that he slams behind him as he wishes the city a Merry Christmas.
Over the years, we've gotten regular updates to the "A Christmas Carol" story to fit the times, but the latest "SNL" take was an especially cynical one. While played for laughs, the message is clearly that when the rich try to help the poor, they can end up doing more harm than good. As good as an ad for Apple Pay as the sketch becomes (Scrooge really should consider switching to digital currency if that's an option), it's hard to imagine he's ever going to enjoy Christmas again.