Kirstie Alley Added A Hilarious Character To Cheers When It Need It Most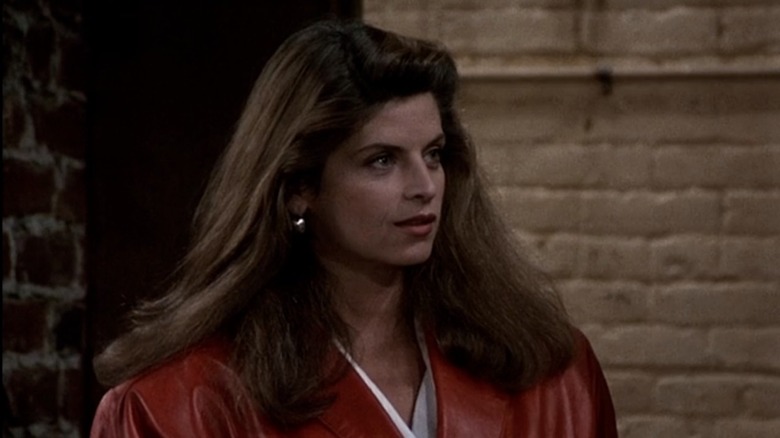 NBC
When Shelley Long decided in late 1986 to move on from her role as a barmaid in the little tavern in Boston where everybody knows your name in favor of a film career and her family, the cast and crew of "Cheers" had to make some huge changes the following year. Diane Chambers had been such an integral part of the show for the first five seasons and she had finally gotten together with love interest Sam Malone, played by Ted Danson. But if Long had stayed, then the series would have become a domestic comedy rather than a comedy set in a bar, according to series co-creator James Burrows in a 1987 interview with The Vindicator. So in a bittersweet turn of events, the long-running sitcom received a soft reset that acted as sort of a return to the original premise due to the actress' departure. And leading the charge of this new/old direction was Kirstie Alley.
Playing the role of businesswoman Rebecca Howe, the actress added a new dynamic for the womanizing Mayday Malone. Instead of sexual tension between a working-class bartender and a snobby intellectual, we have confident and collected bar manager Rebecca who is repulsed by Sam's advances. Eventually, this relationship evolves to show off more of Alley's comedic range, but if it wasn't for the new direction taken in the sixth season, Burrows feared that "Cheers" would have been canceled instead of carrying on for another half a dozen seasons.
Howe did they do it?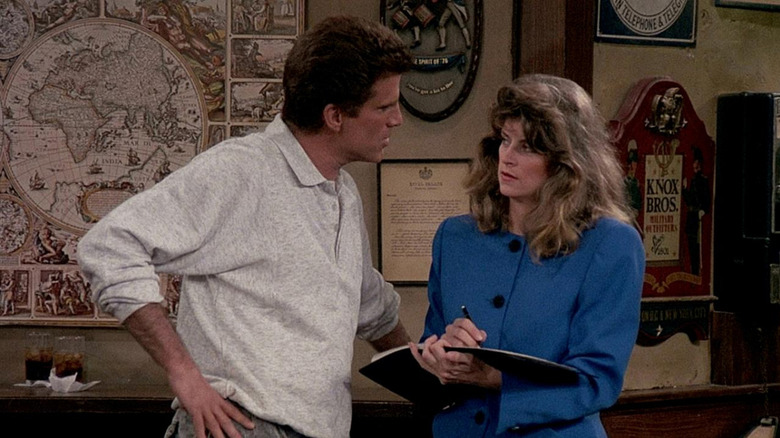 NBC
When we first meet Rebecca Howe in the season six premiere "Home is the Sailor," she's running an all-new Cheers with uncomfortable uniforms, new staff, and a crowd that doesn't know how to greet Norm Peterson correctly. After Diane left Boston (and Sam Malone) in order to pursue a writing career on the West Coast, Sam sold the establishment to Rebecca's employer, the Lillian Corporation, in order to buy a boat that he could sail around the world. Although, the former Red Socks pitcher inadvertently sunk his ship somewhere in the Caribbean and returned to the only place that felt like home: His old bar. And though he intends to use his trademark charm to win her over and obtain a bartending position, Rebecca wants nothing to do with him. That is until her boss Evan Drake insists that Sam gets the job.
From that point forward, Sam and Rebecca are constantly at odds. Whether it's over her stern business practices, company policy, or one of his schemes that somehow involve sleeping with her, the two of them clash in a much different way than Sam and Diane did. The pairing still works in a number of interesting ways, with fluctuating power dynamics when Sam is the bartender and Rebecca is the manager, later when Sam is the owner and Rebecca is the waitress, and finally when they're partners in the business and united by similar goals. But this combination most notably works because it evolves into a genuine friendship with a level of respect, which is something that Malone rarely ever shares with a member of the opposite sex other than Carla Tortelli. 
Backseat Becky, up front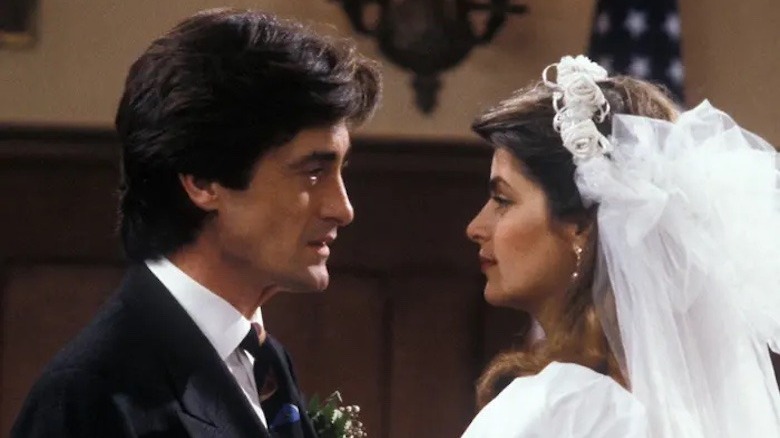 NBC
In addition to adding a new layer to Sam and the whole gang on "Cheers," the thing that makes Rebecca Howe such a great character is the wide range of comedy that she's involved in and Kirstie Alley's commitment to the bits. Rebecca is initially presented as a straight-laced businesswoman with aspirations to climb the corporate ladder, but over the course of Alley's first season, we get hints at the zany person under the surface until she fully breaks free.
For example, it's established pretty early on that Rebecca has a crush on Lillian Corporation head Evan Drake and she will do anything to win his heart, no matter how demeaning or degrading. A great example of this is when she thinks that Drake invites her to a party as his date, but he actually wants her to bartend along with Sam and Woody. This type of behavior continues even after Drake moves to Japan, but not before she hijacks his limo and pours out her true feelings in order to get him to take her with him. When she's forced to move on, it's revealed that Rebecca is just attracted to wealthy men in positions of power who can support her spoiled, party-girl lifestyle as she moves on to millionaire Robin Colcord and plumber/eventual sewer department official Don Santry.
However, not all the comedy involving Rebecca comes from her love life. Alley proves to be a force in farce and physical comedy throughout the remaining seasons of "Cheers." From her signature whining cry to hiding a lit cigarette in her mouth to deciding to have a baby with Sam out of wedlock, the actress found a multitude of ways to sell the material and generate huge laughs.
The little match girl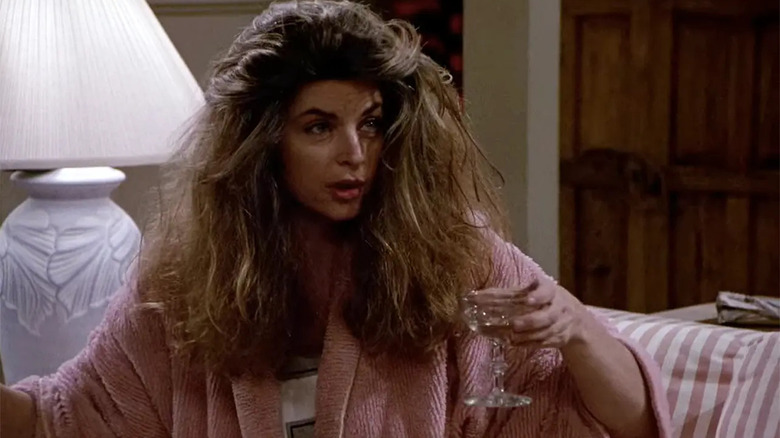 NBC
Proving that Rebecca could be a funny fan favorite without being a love interest for Sam, Kirstie Alley helped propel "Cheers" to new heights. The show received some of the highest ratings of the whole series run during the Rebecca years. Her performance also earned her a Golden Globe and an Emmy in 1991 for the role, but with her addition to the cast, the show became more of an ensemble that gave characters like Frasier, Cliff, and Woody the chance to shine in the spotlight along with Rebecca and Sam as opposed to the majority of the story following Sam and Diane's love lives during the early days of the show. But as Rebecca became more insecure, neurotic, and borderline cartoony, the show evolved to showcase more of the character and their actor to bring more of that to television screens across the country and around the world.
In a statement to Deadline following Alley's death, Ted Danson fondly remembered his co-star by recalling her comedic prowess. "Kirstie was truly brilliant in ['Cheers,'] he said. "Her ability to play a woman on the verge of a nervous breakdown was both moving and hysterically funny. She made me laugh 30 years ago when she shot that scene, and she made me laugh today just as hard." 
And to end his tribute, Danson said something that generations of "Cheers" fans will no doubt agree with: "I am so sad and so grateful for all the times she made me laugh."