Every Cheers Season Ranked Worst To Best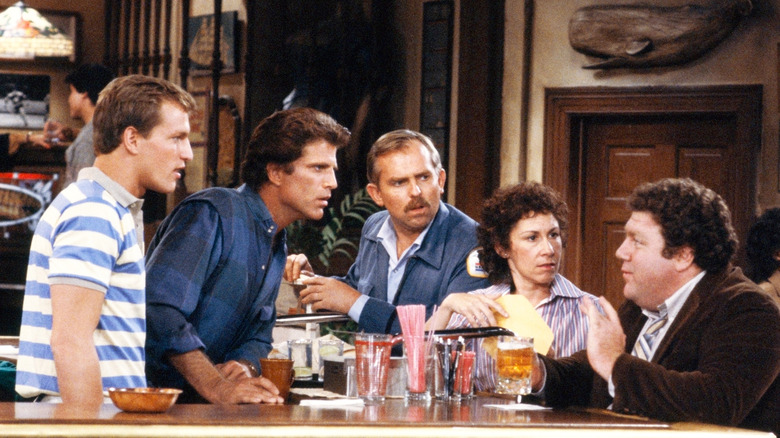 Paramount
I say this without a shred of hyperbole: "Cheers" walked so every other sitcom after it could run. From the Greendale study room of "Community" to Ross and Rachel's never-ending "will they, won't they" relationship on "Friends," NBC's critical and commercial darling about a bar in Boston created the blueprint.
The quintessential ensemble comedy where everybody knows your name, "Cheers" is rich with biting dialogue and big personalities, which kept audiences gripped for 11 years. Sam and Diane's stormy, yet passionate, love affair remains one of TV's all-time great romances, "NORM!" continues on as a greeting for bar regulars, and the sequel series "Frasier" — arguably the most successful spin-off in television history — is set to find new life in the world of streaming. "Cheers" is a timeless show whose influence is still felt 30 years after Sam turned off the lights and locked the door for the last time.
Over its decade-plus run, "Cheers" had its fair share of challenges — the death of a beloved actor and rumored tension among the cast being chief among them. Nevertheless, the endless jokes and clever banter marched on for a whopping 275 episodes. And sure, they weren't all winners, but "Cheers" chalked up far more wins than losses (certainly more than Sam did for the Red Sox). Here are all 11 seasons of "Cheers" ranked from worst to best.
11. Season 10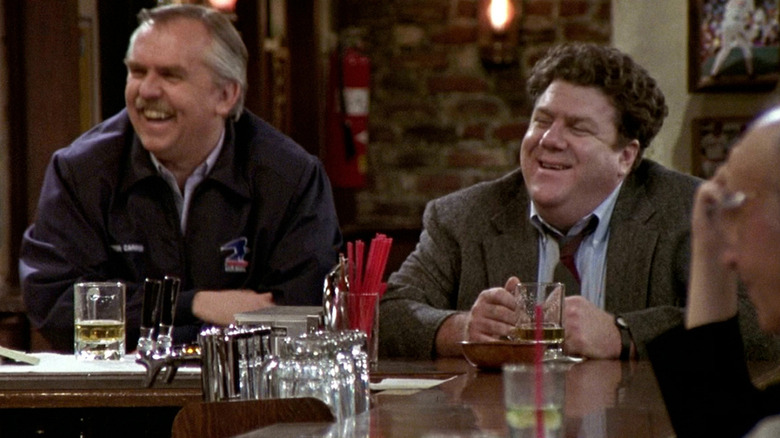 Paramount
One of the worst things about American sitcoms in the '80s and '90s was networks not knowing when to pull the plug. By season 10, it was clear "Cheers" had told every joke worth telling and tapped into every storyline the bar had to offer.
Much of the season focuses on Frasier and Lilith's overly analyzed and uptight marriage as they navigate parenthood. They come to loggerheads in a particularly eye-rolling Bar Wars instalment that begins with the Cranes bickering over whether their son should take part in Halloween and devolves into an aggressively tedious "Is Gary dead?" sequence. A recurring series within the show, season 10's Bar War with Gary's Olde Towne Tavern ultimately felt like a hollow version of a time-honored gag. Granted, "Bar Wars V: The Final Judgement" wasn't even the worst episode of the season — Woody appearing in a local production of "Arsenic and Old Lace" and Carla briefly becoming a spiritual advisor takes that trophy.
It took 10 years for "Cheers" to come out with a truly mediocre season, which is a unique feat in its own way. Funny enough, though, the worst "Cheers" plotline was actually one season prior.
10. Season 9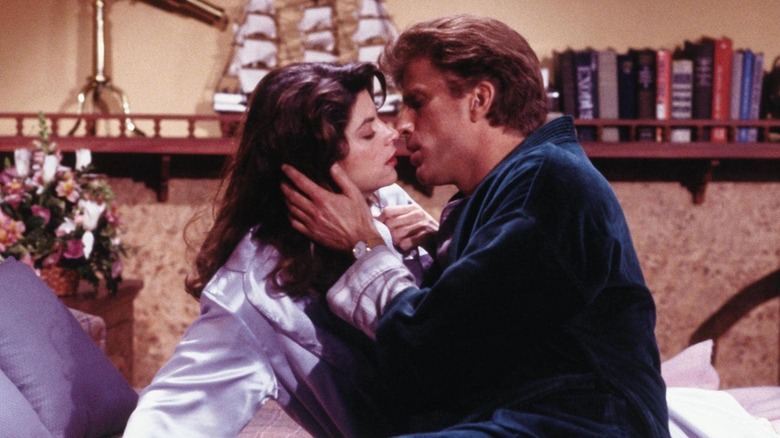 Paramount
Ted Danson and Shelley Long's chemistry was lightning in a bottle — sexual tension mixed with just the right amount of disdain — so it's no wonder that even within "Cheers" the magic could never be duplicated. Perhaps then, it was too much to expect that a story arc containing another love triangle — this time between Rebecca, Sam and Robin, the British multi-millionaire boyfriend of Rebecca — could rekindle that fire.
Following the cliffhanger of season 8, their love story concluded with but a whimper in season 9. Unlike the character development we saw in Sam, Diane, and Frasier, Rebecca seems unmoved and unchanged by the events — almost as if the writers were simply using this relationship to fill air time.
Season 9 includes some fun moments, like Woody's misguided endorsement of Veggie-Boy and little Frederick Crane's first word. One of my favorite eventual tie-ins from "Frasier" also happens in this season when Frasier says that both his parents are dead. Of course, we eventually meet Martin Crane in Seattle and it isn't until Sam makes a guest appearance in "Frasier" when this discrepancy is resolved.
Even with these positives, the show still felt like it was just mindlessly chugging along.
9. Season 6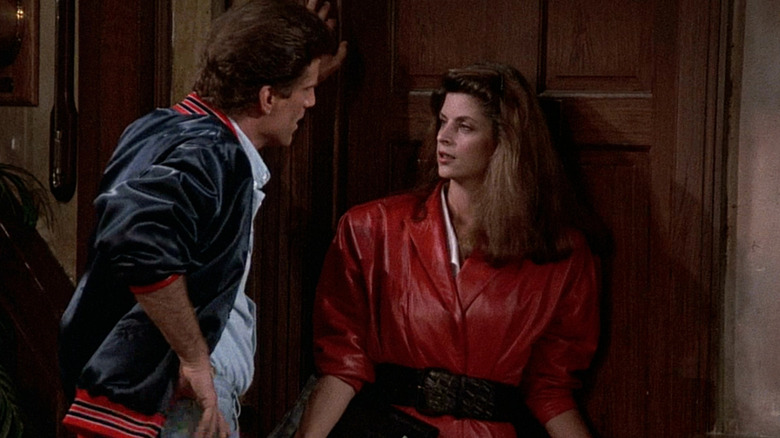 Paramount
As expected, the departure of Shelley Long proved to be a difficult one for the writers of "Cheers." The chemistry between not only Sam and Diane, but Diane and the rest of the group had been thoughtfully developed over five years. And although the writing staff had some precedent to work with, having successfully introduced Woody to replace Coach after actor Nicholas Colasanto's sudden death, "Cheers" without Diane was going to be an uphill battle, but one that was necessary.
"[Danson and Long] was one of those magical matches that worked," Richard H. Frank, a former Paramount Executive, said in an interview with the Television Academy. 
"You didn't want to lose Shelley, but it was time. It was not all pleasant what was going on there. She was tough to work with ... and she wasn't sure she wanted to stay. It just got all of them thinking about what if we had somebody else."
Rebecca, played by Kirstie Alley, ended up being that somebody else — a career-minded businesswoman who co-manages Cheers with Sam. Rebecca wasn't a substitute for Diane in personality, but her place in the show as antagonist (and inevitable love interest) to Sam was clear. Eventually, Rebecca and the show found their footing again, but not without a bumpy transition.
8. Season 7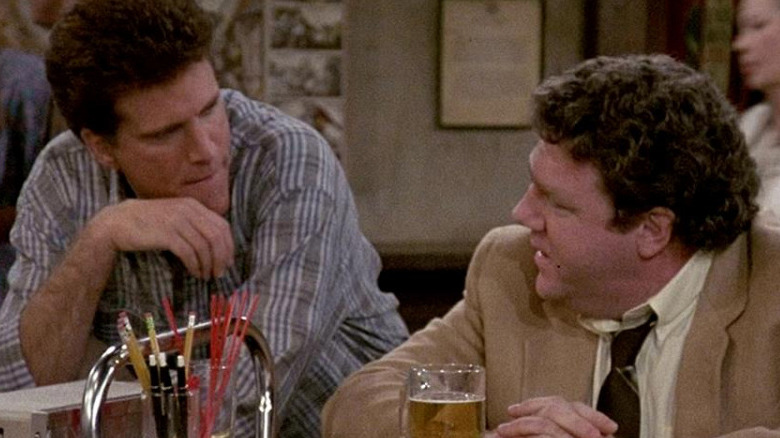 Paramount
"Cheers" continued to adapt to a new cast and story dynamic in season 7 and for the only time in the show's run, decided to go fully episodic without an over-arching story to tie the season together. That being said, there are some real fantastic moments that show off the show's clever writing and smashing ensemble.
This season's Bar Wars is a personal favorite with Sam and Woody acting in cahoots to win a Bloody Mary contest against Gary's Olde Towne Tavern. Sam teaches Lilith how to drive in a sub-plot of "How to Win Friends and Electrocute People" that is chaotically hilarious and proves Bebe Neuwirth's weight in gold as a comedic force. Rebecca's backstory is built up a bit more with the introduction of her sister, Susan, whom she teams up to get one back on Sam for his Lothario ways in "Sisterly Love."
It's an unusual season for "Cheers," and while the results are mostly favorable, it's one of their less memorable years as the show continued to search for new life.
7. Season 8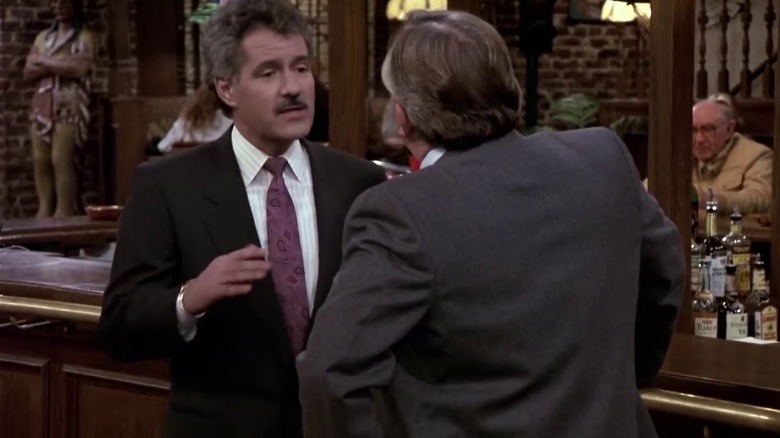 Paramount
After two languid seasons, season 8 sees a return to form for "Cheers." The writing sharpened up, the plotlines were compelling and fun, and every actor came to play. Kirstie Alley, in particular, really came into her own as Rebecca in season 8, resulting in a Golden Globe Award win, and Bebe Neuwirth and Ted Danson both received Emmys for their performances, as well.
Without a doubt, the highlight of the season is "What Is ... Cliff Clavin?" — which is also, arguably, one of the best episodes of the entire series. Cliff is given an opportunity to compete on "Jeopardy!" — a real dream come true for the bar know-it-all. After throttling the competition, he amasses $22,000 in winnings, only to lose it all in Final Jeopardy! on a bone-headed, yet Classic Cliff, answer. There's also a sub-plot where Sam's little black book is stolen and in an effort to retrieve it, Carla and Rebecca help him pull off a mini-heist. The episode was the perfect example of what made "Cheers" such a great show for all those years: wholesome goofs and sexually deviant behavior with characters we'd come to know like family.
One of the show's most lauded episodes, the late great Alex Trebek makes a memorable guest appearance putting the proverbial cherry on top of the "Cheers" sundae.
6. Season 5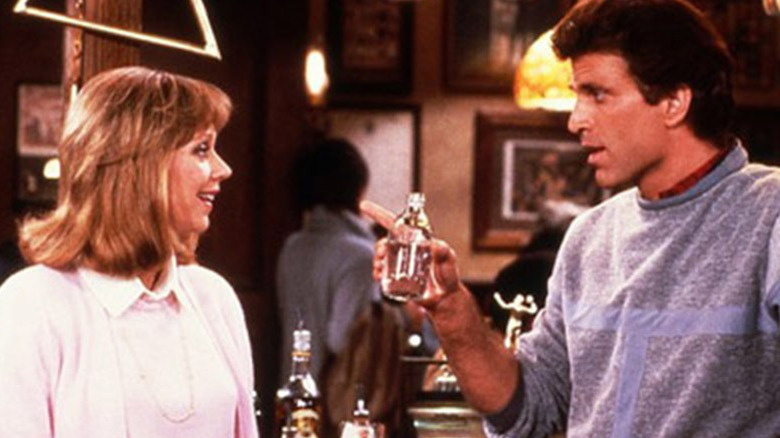 Paramount
The effect Long's leaving had on "Cheers" and her importance to the show truly cannot be overstated. "We've always said that we're not sure 'Cheers' would have lasted through the first season if it hadn't been for her," Les Charles, "Cheers" writer and producer, told The Hollywood Reporter. "While some of the other members of the cast were still feeling their way along, Shelley came in at full blast with energy and sparkle. She was hilarious, loveable and the dynamic of the show."
"For my money, Shelley's just after Lucille Ball for great physicality and comedy," continued David Isaacs, another "Cheers" writer and producer. "Pound for pound, I think she's one of the best comic actresses I've been around."
When it came time to say good-bye to Diane and bring her and Sam's story to a close, the writers went to bat for Diane and Long with the season 5 finale, "I Do, Adieu." Despite her initial insistence to the contrary, Diane eventually chooses to pursue her writing career in lieu of marrying Sam and staying in Boston. On the day of their wedding, instead of exchanging vows, Diane promises Sam she'll return to him in six months, but Sam knows better.
A bittersweet end to a five-year courtship, season 5 marked the end of an era for "Cheers." In the remaining six seasons of the show, "Cheers" would eventually retain some of its former glory, but things were never quite the same.
5. Season 2
Paramount
"Cheers" season 2 struggles at times to find its balance between being an ensemble show and one that focuses on a blossoming and fraught romance. Far too often, Sam and Diane take center focus and threaten to overwhelm the series with their constant bickering and on-again, off-again relationship.
Yet, episodes like "Where There's a Will ..." — in which a dying man decides to leave $100,000 in his will to the Cheers team — remind audiences of the potential the entire cast has in a group performance. Each character plays to their strengths as they determine first, whether the bar napkin the man wrote the declaration on is legal, and then how the money will be divided and spent.
The strength of "Cheers" has always been in the group friendship and not any particular character. For all the fuss Sam and Diane (and subsequently Rebecca) make, Cliff, Norm, Carla, Frasier, Coach, and Woody keep the show from becoming a soap drama with a few jokes. While season 2 had some great examples of this, ultimately the decision to hyper-focus on Sam and Diane created a sophomore jinx.
4. Season 11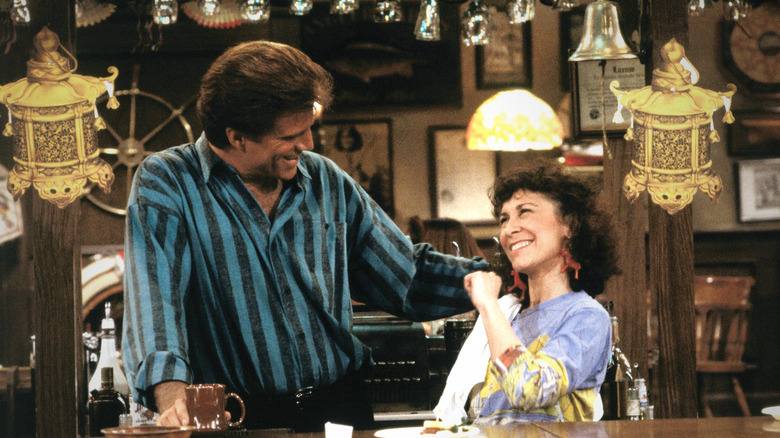 Paramount
Wrapping up a legacy sitcom is incredibly difficult, but "Cheers" creator James Burrows and the writing team pulled off the near-impossible: a thoughtful and fun final season that paid respect to the legacy they had built without being stuck in the past.
Season 11 is filled with classic "Cheers" hi-jinxes, like when the bar gets temporary custody over a slot machine in "The King of Beers," and a final epic Bar Wars battle between Cheers and Gary's Olde Towne Tavern. Leading up to the last episode, season 11 set the stage for the end: Woody was heading towards a career in local politics, Frasier and Lilith separate, Rebecca finally finds love, Sam attends group therapy for his sex addiction, and Cliff believes his neighbor is Adolf Hitler.
Over 40 million households in America tuned in for the super-sized series finale, which saw the return of Diane and the final late-night bar hang where the group contemplated the meaning of life. "Cheers" had built an undeniable legacy for 11 seasons and stuck the final landing with purpose and humor.
3. Season 1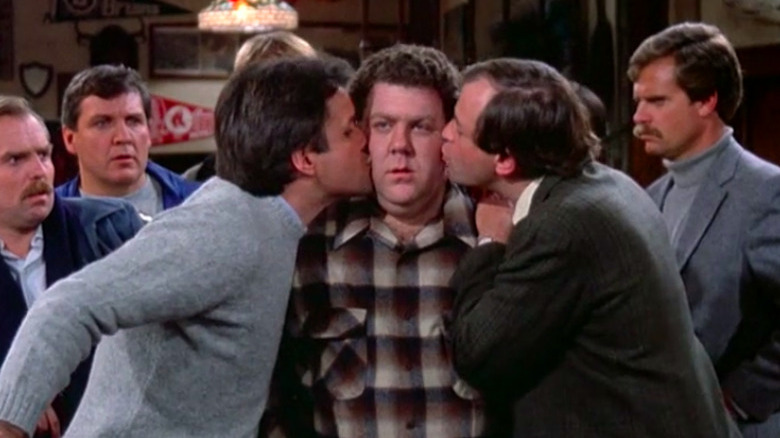 Paramount
"Cheers" ushered in the era of 'Must-See TV' on NBC and it all started with the fresh and charming season 1. While shows like "M*A*S*H" and "The Mary Tyler Moore Show" were massive successes with legacies of their own, "Cheers" entered the sitcom scene with sharp and clever writing the American network comedy scene hadn't heard or seen before. The acting was on point and the humor was a mix of screwball jokes and gags of a bygone era with scathing modern dialog, creating something new and unique. Not only did season 1 introduce us to the vibrant personalities that would occupy the bar stools for 11 years, the show wasn't afraid to tackle serious issues like homophobia from the jump.
The show wasn't an instant success, but its humble beginnings grew their audience organically and season 1 lay the ground work for one of America's most beloved shows of all-time.
2. Season 3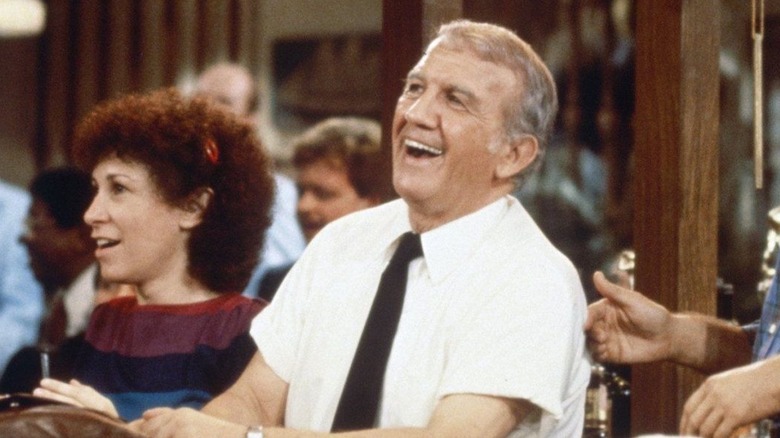 Paramount
The best season of "Cheers" is a toss up between seasons 3 and 4. Both seasons put forth a strong contingent of episodes, jokes, character arcs, and plots. By season 3, "Cheers" had won Emmys and knew its audience. The cast had an effortless ease with one another that translated into witty banter thanks to top shelf writing and direction.
The introduction of Frasier Crane as a love interest for Diane wasn't received well straight away for breaking up the golden couple (according to a cast and crew interview with GQ, Kelsey Grammer received a great deal of hate mail and was even approached at a bar and asked, "Are you that pin dick that plays Frasier?"). But his inclusion created timeless friction and a refreshing change from the Cheers regular that is perfectly on display in "The Heart Is a Lonely Snipehunter."
The only reason season 3 receives the silver medal is because of the show's slightly awkward handling of Nicholas Colsanto's death. "Cheers" opted to explain Coach's disappearance in the final eight episodes of the season with peculiar excuses, the character's death was only acknowledged in later episodes in a rather haphazard manner. An unenviable position, the sudden disappearance of Coach failed to honor the memory of Colsanto properly and give fans respectful closure.
1. Season 4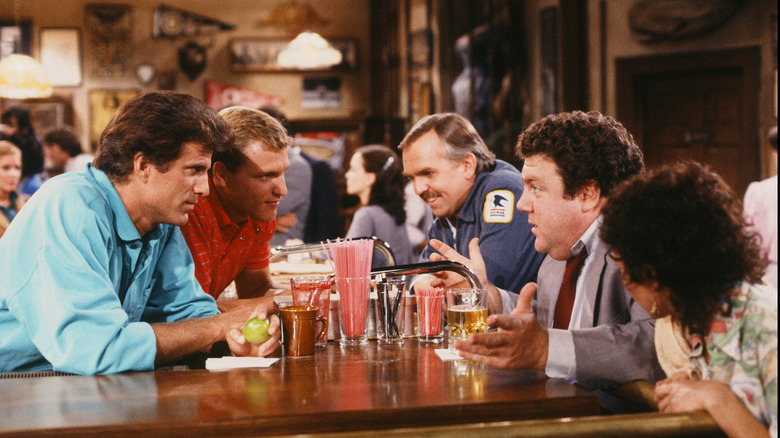 Paramount
The introduction of Woody Boyd in season 4 to fill the hole Coach's passing left brought a new energy to "Cheers" that wasn't seemingly necessary until it was. As the sweet, naive young man from Indiana, Woody brought a boyish charm and youth that the show had been lacking. Hilariously, during an interview with Howard Stern, Woody Harrelson admitted to never having seen "Cheers" until they contacted him about the part. Regardless, Woody (Boyd and Harrelson) was a perfect fit.
With Woody's inclusion, the core group (save for Kirstie Alley's addition by Shelley Long's subtraction) that would remain together until the series finale was set. Season 4 also began the "Cheers" tradition of dramatic love triangles in the aptly titled episode "The Triangle" and was the season when the bar's rivalry with Gary's Old Towne Tavern begins with the very first Bar Wars competition in "From Beer to Eternity."
By season 4, all of the parts have fallen into place and the tone of the show has been well-established, allowing for the writers and actors to let loose and have fun. The show that we know and love truly starts here.