RRR Scribe Vijayendra Prasad Looked To Some Indian Epics For Inspiration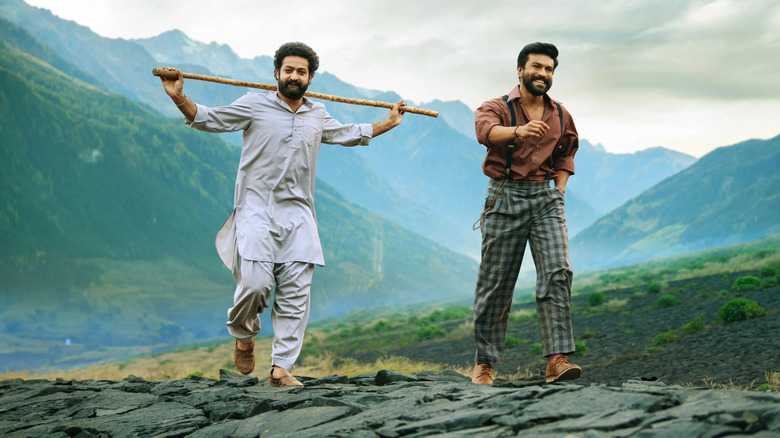 Sarigama Cinemas
There's no question: "RRR" is one of the best films of the year. We at /Film called it a "maximalist epic that puts Hollywood blockbusters to shame." While I can't speak for everyone on staff, I will firmly agree with these sentiments with my whole chest. S. S. Rajamouli's untouchable masterpiece has been captivating audiences all across the globe, thanks to the striking visuals and the historical-fiction saga co-written by V. Vijayendra Prasad of two legendary revolutionaries on the journey of a lifetime that leads to fighting against British colonialists in the 1920s. Despite its over 3-hour runtime, "RRR" is jam-packed with so many unbelievable moments we cannot believe exist, and are certainly begging the Academy to do the right thing by giving "RRR" as many Oscar nominations as humanly possible.
In a recent on-stage presentation at the 53rd International Film Festival of India (IFFI) in Goa, V. Vijayendra Prasad was in attendance and paid honor to the Indian film epics that helped inspire him to co-write quite possibly one of the greatest films ever made. As was reported by Variety, Prasad was hosting a masterclass called "The Master's Writing Process," where the prolific, 80-year-old screenwriter went through his Telugu and Hindi-language filmography and broke down which films and stories were vital to the crafting of "RRR."
"I go to our epics for inspiration," he said, naming the Sanskrit epics of "Mahabharata" and "Ramayana" as sources of inspiration. He noted that there's not really an option of telling a "new" story at this point, but that the emotions and thematic ingredients present in these epic tales can be rewritten into something that feels unique.
'You have to create something out of nothing.'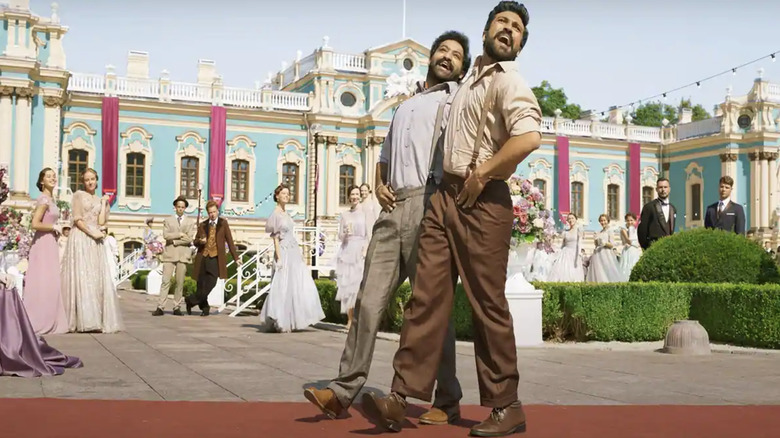 Sarigama Cinemas
V. Vijayendra Prasad is currently working on the script for the sequel to "RRR," in addition to his own take on "Mahabharata." For the uninitiated, "Mahabharata" focuses on the familial struggles between two groups of cousins during the Kurukshetra War and the fates of the Kaurava and the Pāṇḍava princes and their successors. There's plenty to draw from in "Mahabharata," including high-drama stories of royal power struggles not unlike something out of "House of the Dragon."
Prasad said during his masterclass that he's always looking to make his audience "hunger" for more, and crafting out the best possible flow of a story and the twists within it. "You can think about what would happen before that incident and what happens after," he said. "I think of high points and then connect them. You have to create something out of nothing." He uses a technique he named "clapping points," which are the major moments that would cause an audience to applaud, and how important it is "to carry the viewer from one clapping point to the next, till the crescendo."
"Within five minutes the viewer should be hooked to the movie, they should know the nature of the movie and where it is going to end. This is the mental map I follow," he said. Indian epics are filled with "clapping moments," especially a story like "Mahabharata" which incorporates smaller narrative stories and philosophical discussions throughout the tale. As a sweet closer, Prasad also acknowledged his stories' lack of women leads and joked that he'd gladly take a pay cut if it meant someone would greenlight one of his women-led scripts.
So, uh, whose gonna give Prasad the budget he deserves?