10 Mystery Movies That Glass Onion: A Knives Out Mystery Fans Should Watch Next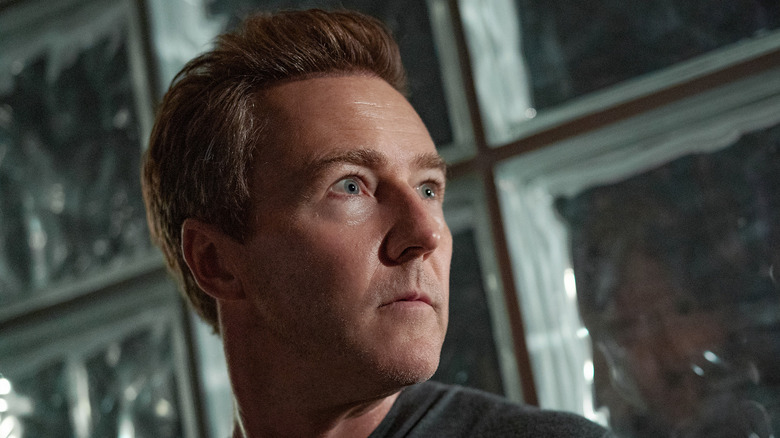 Netflix
The most reassuring thing about "Glass Onion," Rian Johnson's superb follow-up to "Knives Out," is that it's subtitled "A Knives Out Mystery." Johnson's first Benoit Blanc film felt like lightning in a bottle, a non-IP movie with a big, star-studded cast that produced blockbuster box-office numbers. Even better, it was brilliant. Movies like "Knives Out" don't come around very often, although with "Glass Onion" vaulting over the lofty bar set by its predecessor, it sort of feels like they might.
In reality, a number of intimate murder mysteries have been released in the three years since "Knives Out" hit theaters. Some are classically lavish; others are quirky and comedic. Like "Knives Out," however, each one feels like a nod to Hollywood history, which is full of classic mystery films. Every one should satiate a viewer whose appetite has been whetted for tricky cases and singular detectives. So, while there are more "Knives Out" whodunits on the way (and an unrelated mystery TV series by Rian Johnson), here are 10 other mystery films you should see if you loved "Glass Onion."
Brick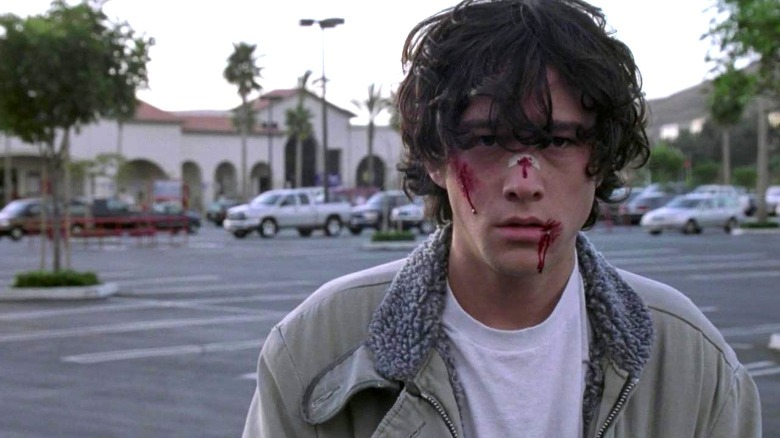 Focus Features
"Brick" is the original Rian Johnson whodunit. It's radically different from the Benoit Blanc adventures that followed it, and yet they're absolutely spiritually aligned. In all three films, detective work is a love language. Blanc and Brendan (Joseph Gordon-Levitt) love solving cases, even if they're both reluctant to admit it. Doing so plugs them into the best and worst of humanity. There's no other current of energy quite like that.
In "Brick," however, the language of classic noir movies is literally spoken by the film. "Brick" brings hard-boiled dialogue to an ordinary, modern high school and lets the tonal mishmash alchemize. Characters have code names like "The Pin" and toss off tough but poetic missives like, "Now we've shaken up the tree. Let's wait and see what falls on our heads." There's a genuine sense of peril to the crimes that unfold, and yet Johnson frequently finds ways to remind audiences that they're watching a bunch of high schoolers (the sudden appearance of a nefarious character's mom, for example.) "Brick" lacks the Hollywood sheen and elegance of the "Knives Out" films, but it shares the same restless creative spirit, and is a great opportunity to watch one of the great modern directors build his filmmaking muscles. "Glass Onion" fans should rush to see it, if they haven't yet.
See How They Run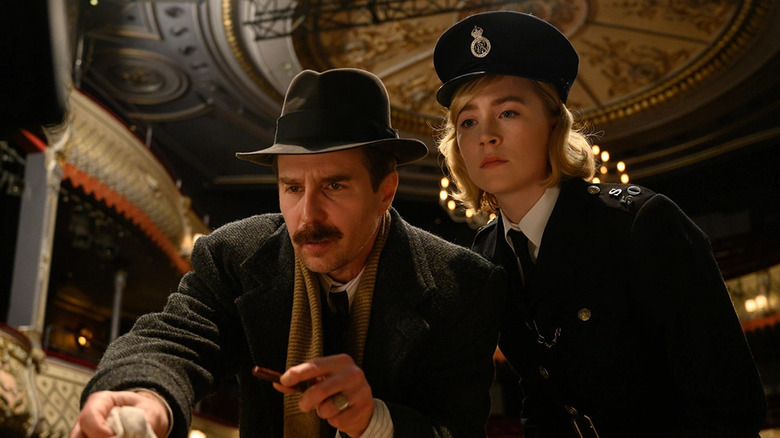 Searchlight Pictures
From its opening moments, "See How They Run" is gleefully in love with Agatha Christie's work, as well as the type of mysteries that made her famous. It opens at the original production of "The Mousetrap." Minutes later, the Hollywood director who's begrudgingly adapting it, Leo (Adrian Brody), is killed. "If you've seen one [whodunit], you've seen 'em all," Leo snarls in voiceover. But how is Leo narrating his own murder? Will "See How They Run" remain this meta, or will it settle into a standard period piece? The answers are all surprising.
That's what elevates Tom George's movie from an homage to a spiritual successor. "See How They Run" has its cake and eats it too — it's all too aware that murder mysteries were the comic book movies of their day, and it has its way with the Hollywood IP parade even as it's, technically, doing something brand new. Saorise Ronan's performance is a must-see for fans of Daniel Craig's Benoit Blanc, and the way the film shatters its cast's stiff upper lip is reminiscent of the holes that "Knives Out" and "Glass Onion" poke in American wealth and entitlement. Somehow, "See How They Run" is still slept on despite being readily available on HBO Max, and serves as a fine follow-up to both "Knives Out" and "Glass Onion."
Green for Danger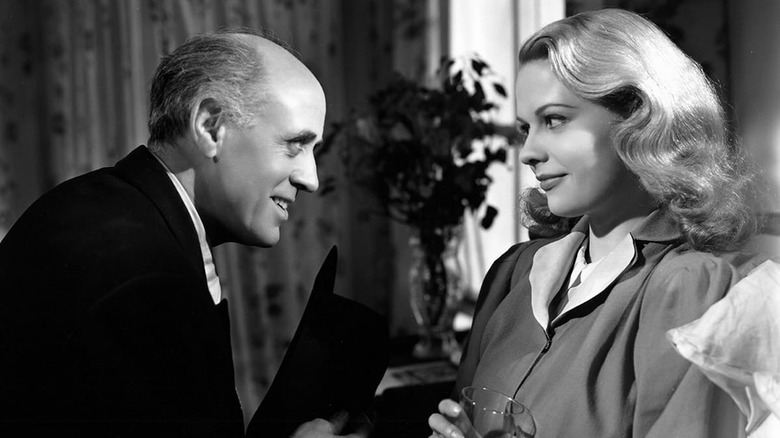 General Film Distributors
"Knives Out" is celebrated for its singular detective and twisty plot. The former reinvents Daniel Craig's onscreen persona, and the latter sets a new standard for third-act murder mystery revelations (one "Glass Onion" lives up to). That means that "Green for Danger" is one of the "Knives Out Mystery" series' eldest predecessors. A 1946 film directed with aplomb by Sidney Gillat, this classic marries an Agatha Christie-style whodunit to a wartime thriller, with one of the best onscreen detectives ever at its center.
On the off chance that you aren't familiar with acting legend Alister Sim, "Green for Danger" is a perfect introduction. His Inspector Cockrill is equal parts bumbling and beguiling, a sneakily smart detective with a Cheshire Cat grin and charm to spare. Benoit Blanc's roots can be seen as much in Cockrill as Miss Marple or Hercule Poirot. That makes the film a must-see for "Knives Out" fans.
But that's not all. "Green for Danger" also has a genuinely surprising third act, the sort that feels inevitable in retrospect but still plays like gangbusters. That's what makes "Knives Out" a delight on repeat viewings, and why "Green For Danger" should be seen at least once by everyone.
Lone Star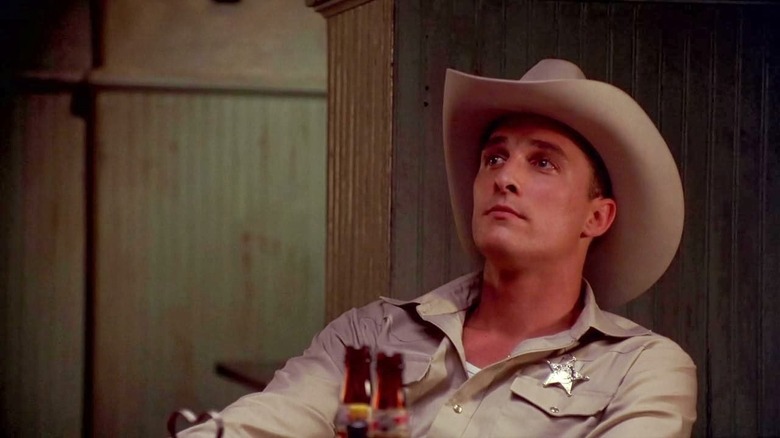 Tri-Star Pictures
"Knives Out" was a decidedly Massachusetts affair, from wealthy socialites who brag that they saw "Hamilton" to an abundance of cozy sweaters. "Glass Onion" is a reflection and refraction of Greece's sun-soaked islands (to say more would spoil "Glass Onion.") John Sayles' 1996 masterpiece, "Lone Star," is cast from the same mold, maximizing the setting's thematic resonance by working overtime to be the most Texas movie ever made. It's more than the on-the-nose title. "Lone Star" takes a deep dive into the history of its Rio County setting, plumbing it not only for familial secrets and decades-old crimes, but also the generational experiences of those in power and the marginalized people of color. It loves Texas, and is equally quick to point out the poison in its roots. It's a film that both interrogates and celebrates.
What's more, "Lone Star" concerns itself with the weight of shared history. In "Knives Out," "Lone Star," and "Glass Onion" the ties that bind are heavy. Sometimes, they're forged by friendship. More often than not, they're familial. The constant is that, no matter what, they matter. This is what makes "Lone Star" a peer, not a contrast, to Rian Johnson's work, and one of many reasons it's a must-see for "Glass Onion" fans.
Primal Fear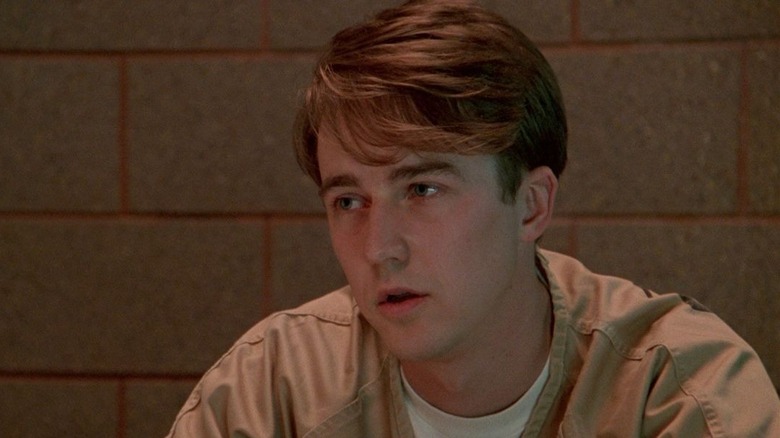 Paramount Pictures
Part of what makes the "Knives Out" films feel miraculous are their impeccable ensemble casts. Rian Johnson and casting directors Mary Vernieu and Bret Howe understand that a mystery is only as good as its suspects, and the actors they choose fully deliver — and then some. Many give performances that expand their range: Chris "Captain America" Evans cements his sneering bad guy bona fides in "Knives Out," while Ana de Armas proves she can play a winning, layered ingénue. There's no need to spoil why Edward Norton's work in "Glass Onion" is on par with Evans' and de Armas', but suffice it to say that it's a contender for the actor's Mount Rushmore of screen roles.
Ironically enough, Norton's Academy Award-nominated performance as a different suspicious character is assuredly one of his top four efforts. As Aaron Stampler in Gregory Hoblit's "Primal Fear," Norton is the ultimate wild card. Hampered by a stutter and general docility, Stampler is initially the portrait of innocence. That's a major reason why Richard Here's Martin Vail takes his case. As the film progresses, though, the revelations about who Aaron actually is and what crimes have really been committed become more and more alarming.
Again, no spoilers here, but it's fair to say that "Primal Fear" set the tone for the entirety of Edward Norton's dramatic oeuvre. Norton thrives on unpredictability, and contains a live-wire energy that seems ready to break his slender frame upon release. He's also capable of a disarming vulnerability. In "Primal Fear," he wields both like weapons. It's a must-watch performance for anyone who enjoyed Norton in "Glass Onion," or who enjoys the series' twisty plots.
Clue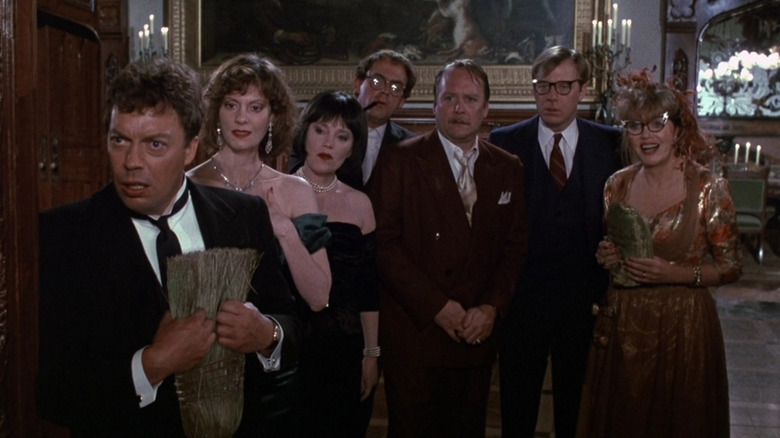 Paramount Pictures
At their cores, "Knives Out" and "Glass Onion" are fiendishly comedic entertainments. The mysteries have genuinely high stakes, but the films are never distressing or disturbing. Few movies successfully walk that tightrope, but Jonathan Lynn's "Clue" is one of them.
Inspired by the famous Hasbro board game — and still the best movie based on a tabletop title — "Clue" is a comedic tour de force. It stacks punchlines like deli meats. Every time that you think the movie can't get richer, it does, from the late-breaking assassination of a singing telegram artist to its memorable endings (all three of them). Like "Glass Onion," it's genuinely surprising, and its cast couldn't be more qualified. There are moments in "Clue" when no less than Christopher Lloyd, Madeline Kahn, and Tim Curry go toe-to-toe, giving no stylistic quarter. There is zero doubt that this is cinema. 
That's the other reason why "Clue" is a must-watch for "Glass Onion" fans. Both are closer to blockbuster films than art-house mysteries, yet each is so impeccably assembled that they feel like next-level moviemaking. I'd go so far as to say they are. Lynn and Johnson paint indelible portraits of humanity while doling out pulpy narratives that are anything but draining. They're the types of movies that make you wonder why there aren't a hundred more like them.
The Nice Guys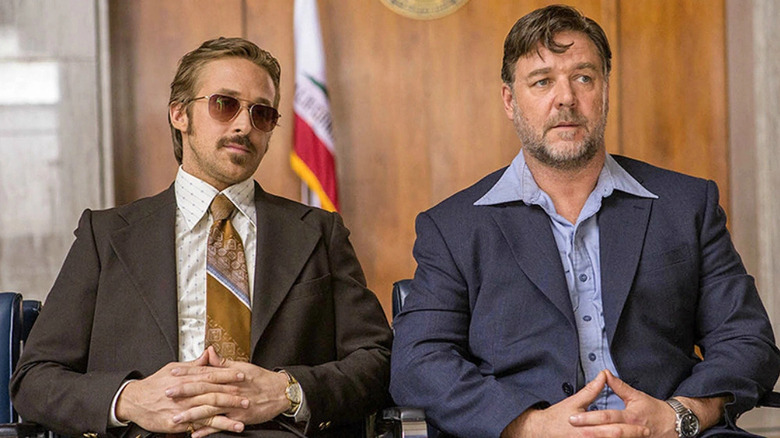 Warner Bros.
There are many contenders for the funniest performance of the century, but Ryan Gosling's turn as Holland March in "The Nice Guys" is absolutely in the running. As March, Gosling is Elliot Gould in "The Long Goodbye" by way of Looney Tunes. He's prone to both high-pitched screaming and deadpan line deliveries. March is believable as a detective, but he also seems barely competent. If scientists tried to create the ideal seriocomic character in a lab, even they would have trouble making Holland March. His brilliance feels intrinsically tied to Gosling and his work. Even better? The rest of "The Nice Guys" is on his level.
If you love Benoit Blanc in "Glass Onion," "The Nice Guys" gives you not one but two quirky detectives to root for. Neither is as polished as Benoit. Holland March is a mess. Jackson Healy (Russell Crowe) is a broken, blunt-force instrument. Writer-director Shane Black loves them both. He takes Healy and March on the long, punch-filled road to redemption, dragging them into a seedy case of mistaken identity, political corruption, and no shortage of screw-loose henchmen. "The Nice Guys" is more of a quest for the truth than a classic whodunit, but it hardly matters when the heroes are as endearing as the pair in question. It doesn't hurt that Black and "Glass Onion" writer-director Rian Johnson share an affinity for idiosyncratic dialogue, either. "The Nice Guys" is "Glass Onion" by way of an R rating and far more whiskey. It rules.
The Wolf of Snow Hollow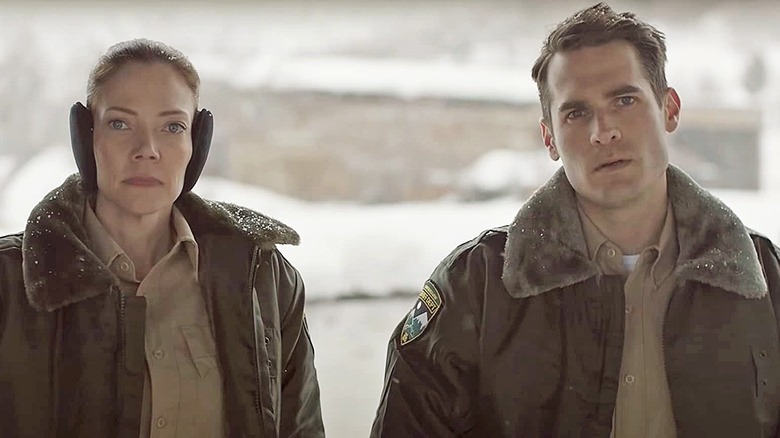 United Artists Releasing
There's no clear victor in the unofficial contest for "most amusing 'Glass Onion' character." Dave Bautista's Duke Cody is near the head of the pack, as is returning detective Benoit Blanc. In "The Wolf of Snow Hallow," though, there is no competition. It's Jim Cummings' John Marshall, a blowhard police officer whose comedic verbal tirades mask a bruised insecurity and genuine do-gooder instincts. Marshall is a wondrous character not far removed from Cummings' breakout role, Officer Jim Arnaud in "Thunder Road," but the central plot of "The Wolf of Sleepy Hollow" is far more elaborate and "Glass Onion"-worthy.
On the surface, "The Wolf of Sleepy Hollow" is a horror-comedy. Marshall is tasked with investigating a series of gruesome killings in his normally sleepy town, each of which appears to be the act of a werewolf. As the film unfolds, however, it becomes clear that we're really watching a whodunit. That tonal shift puts "Wolf of Sleepy Hollow" closer to "Glass Onion" than unsuspecting fans might be prepared for, particularly given the latter's elaborate contraptions and sinister machinations. "The Wolf of Sleepy Hollow" and "Glass Onion" both probe modern myth-making for clues as to why humans scheme, lie, and kill. Both also contain genuinely moving subplots; this comedic werewolf thriller and the quirky murder mystery would make an excellent double feature on movie night. Watch them both as soon as possible.
Werewolves Within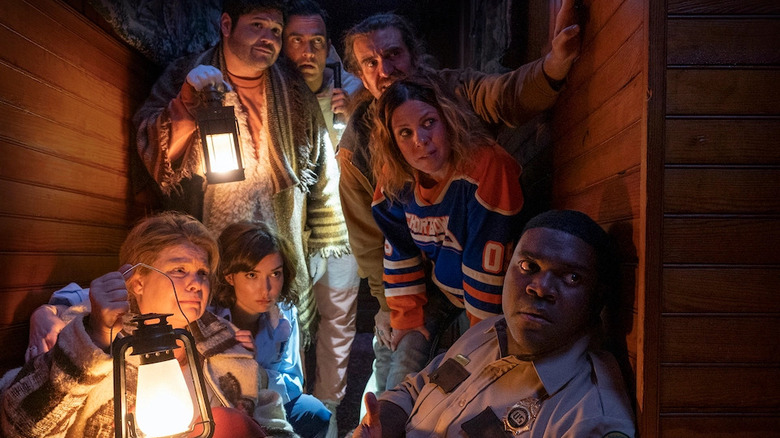 IFC FIlms
Your eyes don't deceive you: There's a second werewolf murder mystery on this list. That should be less surprising than it seems. Chamber murder mysteries like "Glass Onion" are, at their core, a search for a wolf hiding in sheep's clothing. The reveal of the killer is the equivalent of a werewolf transformation scene, albeit with far less fur. Along those lines, Josh Ruben's ecstatic "Werewolves Within" makes ample room for both police work and actual werewolves. It's also as funny (if not funnier) than "Glass Onion," which is saying something given how deliriously entertaining the second "Knives Out" mystery is.
Give all the credit in the world to director Josh Ruben and his talented ensemble (Sam Richardson, Milana Vayntrub, Harvey Guillen, and so many more) for the film's comic combustibility. At times, the wide-angle shots of five actors riffing feel closer to a stage play than a movie. Ruben, however, also has sharp filmmaking instincts. Sequences depicting suspicious break-ins, paranoia-inducing confrontations, and the final battle are all impeccably shot and edited. That Ruben blends the theatrical with the cinematic all while honoring the whodunit's history with both is a testament to how hard "Werewolves Within" rocks. If you enjoy Rian Johnson's mystery canon to any degree, you need to check it out.
Murder Mystery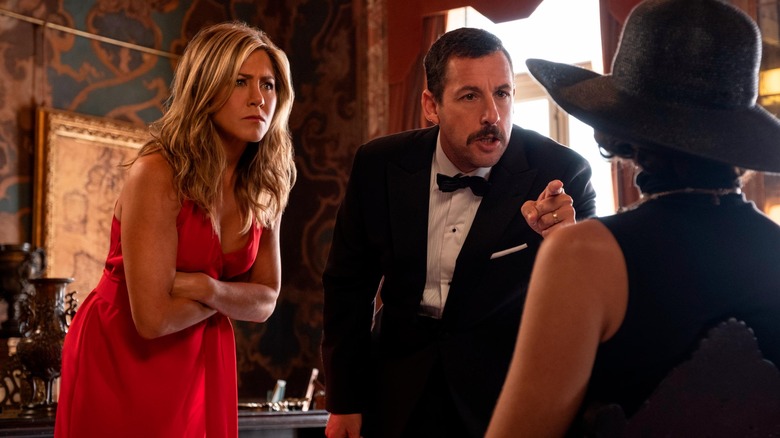 Netflix
"Murder Mystery" is the slightest of the films listed here. At times, it barely feels like a movie. Netflix's lavish but loose Adam Sandler comedy pits the actor and Jennifer Aniston against a daffy collection of top-tier actors for a whodunit that reflexively smirks at itself.
Shockingly, while this sounds like a chore, it isn't. If you loved "Glass Onion," there are two things that make "Murder Mystery" worth your time. One: Sandler and Aniston have genuinely excellent comedic chemistry. If you ever needed proof that the two veteran A-listers are effortlessly good at what they do, "Murder Mystery" is it. It's hard for a comedy to feel both low-stakes and snappy, but their bickering does, and that's delightful. (Some credit, of course, must go to James Vanderbilt's script, which isn't on the level of his "Zodiac" or "Scream" screenplays but is still reliably punchy.) 
Two: "Murder Mystery" leans into its Monaco location to a degree that does the Greece-set "Glass Onion" proud. There's some particularly solid stuff shot in and around the city's Grand Prix, and the decision to have Sandler and Aniston's Nick and Audrey Spitz play tourist as much as detective is a wise one. All gumshoes are strangers in strange lands. They wander into a foreign situation and must learn the language of each individual crime scene. At its best, "Murder Mystery" makes this literal. While it's a comedown from the highs of "Glass Onion," so is an IPA after a well-aged whiskey. But you know what? IPAs are also wonderful.