Every Main Character In Glass Onion: A Knives Out Mystery Ranked Worst To Best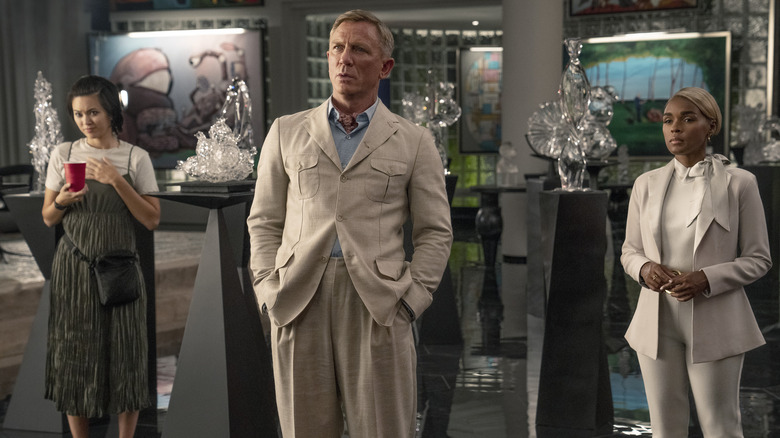 John Wilson/Netflix
Warning: The article below contains major spoilers for "Glass Onion: A Knives Out Mystery."
Rian Johnson found a recipe for success with his 2019 whodunit, "Knives Out." He assembled an all-star cast that included Daniel Craig, Toni Collette, Christopher Plummer, Chris Evans, and Jamie Lee Curtis, threw them in a mansion together, and let them bicker about who was responsible for killing grandpa. The result was a thrilling, raucous film that managed to say something about the wickedness of wealth; the image of Ana de Armas standing on the mansion's balcony, cupping her "My House, My Rules, My Coffee" mug, is transcendent.
Turning "Knives Out" into a franchise was a no-brainer, and the series continues with "Glass Onion." The film follows Craig's detective Benoit Blanc as he investigates a new mystery, surrounded by a brand-new cast of ultra-wealthy villains played by Hollywood heavyweights. As "Glass Onion" opens, the world is reeling from the onset of the COVID-19 pandemic. An eccentric billionaire sends out messages in the form of puzzle boxes, inviting his friends to spend a weekend on his private island, away from the diseased hoi polloi. There's a politician, a scientist, a YouTuber, and a socialite, all of whom the billionaire considers "disruptors." Curiously, Benoit Blanc has been invited as well...
Like "Knives Out," "Glass Onion" succeeds largely on the strength of its fantastic ensemble. Even though the characters are all terrible people, they're a lot of fun to watch. Here is every main character in "Glass Onion," ranked from worst to best.
9. Peg (Jessica Henwick)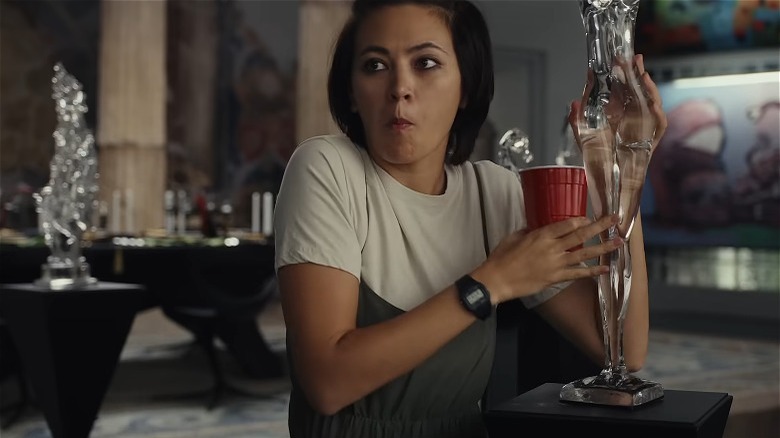 Netflix
Jessica Henwick does a solid job playing Peg, the beleaguered personal assistant to Kate Hudson's fabulously out-of-touch Birdie Jay. Along with Whiskey (Madelyn Cline) and Benoit Blanc, Peg is one of the only people invited to the island who wasn't part of the group of friends who met at the Glass Onion bar. However, she isn't treated like an interloper as much as she's ignored entirely. When Miles Bron (Edward Norton) makes each guest a personalized drink in a crystal glass, Peg is left drinking out of a red solo cup.
Unfortunately, Henwick's performance is underserved by a narrative that ignores Peg almost as much as the characters around her do. She gets a nice scene in which she realizes that her boss is even more cruelly oblivious than she thought — her quiet desperation when she realizes that Birdie was unaware of the meaning of "sweatshop" is particularly well-played — but she never really has a standout moment like the rest of the cast. For that reason, she lands last on this list.
8. Lionel Toussaint (Leslie Odom, Jr.)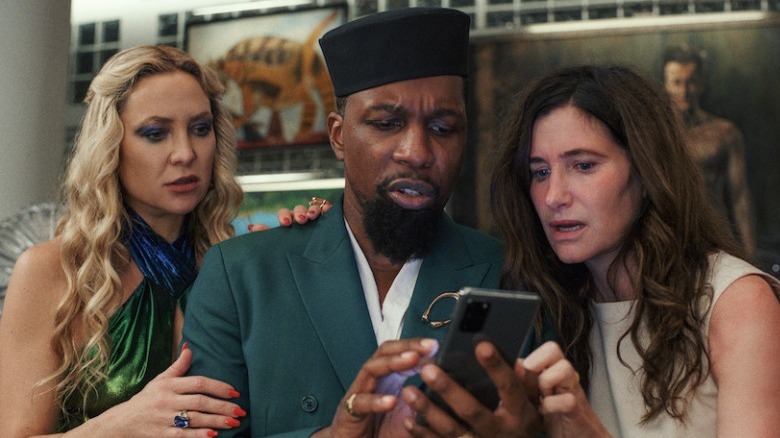 Netflix
Unlike Miles Bron, Lionel Toussaint (Leslie Odom Jr.) is an actual scientist. He receives his puzzle box while on a Zoom call with aerospace engineers; Lionel is trying to convince them to take a sample of Klear on a manned mission into space. The thing about Lionel is that he knows that what he's doing is wrong. Lionel has been begging Miles for more time to test Klear, desperate to ensure its stability before a worldwide rollout. However, in order to stay in Miles' favor, Lionel willingly risks the lives of the astronauts, who may now find themselves in space with a dangerous, incredibly-combustible material.
Lionel is one of the more serious characters in the film, which unfortunately makes him less fun to watch than a lot of the other, more cartoonish guests. When "Glass Onion" rewinds to reveal what the audience has been missing, we learn that Lionel is even a bit of a snitch. To put it simply, he just kinda sucks.
7. Duke Cody (Dave Bautista)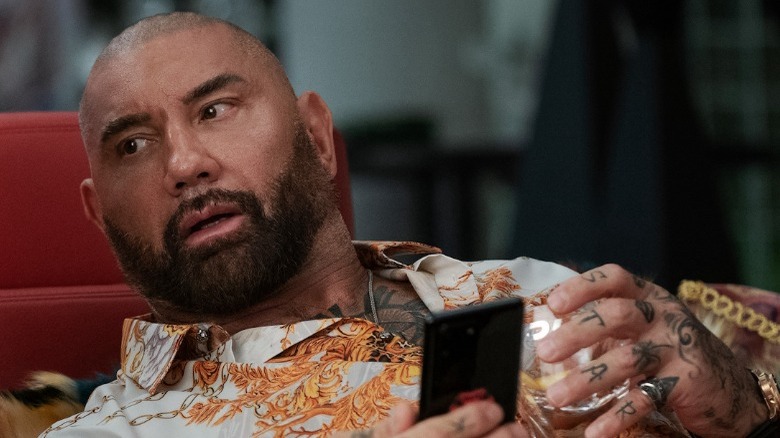 John Wilson/Netflix
In "Glass Onion," the usually-likable Dave Bautista plays Duke Cody, a men's rights YouTuber who only uses that site because he's been kicked off of Twitch. He's a real gem, in other words. He still lives with his mother — played by the hysterically droll Jackie Hoffman — and he knows that his girlfriend, Whiskey, has been sleeping with his friend Miles. It's no surprise, then, that Duke loves guns; the big guy may be overcompensating by keeping a handgun on his hip at all times, including while swimming in a Speedo.
Unfortunately, Duke is also exceedingly unlucky. His most memorable moments in the movie come at the very beginning; Bautista is quite funny while sparring with Hoffman about the puzzle box that shows up on their doorstep. (She's already solved pretty much everything.) On the island, he accidentally drinks from a glass that has Miles' name on it and keels over, clawing at his throat. Soon, he's dead, sparking utter pandemonium among the guests as they race to figure out who was trying to poison Miles before the would-be killer strikes again. 
In other words, while Bautista is good in the role and Duke is a character who's fun to hate, his ranking is a matter of screen time; the character doesn't make as much of an impression as most of the others, landing him near the bottom of this list.
6. Whiskey (Madelyn Cline)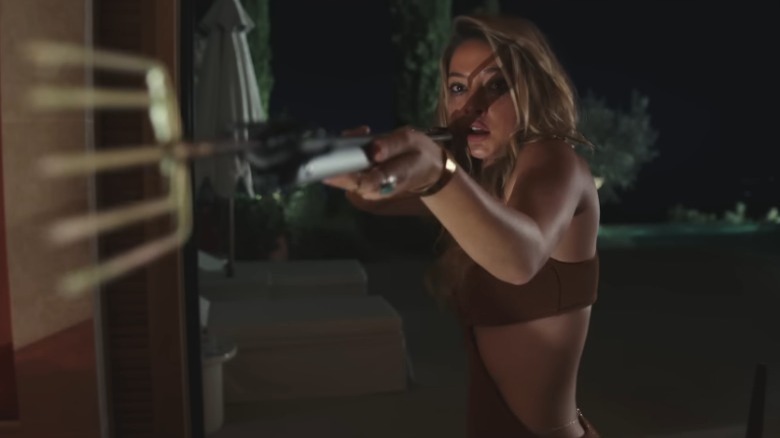 Netflix
Most of the characters in "Glass Onion" have been friends for years. That's not the case with Whiskey, Duke's girlfriend; they've only been together for about two years, so she still doesn't really know her boyfriend's friends. She knows Miles, though. Early in the film, Duke watches from the bushes as Whiskey and Miles get busy in bed. For a while, that's all we know about Whiskey: She's a girlfriend and a cheater.
However, when Whiskey and Andi (Janelle Monáe) happen upon one another while walking around the complex, Whiskey finds a sympathetic ear. She's far deeper than first impressions would suggest; she aspires to go to law school, and she knows her relationship with Duke isn't meant to last. She's just building a brand while she's young, and already has one foot out the door. That makes her a more nuanced, interesting character than Duke.
After Duke drops dead and the lights go out, Whiskey takes up a spear gun to defend herself. Even though she's emotionally distraught (and aiming the weapon at the wrong people), she looks badass. We can't help but root for Whiskey to extricate herself from the terrible situation she's in.
5. Claire Debella (Kathryn Hahn)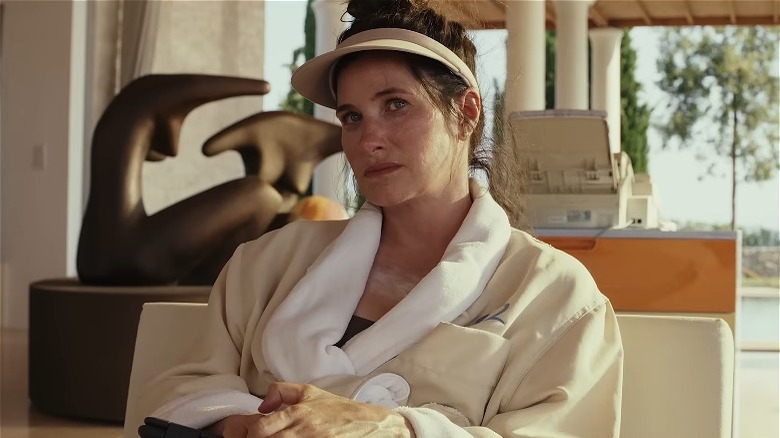 Netflix
The wonderfully acerbic Kathryn Hahn plays Claire Debella, governor of Connecticut. Claire is politically ambitious; as "Glass Onion" opens, we find her mounting a Senate campaign financed by her old friend Miles Bron. In order to receive his endorsement (and his money), she had to approve a new power plant powered by Miles' company's latest invention, Klear. However, when she arrives at Miles' private island, Claire discovers that Klear isn't nearly as stable as she's been led to believe. In fact, using Klear as a power source may leak toxic gasses into any home hooked up to the plant. In other words, Claire Debella has a motive.
Unfortunately, unlike some of the other characters in "Glass Onion," there just isn't much to her. Hahn handily sinks her teeth into a couple of comedic moments, and her performance elevates the character in this ranking. Still, Claire is far from the most memorable member of the film's motley crew of out-of-touch bad guys.
4. Miles Bron (Edward Norton)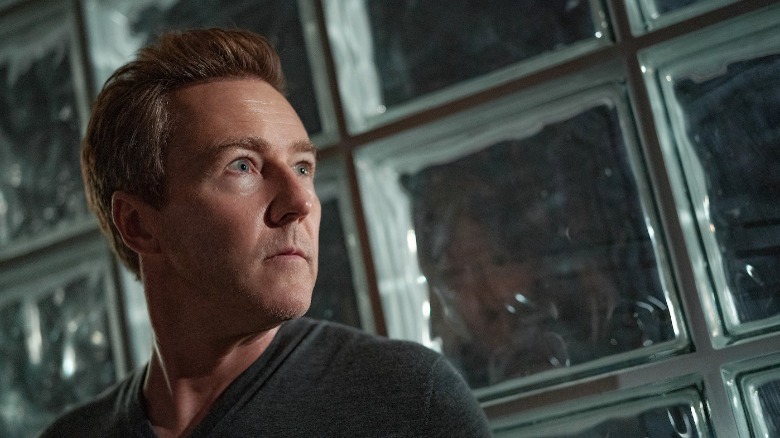 John Wilson/Netflix
Aside from Daniel Craig and Kate Hudson, no one seems to be having more fun in "Glass Onion" than Edward Norton. His Miles Bron is a tech-bro a**hole, exactly the sort of good-for-nothing "genius" who's worshiped for no reason other than his wealth. He's so rich, in fact, that he loans money to a pandemic-strapped France in exchange for the Mona Lisa. Yes, the Mona Lisa. 
Miles has gathered his closest friends — his "disruptors" — for a weekend of fun on his private island. He's even hired Gillian Flynn, author of "Gone Girl," to write a story for a murder mystery party. The whole event is in service of revealing the next stage of his company, Alpha, which does everything from making electric cars to exploring space. Klear, Alpha's new renewable energy source, powers his island. Who cares if it hasn't been proven stable quite yet? It's a disruption!
Benoit Blanc uncovers a lot of surprising info, but in the film's climactic moments, he reveals the least-shocking fact of all: Miles Bron is actually pretty stupid. He's not a genius just because he's rich. He's a liar who built his reputation on the backs of others. It's the film's most overt attempt at social commentary, making Miles one of the best characters in the movie.
3. Birdie Jay (Kate Hudson)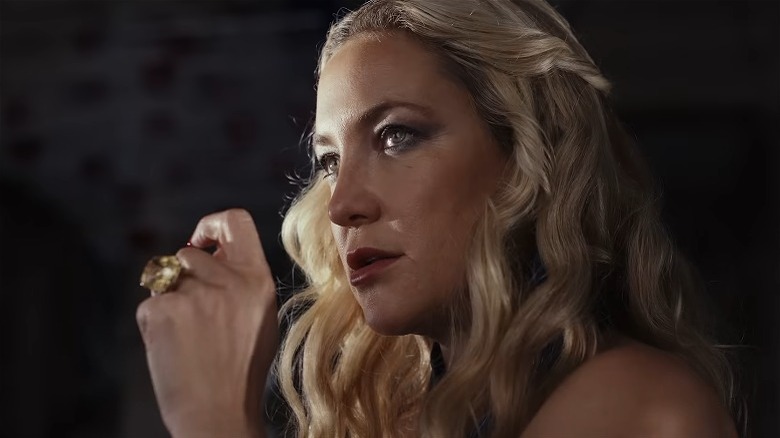 Netflix
Kate Hudson is an absolute scream as Birdie Jay. The character is an über-wealthy former model who now owns a line of sweatpants, which is undoubtedly a reference to Hudson's own athleisure empire. Thanks to the pandemic, Birdie's company's sales have gone through the roof, securing a fortune that was in jeopardy after slur-filled tweets threatened her reputation. As the film opens, Birdie's friends are all in quarantine thanks to COVID-19. Birdie, however, is in the middle of a fabulous house party full of eccentric and beautiful people, none of whom are wearing masks. "They're all part of my pod!" she insists. Hudson is maniacal in the role, pitch-perfect as a woman who has absolutely no empathy for her fellow human beings.
Birdie's sense of fashion goes a long way toward making the character so memorable. When she arrives in Greece, she's wearing the infamous mesh facemask that got Lana Del Rey in so much trouble. After showing off a jaw-dropping orange bathing suit and some feather-patterned resort wear, Birdie spends most of the movie in a shimmering rainbow dress that's as much a fashion moment as the sweater Chris Evans wears in "Knives Out."
Yes, Birdie is the worst of the worst of the 1% — a woman so unaware of others' struggles that she's actively evil — but she's just so much fun to watch. An icon is born.
2. Benoit Blanc (Daniel Craig)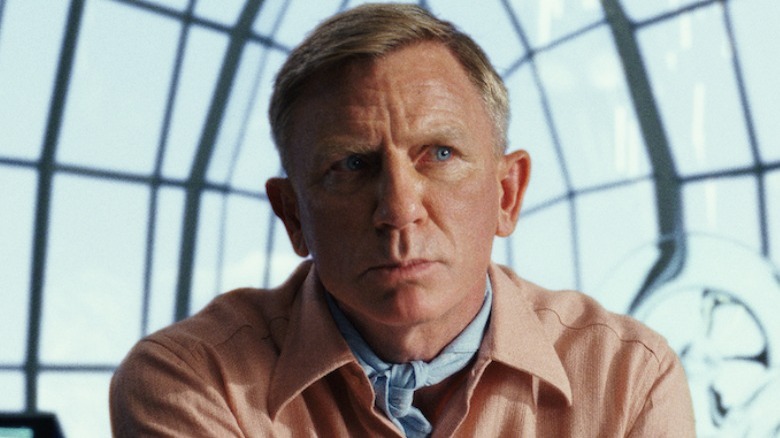 Netflix
As "Glass Onion" begins, Benoit Blanc is dramatically bored. He's stuck at home thanks to COVID-19, and, as he bemoans to some famous friends — including the late greats Stephen Sondheim and Angela Lansbury — there's a lack of interesting cases for him to solve. Moments later, one shows up on his doorstep. 
This time, Blanc is involved in the case from the very beginning, witnessing the crime as it goes down. He's as whip-smart as ever, and the twinkle of both bemusement and frustration in Craig's impossibly blue eyes adds an intriguing new dimension to the character. Blanc has fun even as the situation on the island spirals into chaos, and it makes the whole experience more entertaining for the audience, too. 
As is now typical for the franchise, Blanc has a trick up his sleeve. As the intensity builds and victims begin to pile up, the movie rewinds to show us what we've been missing. We learn that Blanc is not, as it seems, playing catch-up. He's been hired by one of the other guests on the island, and the murder he's there to solve is not Duke Cody's.
Rian Johnson has now filled two "Knives Out" films with memorable, eccentric supporting characters, but really, this is Blanc's movie. When the franchise continues, his ongoing presence will be all we need to feel confident that we're in good hands.
1. Andi Brand (Janelle Monáe)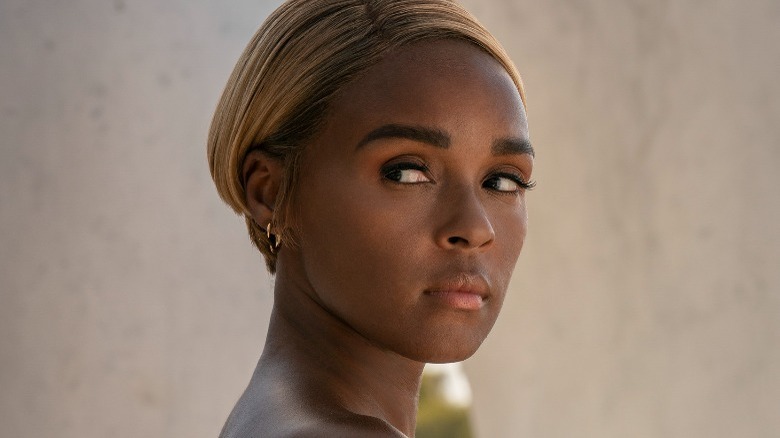 John Wilson/Netflix
Janelle Monáe runs away with "Glass Onion." She's electrifying as Cassandra "Andi" Brand, Miles Bron's former business partner. We meet her after she's been screwed out of her half of the company in court, thanks to Miles' claim that he invented Alpha himself. Everyone is surprised that Andi would dare show her face at Miles' mansion; after all, everyone else recently perjured themselves to defend him. She's the odd one out, the one with a grudge, and the one with something to prove. At first, Andi is mostly silent, but she later explodes in an impassioned plea for the truth. Monáe is great at conveying Andi's steely exterior, and she's even better at showing how it's a mask for her deep hurt.
But "Glass Onion" isn't exactly honest with its audience. When the film rewinds to peel back its murder mystery, we learn that Andi isn't Andi at all. Monáe isn't (just) playing a woman putting on a brave face in the company of people who have hurt her. She's playing a murdered woman's identical twin sister, someone who's putting on a front so that she can figure out which of her sibling's former friends are responsible for her death. Forget Andi; meet Helen Brand.
Before traveling to Greece, Helen asks Benoit Blanc to help her uncover the identity of Andi's killer. Blanc puts her in disguise, and it's an utter delight to watch Monáe, as Helen, slip in and out of the character we've been led to think was Andi. The layers! It's like an onion! Seriously, though, Monáe's Andi is as much a triumph as Ana de Armas' Marta was in "Knives Out." She's the best thing about the film.