Superhero Bits: Watch The First 10 Minutes Of Black Adam, Eminem Meets Spider-Man & More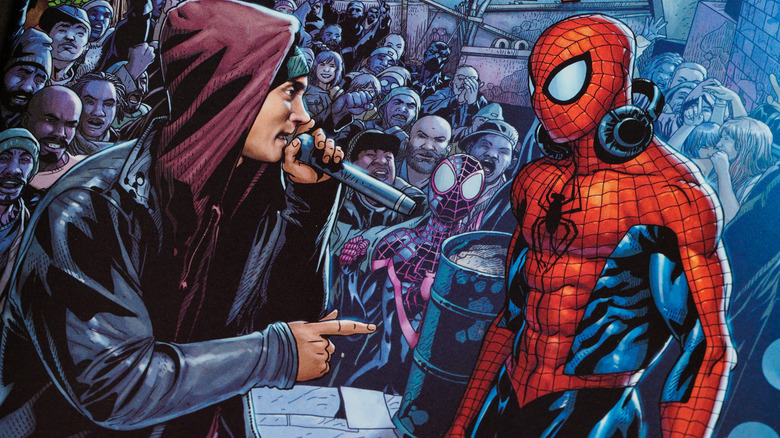 Marvel Comics
(Superhero Bits is a collection of stories, updates, and videos about anything and everything inspired by the comics of Marvel, DC, and more. For comic book movies, TV shows, merchandise, events, and whatever catches our eye, this is the place to find anything that falls through the cracks.)
In this edition of Superhero Bits:
Watch the first 10 minutes of "Black Adam" for free.
Vincent D'Onofrio teases his ultimate Kingpin fight.
Eminem makes his way to the pages of Marvel Comics.
Image announces a new superhero series, "Torrent."
Image Comics is launching superhero comic Torrent in February 2023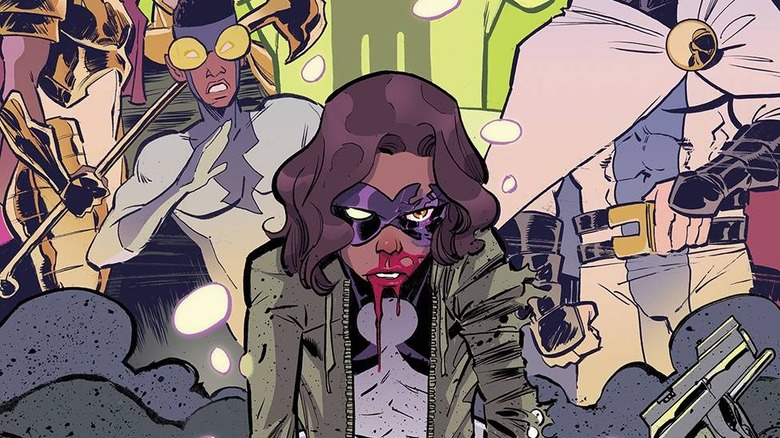 Image Comics
Get ready to meet the world's newest superhero, Crackerjack, in 2023. Image Comics has announced a new superhero series titled "Torrent" launching next year from Marc Guggenheim ("Star Wars: Revelations") and Justin Greenwood ("The Old Guard: Tales Through Time"). The book centers on Michelle Metcalf, the world's most happy-go-lucky hero — Crackerjack — until tragedy forces her to cross the line from hero ... to vigilante. Guggenheim had this to say about it in the official announcement:
"I'm thrilled to be working with Justin Greenwood again and to returning to the world of creator-owned superheroes—but with a twist: A character-driven story that forces us to question what really makes a hero. With this series, Justin and I are striving to break new ground by reinventing and revisiting old tropes. And Justin's kinetic art is second to none."
"Torrent" #1 hits shelves on February 15, 2023.
Blade takes center stage in Daywalker, the latest Midnight Suns short
As we rapidly approach the release of "Marvel's Midnight Suns" video game on December 2, 2023, yet another new short has been revealed. This time, the focus is all on Blade, aka the Daywalker. The timing for this one arguably couldn't be better, given that the long-in-development movie reboot just landed a new director. In the meantime, be sure to check out the short in its entirety for yourself above.
Would you like to win this Black Panther: Wakanda Forever Xbox?
"Black Panther: Wakanda Forever" is currently in theaters and Marvel has partnered with the folks at Microsoft for a fancy giveaway. As we can see above, a custom Black Panther Xbox Series X is on the line, and it is not at all difficult to be entered to win it. All one has to do is follow Xbox on Twitter and retweet the above. Simple as that! And for the winner, this looks like one heck of a way to play that mysterious video game featuring Black Panther that we got wind of not long ago at D23.
New Spider-Man: No Way Home Funko Pops are swinging our way
It may be nearly a year since "Spider-Man: No Way Home" hit theaters, but that doesn't mean Funko is done bringing us collectibles for the ol' shelf. As seen above, the toy-maker has a ton of new "No Way Home" merch hitting shelves soon, including new Pop! figures, multipacks, keychains, and more. Those interested in securing one or more of these items can do so now as pre-orders are open. Relevant links to the items above can be found by clicking here.
Quentin Tarantino does not believe Marvel stars are real movie stars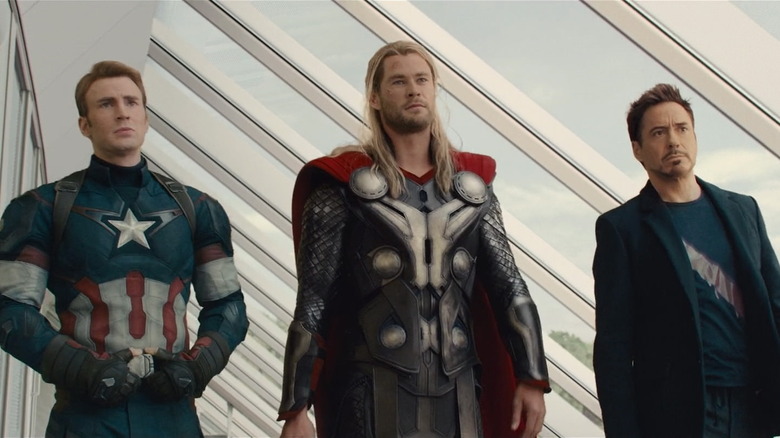 Marvel Studios
"Pulp Fiction" director Quentin Tarantino has some thoughts on Marvel movies. Particularly, how the stars of those movies function in modern Hollywood. Speaking on the "2 Bears, 1 Cave" podcast, the filmmaker explained that, in his opinion, actors like Chris Evans, who played Captain America for nearly a decade, are not actually movie stars. Rather, it's the characters themselves who are the stars.
"Part of the Marvel-ization of Hollywood is ... you have all these actors who have become famous playing these characters. But they're not movie stars. Right? Captain America is the star. Or Thor is the star. I mean, I'm not the first person to say that. I think that's been said a zillion times ... but it's like, you know, it's these franchise characters that become a star."
Well, that's certainly a take on the matter. Though it does seem rather unfair to say that stars like Scarlett Johansson, Chris Hemsworth, or Jeremy Renner, who have had huge success outside of the MCU, are not movie stars divorced from those roles. But this is merely one man's opinion. And I suppose at a time like this, it's worth remembering that Tarantino almost made a "Luke Cage" movie once upon a time.
Vincent D'Onofrio fuels fire for a Kingpin vs Spider-Man fight
One thing we know for sure: we haven't seen the last of Vincent D'Onofro as Wilson Fisk, aka Kingpin, in the MCU. Not by a longshot. He's going to be in the 18-episode "Daredevil: Born Again" series as well as the upcoming "Echo" series. But are we ever going to see Kingpin duke it out with his other big nemesis, Spider-Man? At a recent convention appearance, D'Onofrio was asked about his ultimate MCU fight and suggested that fighting Spidey would be the ultimate goal. Clearly though, the actor can't say much at this point in time. For now, we have to exercise some patience in terms of hoping this one day comes to pass.
Have the first 10 minutes of Black Adam, as a treat
As of today, "Black Adam" has made its way from theaters to the comfort of home, with the DC Comics adaptation now available on Digital. To entice potential viewers, the first ten minutes of The Rock's superhero flick have been released online (via Vudu), which you can see for yourself above. The opening minutes do a lot to set the stage for the lore of this corner of the universe, as well as teeing up the ball for the events that follow in the rest of the movie. So, for those who may be on the fence, this might be a good way to determine whether or not the movie is something you'd like to spend your time with.
The Amazing Spider-Man #1 gets a variant cover featuring Eminem
Lastly, today brings two big pop culture icons together in an unexpected crossover. Rapper Eminem is on a newly-released variant edition of "The Amazing Spider-Man" #1, which first hit shelves in April of this year. The cover, which you can see above, was created by Salvador Larroca in association with hustl. Eminem had this to say about it in the official release:
"I've always been a huge Spider-Man fan since I was a kid. He's definitely in my top 5... So being on a cover battling Spider-Man is such a thrill and an honor."
Only 5,000 were available through Eminem's website, but they have already sold out as of this writing. But fear not! As 1,000 more will be available on TheHaul.com beginning Tuesday, November 29. So be on the lookout.