The 12 Best Ben Stiller Movies, Ranked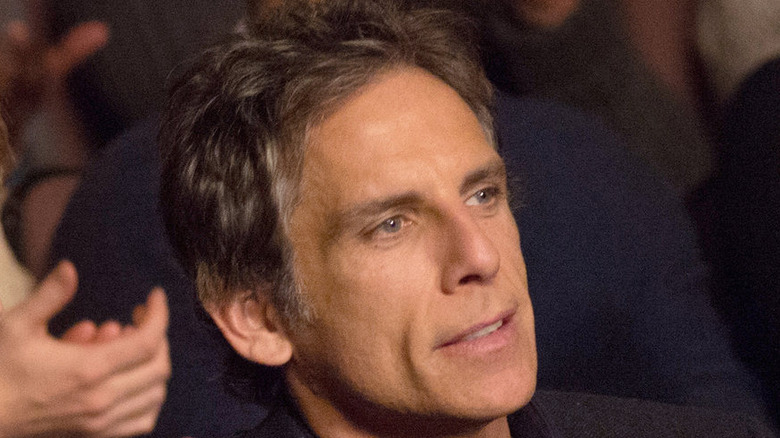 Amazon Studios
Who would have expected that Derek Zoolander himself would end up becoming one of today's most prominent dramatic storytellers? In recent years, Ben Stiller has set his comedic aspirations aside for an emphasis on prestige television. He directed the entirety of the riveting prison break miniseries "Escape at Dannemora" and the psychological thriller "Severance." If you've been paying attention, it's been clear that Stiller is a creative storyteller who knows how to surprise an audience. It's only a surprise to see the new direction in his career because he's always been making us laugh so much.
In the late 1990s, a group of comic actors known as the "Frat Pack" began to dominate mainstream comedy. While the careers of Will Ferrell, Owen Wilson, Vince Vaughn, Steve Carrell, Jack Black, and Paul Rudd were fairly consistent, Stiller managed to mix in a variety of independent projects alongside mainstream studio films. Although Stiller pioneered many iconic R-Rated comedies, he was also beloved among younger viewers for his roles in the "Madagascar" and "Night at the Museum" franchises. Here are the 12 best Ben Stiller movies, ranked.
12. Mystery Men (1999)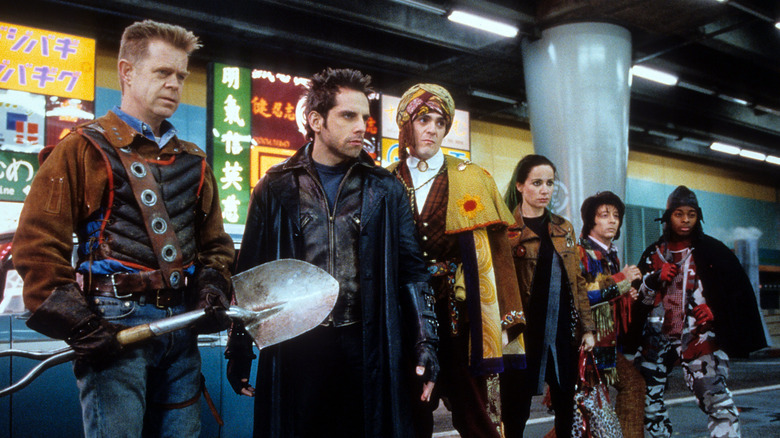 Universal Pictures
"Mystery Men" is a film that was ahead of its time. While a comedic take on the superhero genre may have been odd in the late 1990s, audiences may have been more receptive to the silly action-comedy if it had been released around the same time as the "X-Men" and "Spider-Man" franchises. Ben Stiller had a challenge on his hands in that it was a brilliant parody, but the genre it was making fun of hadn't caught on quite yet. It certainly would be refreshing to see an original superhero comedy like "Mystery Men" today, considering how dominant the Marvel and DC franchises are in entertainment culture.
"Mystery Men" follows a group of amateur superheroes, each of whom has somewhat unusual powers. Stiller stars as "Mr. Furious," whose superpower is his ability to lash out into bursts of rage. He always does a great job pretending to be a giant child, and his freak-out scenes are a lot of fun. Even though Mr. Furious is temperamental and unpredictable, he's surprisingly the most stable member of the team. Stiller showed the development of his character as Mr. Furious begins to lead Blue Raja (Hank Azaria), The Shoveler (William H. Macy), The Bowler (Janeane Garofalo), Invisible Boy (Kel Mitchell), Spleen (Paul Reubens), The Sphinx (Wes Studi), and Captain Amazing (Greg Kinnear) into a cohesive unit. While most of the cast plays one-note characters, Stiller shows how Roy accepts his role as a leader.
11. Meet the Parents (2000)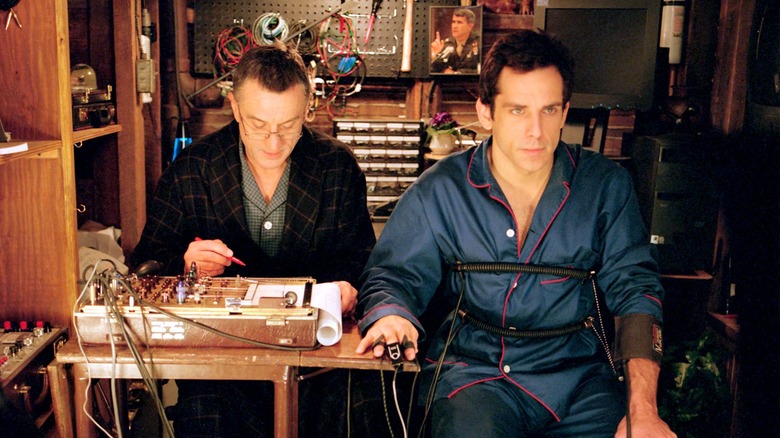 Universal Pictures
"Meet the Parents" is a film that's so awkwardly funny that you might consider it to be a horror film. If you've ever had an uncomfortable family dinner or holiday, "Meet the Parents" might give you more nightmares than "The Conjuring." The film explores a disastrous family gathering from the perspective of an outsider. Greg Focker (Ben Stiller) is a kind nurse, who wants to make a good impression on his girlfriend Pam Byrnes (Teri Polo). However, Greg isn't prepared for Pam's grumpy father Jack (Robert De Niro), a former CIA agent who is incredibly protective of his children.
While Stiller often plays wacky characters that are simply caricatures, Greg is actually a pretty normal guy. It's one thing for a character to be inherently funny, but placing a relatively average person in unbelievable scenarios makes it even more challenging for an actor. Stiller had to give amusing reactions to the awkward tension during the family gathering without losing the audience's sympathy. This sense of realism allowed the film to have more heartfelt moments toward the end when it becomes clear that Greg would only put up with this nonsense if he genuinely cared for Pam. Stiller also managed to hold his own against Robert De Niro, who many cinephiles would rank among the greatest actors of all time. It's particularly fun to watch Jack intimidate Greg when talking about his experience in the CIA. There's a palpable sense of anxiety that Stiller brings to the scene.
10. The Secret Life of Walter Mitty (2013)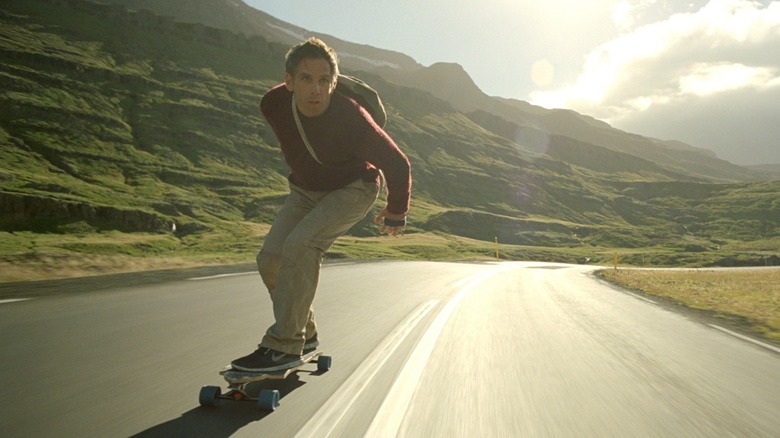 20th Century Fox
"The Secret Life of Walter Mitty" is easily the most ambitious film of Ben Stiller's career, marking a change in the direction that he was headed. Following the film's release, Stiller began working on more independent films and continued his exploration into dramatic television. Perhaps the experience of directing and starring in "The Secret Life of Walter Mitty" invigorated him. It's not a perfect film, but it's ambitious, strange, and sincere in a way that most mainstream studio films are not. 
Loosely based on a 1939 short story of the same name by James Thurber, it follows Walter (Stiller) who works at "Life" magazine, though he is only a negative assets manager. Although Walter's daily routine is relatively dull, he escapes his reality by having highly imaginative daydreams. Things change when he decides to set out on an adventure to find the mysterious photographer Sean O'Connell (Sean Penn). Once again, Stiller was able to play a very relatable character whose quirks only made him more endearing. As a filmmaker, Stiller took some of his most ambitious risks with the visuals in "The Secret Life of Walter Mitty." There's a simply gorgeous sequence where Walter imagines his crush Cheryl Melhoff (Kristen Wiig) singing the David Bowie classic "Space Oddity" as he sets off on his quest.
9. Zoolander (2001)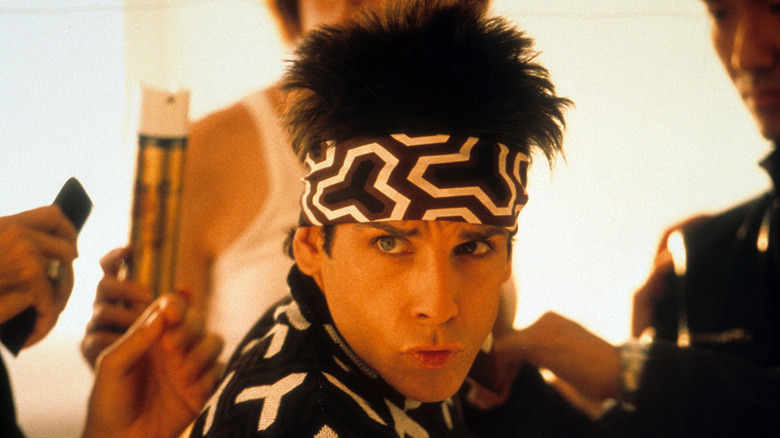 Paramount Pictures
There's something to be said about films that are well aware of their own stupidity. Ironically, it's the dim-witted nature of the titular protagonist that allows "Zoolander" to tackle some satirical topics revolving around the entertainment industry, American news media, and corporate sponsorship. This film marked a significant step up for Ben Stiller as a director by featuring some genuinely creative action sequences and elaborate sets. Stiller also used his experience within the industry to his advantage and included a great number of celebrity cameos in the film.
"Zoolander" follows the ignorant male model Derek Zoolander (Stiller), who faces his first rival in the rising star Hansel McDonald (Owen Wilson). As Derek attempts to relaunch his career, the fashion influencer Jacobim Mugatu (Will Ferrell) brainwashes him to assassinate the Prime Minister of Malaysia (Woodrow Asai). As a performer, Stiller is having an absolute blast, managing to make Derek's haughty self-entitlement completely ridiculous but not obnoxious. Stiller was also generous enough as a director to let Ferrell and Wilson give even crazier performances. Stiller co-wrote the screenplay, which amusingly plays on elements common in 1970s political thrillers like "Three Days of the Condor" and "The Parallax View." By showing how influential an idiot like Derek is, Stiller explores the way that the media worships an idealized male image.
8. Flirting With Disaster (1996)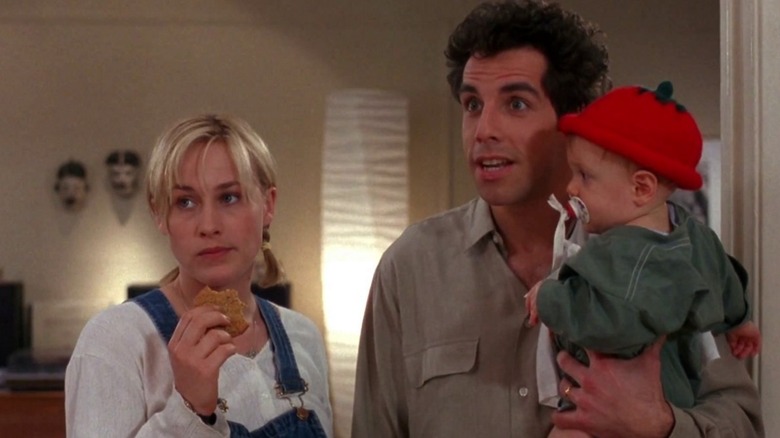 Miramax Films
There was an anarchic spirit to independent comedies in the 1990s that is rarely seen today, and David O. Russell captured this unpredictability with his demented family comedy "Flirting With Disaster." While the premise isn't that different from a more mainstream comedy like "Meet the Parents," "Flirting With Disaster" imagines unusual characters and dark scenarios. In many ways, it feels like a maturation of the screwball comedies of the '30s and '40s, but with a slant towards modern societal norms.
Ben Stiller was impressively able to bring the same naturalistic energy that he would refine in "Meet the Parents" and "The Secret Life of Walter Mitty," and it's to the film's advantage. By putting a straight-laced character in the midst of increasingly ridiculous scenarios, the film feels even more ludicrous. The story revolves around Mel Coplin (Stiller) and his wife Nancy (Patricia Arquette). Upon the birth of their child, Mel decides that he won't name his offspring until he can locate his biological parents. Stiller does a great job of showing Mel's insecurity, terrified of disappointing his child and confronting the issues in his upbringing. Throughout all the madness, Mel and Nancy still feel like a real couple, with his growing sense of obsession rubbing her the wrong way. The film also marked an early collaboration between Stiller and Arquette, whom he would go on to cast in the best role of her career in "Escape at Dannemora."
7. Reality Bites (1994)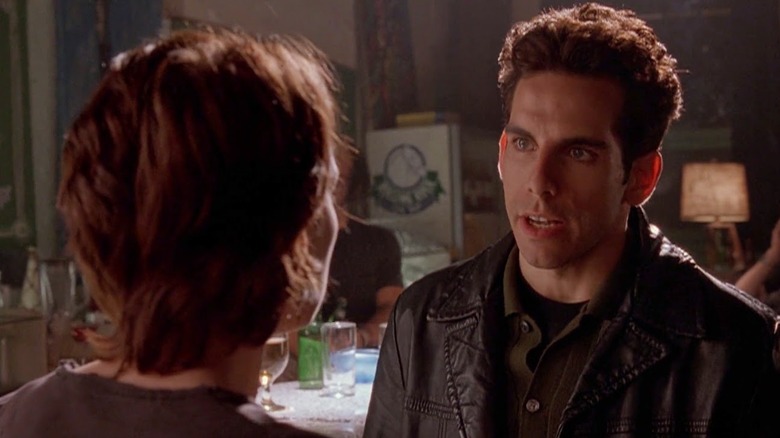 Universal Pictures
Ben Stiller's directorial debut proved to be an emerging cult classic that captured the anxieties of a generation. In many ways, Stiller almost acted like a documentarian for this era, and watching "Reality Bites" now is a great way for younger viewers to understand what life was like in the 1990s. In addition to being a remarkably sensitive depiction of post-college anxiety and aspiration, it also features one of Stiller's most nuanced performances. "Reality Bites" follows the aspiring documentary filmmaker Lelaina Pierce (Winona Ryder) as she attempts to make a film about her generation. At the same time, she's somewhat attracted to her housemate Troy Dyer (Ethan Hawke) but doesn't think that he's responsible enough to pave out their future. However, an embarrassing scenario introduces Lelaina to the network producer Michael Grates (Stiller), who's interested in pursuing her both personally and professionally. There are a few charmingly awkward scenes where Ryder and Stiller try to navigate how to take their relationship in a new direction.
Stiller and Hawke do a great job at showing two complete opposites: While Troy is laid back and works low-paying jobs, Michael is wealthy and neurotic. The film ultimately slants in Troy's favor, but Michael isn't necessarily a bad guy. He's ignorant of what people like Troy and Lelainia are going through, but he's not aggressive and rude. He's a surprisingly complex character, and the fact that Stiller took on the role in his directorial debut speaks to his ambition.
6. Anchorman: The Legend of Ron Burgundy (2004)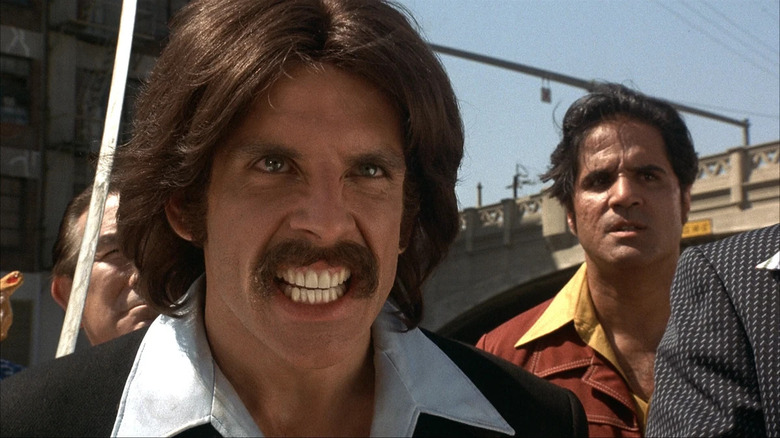 Dreamworks Pictures
"Anchorman: The Legend of Ron Burgundy" hilariously lampoons the competition between various news outlets to have the best coverage. The highlight of this rivalry is an epic battle in which Ron Burgundy (Will Ferrell) and his friends must battle other news teams in the San Diego area. Ben Stiller pops up for a brief role as Arturo Mendez, the leader of the Spanish Language News Team. Between his goofy hair and eccentric mustache, Mendez is clearly modeled after Ron. This fight scene is one of the most ridiculous moments in the first film, and Stiller is obviously trying to be as campy as possible. He gets a few hilarious one-liners during the brawl itself, including "Tonight's top story: the sewers run red with Burgundy's blood!" While the film cuts away from any overt brutality, it's even funnier imagining what sort of mayhem occurred.
While Stiller isn't necessarily integral to the scene, his absence is felt in "Anchorman 2: The Legend Continues." While the sequel attempted to outdo its predecessor with an even more outrageous news team battle, none of the celebrity cameos were quite as memorable as Arturo Mendez.
5. Tropic Thunder (2008)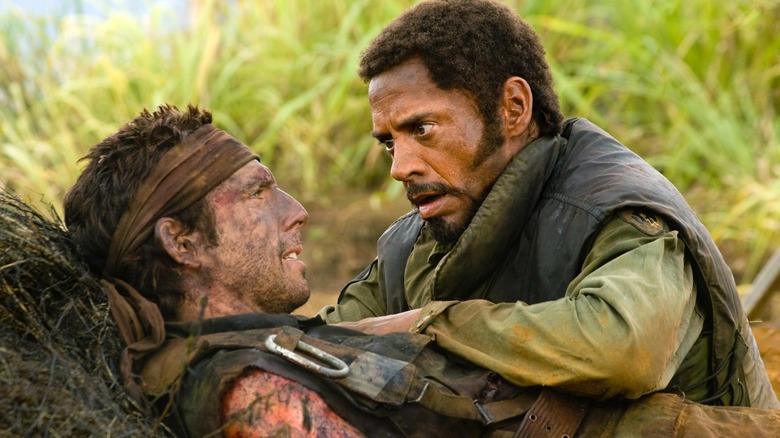 Paramount Pictures
While "Zoolander" indicated that Ben Stiller was a director with a real vision, "Tropic Thunder" is the film that proved he was a genuine auteur. The 2008 action-comedy is one of the funniest films of the 21st century, hilariously lampooning the nature of Hollywood film productions. Given Stiller's experience within the industry, the film's details about the idiosyncratic nature of actors, producers, and agents are hilariously tongue-in-cheek. Although it's mostly a showcase for how much Stiller has improved as a filmmaker, "Tropic Thunder" also features one of his stronger performances.
Stiller stars as Tugg Speedman, a former A-list Hollywood action star modeled after Sylvester Stallone or Vin Diesel The uproarious opening montage shows how much Tugg's career has declined after a few unnecessary sequels. In order to prove that he's not past his prime, Speedman decides to shoot a Vietnam War epic in the middle of a jungle. Unfortunately, he and his co-stars find themselves in the middle of a real military conflict. Tugg is an interesting character, ignorant but sincere. Given how over-the-top the performances by Robert Downey Jr., Jack Black, Brandon T. Jackson, and Jay Baruchel are, it was necessary for there to be at least one character with whom the audience could feel invested. It was also a somewhat cheeky indication that Stiller was self-aware about being known to show up in a few less-than-stellar sequels every now and again.
4. While We're Young (2015)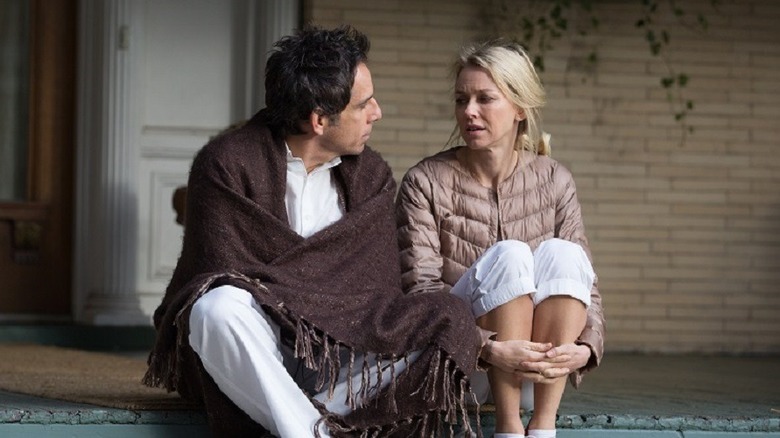 A24
"While We're Young" features one of the most mature performances of Ben Stiller's career. In another collaboration with writer/director Noah Baumbach after the success of "Greenberg," Stiller delivered a sensitive performance as an older man suffering from a mid-life crisis. Stiller has been a Hollywood icon since the 1990s, so it was nice to see him reflect on how much he had grown up during his time in the industry. In an odd way, his fans had watched him mature onscreen.
"While We're Young" follows the documentary filmmaker Josh Srebnick (Stiller) and his wife Cornelia (Naomi Watts) as they struggle to determine if they should have children. The couple's life is upended when they befriend the younger pair Jamie (Adam Driver) and Darby Massey (Amanda Seyfried). Although Josh is initially comforted because Jamie also wants to be a filmmaker, he begins to feel insecure when he realizes the younger man is already more successful than he is. Stiller does a great job of showing the conflicted nature of a man reflecting on his youth. He knows that he should accept Jamie's success, but he can't help but feel jealous. Stiller also gets a few humorous moments when the Srebnicks attempt to embody their younger friends but end up embarrassing themselves. It's also impressive that Stiller and Watts feel like a legitimate married couple, despite the comedic nature of the film.
3. The Royal Tenenbaums (2001)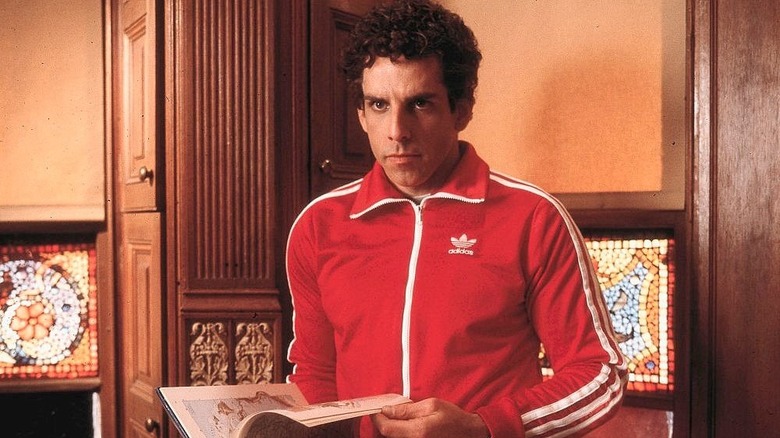 Buena Vista Pictures
You might have to adjust to Wes Anderson's artful style of filmmaking, as his most successful films are the ones where the actors feel comfortable delivering his offbeat dialogue. The reason that "The Royal Tenenbaums" is one of his better films is that the familial relationship at its center feels completely sincere. While the Tenenbaums are certainly quirky and offbeat, they deal with many of the same issues that audiences may have experienced with their own families.
"The Royal Tenenbaums" follows the aging patriarch Royal Tenenbaum (Gene Hackman) as he attempts to reconnect with his adult children. Although Royal had pushed all of his children to find success during their youth, they each have grown up dealing with mental health issues. Chas (Ben Stiller) was forced to become a math genius and has grown into a successful businessman. However, he is not interested in introducing his irresponsible father to his own children, Ari (Grant Rosenmeyer) and Uzi (Jonah Meyerson). "The Royal Tenenbaums" is another excellent example of Stiller's ability to empathize with a strange character. While there are some funny moments early on that show Chas' strict daily schedule for his children, the more heartfelt moments occur later on with Royal. It's interesting to see the fraught relationship between the two fathers, with Chas is trying to be the father that he lacked growing up.
2. The Meyerowitz Stories (New and Selected) (2017)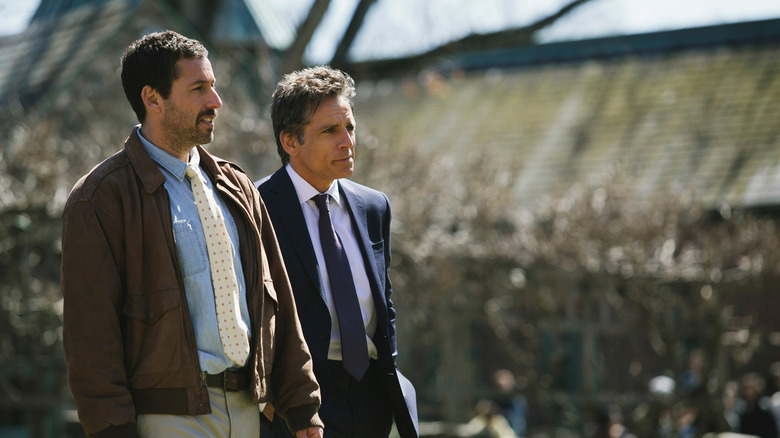 Netflix
Ben Stiller once popped up for a memorable cameo in the Adam Sandler film "Happy Gilmore." Two decades later they reunited to give mature performances in "The Meyerowitz Stories," another Baumbach film about familial dysfunction that doesn't end with an obvious truism about reconnecting. "The Meyerowitz Stories" recognizes that some sins of the past can't be forgiven, but the best thing to do is move forward. It was a great chance for some of the industry's most recognizable comedy stars to give more nuanced, layered performances.
"The Meyerowitz Stories" follows the retired professor Harold Meyerowitz (Dustin Hoffman) as he prepares for a ceremony in his honor. In order to celebrate their father's success, Harold's adult children Danny (Sandler), Matthew (Stiller), and Jean (Elizabeth Marvel) reunite. It doesn't take too long for Danny and Matthew to start getting into the same arguments they had as children. It's not until later that they both recognize that they are still living in the shadow of their father and shouldn't have anything to prove. Although Matthew can occasionally be rude and obnoxious, Stiller shows that his immaturity is only because of his father's lectures. Matthew was inspired to be a successful businessman because of his father's criticism that he wasn't talented. It's nice to see Stiller show Matthew's maturity as he learns to forgive and forget.
1. Brad's Status (2017)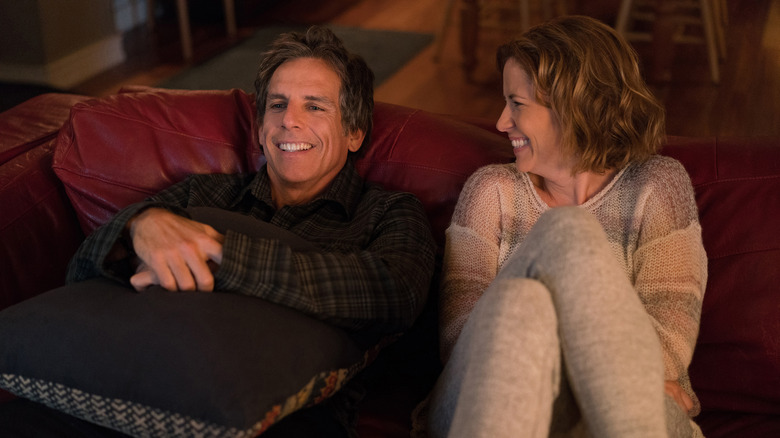 Amazon Studios
"Brad's Status" features the most mature and heartbreaking performance of Ben Stiller's career. While many of his recent comedic roles have been as aging fathers struggling through midlife crises, Stiller doesn't rely on any comedic idiosyncrasies in "Brad's Status." The film could only be considered a "comedy" because of a few awkward scenarios, but the humor comes from realistic situations. Stiller got to reflect on what it means to be a father, and how to deal with the mistakes of your past.
Brad Sloan (Stiller) runs a non-profit organization, which he finds inspirational even though it has not brought him much success. Brad lives in the shadow of his college friends Craig Fisher (Michael Sheen), Billy Wearslter (Jemaine Clement), Jason Hatfield (Luke Wilson), and Nick Pascale (Mike White), who are all very successful and wealthy. As Brad takes his talented son Troy (Austin Abrams) on a college tour, he begins to fear that he's failed as a father. The conclusion that Brad comes to is that Troy is his real legacy, and it's powerful to see Stiller reflect and let go of any regrets as he accepts the future. His relationship with Abrams is incredibly heartfelt, and Stiller can play the "embarrassing dad" without relying on cliches. It's a film that merits a rewatch for any parents going through similar situations.