'Escape At Dannemora' Trailer: Benicio Del Toro Orchestrates A Prison Break For Director Ben Stiller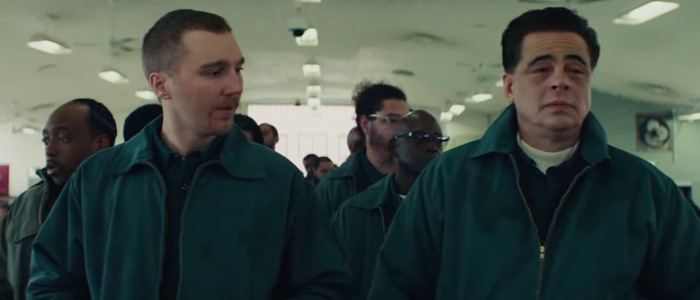 In 2015, two men broke out of a prison in upstate New York. They were helped by an employee who was having affairs with both of them, and a 20-day manhunt captured the nation's imagination. Now, the incredible true story is getting the limited series treatment at Showtime with some heavy hitters on board to star. Patricia Arquette (Boyhood) plays the prison employee at the center of the controversy, Paul Dano (There Will Be Blood) plays one of the convicts, and Benicio Del Toro (Sicario) plays the mastermind of the prison break. And Ben Stiller (yes, that Ben Stiller) is directing.
Check out the Escape at Dannemora trailer below.
Escape at Dannemora Trailer
That's an A+ usage of Elton John's "Take Me to the Pilot" right there.
I watched this entire trailer knowing ahead of time that Patricia Arquette is one of the stars of this series, but she looks so drastically different from how I'm used to seeing her that I still had trouble convincing myself that it was her. This may be one of the most memorable, transformative performances of her entire career.
We previously heard that Ben Stiller was directing every episode of this limited series. His name isn't listed in the official description of the show other than as an executive producer, but some of the shots here look very much in line with Stiller's visual style and we've seen behind-the-scenes photos of him directing on the set, so unless something drastic happened behind the scenes, it's safe to assume that he's behind the camera for all eight episodes. Brett Johnson (Mad Men) and Michael Tolkin (The Player), who met making Ray Donovan, are serving as writers and executive producers of this show.
Here's the official synopsis:
Escape at Dannemora is based on the stranger-than-fiction prison break in upstate New York in the summer of 2015 which spawned a statewide manhunt for two convicted murderers, aided in their escape by a married female prison employee who carried on months-long affairs with both men.
Del Toro plays convicted murderer Richard Matt, an artistic yet intimidating force within the prison, who masterminds the escape. Arquette plays Tilly Mitchell, a working class wife and mother who supervises the prison tailor shop and becomes sexually involved with both men, ultimately agreeing to hide hacksaw blades in frozen hamburger meat to help them get out. Dano plays David Sweat, a convicted cop-killer who may have genuine feelings for Tilly and becomes a reluctant partner in Richard Matt's plot. The cast also features Golden Globe and Emmy nominee Bonnie Hunt, acclaimed actor Eric Lange and Emmy nominee David Morse.
Escape at Dannemora premieres on Sunday, November 18, 2018 on Showtime.