Melissa McBride's Big The Mist Monologue Left The Cast And Crew Astonished [Exclusive]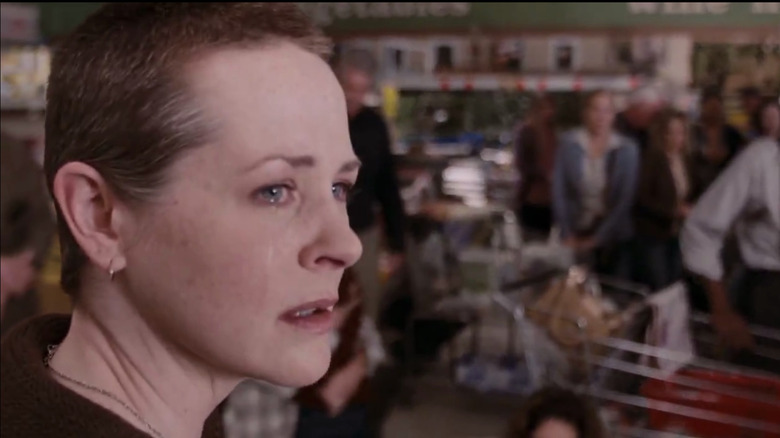 Dimension Films
In 2010, Melissa McBride joined the cast of the recently-concluded zombie series, "The Walking Dead," developed and executive-produced by Frank Darabont. The post-apocalyptic show went on to be one of the most popular and financially successful TV series in history, and even inspired a spin-off series starring McBride and co-star Norman Reedus where the two would reprise their roles as Carol Peletier and Daryl Dixon.
A few months back, McBride made the difficult decision to exit the upcoming series, citing her inability to relocate to Europe to shoot the show, which would have taken her away from the home she's built in Atlanta. It seems like a fitting decision for the same woman who made her breakthrough film debut in Darabont's 2007 adaptation of Stephen King's "The Mist," playing a character credited only as "Woman With Kids at Home."
/Film's Eric Vespe recently unleashed "'The Mist' At 15: An Oral History Of Frank Darabont's Gut-Wrenching Stephen King Adaptation," an extensive retelling of how one of the greatest adaptations of King's work came to be. Vespe says, "One moment that nearly every person I spoke to brought up was when Melissa McBride wowed everyone on set with her monologue, where she begs for someone to help her get to her children who are alone at home." Her character doesn't even have a name, but her acting prowess was so phenomenal, it's no wonder she would later nab the role on "The Walking Dead" that would make her a household name.
The crew was in tears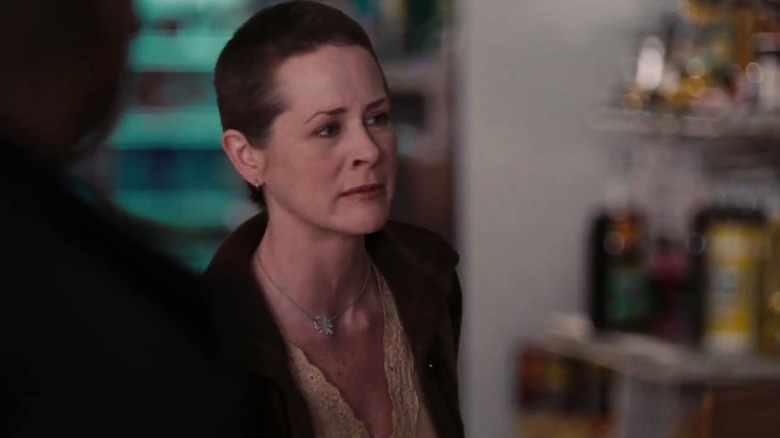 Dimension Films
Producer Denise M. Huth, who worked on both "The Mist" and "The Walking Dead" remembers being blown away by Melissa McBride's performance as Woman With Kids at Home, particularly her pleading monologue with the refugees of The Food House. "I remember when she came on set and did the scene, everyone was just so blown away," Huth says. "It's such a tiny little moment, but Melissa's a unicorn, she can do anything."
Thomas Jane, who stars as David Drayton, says, "I remember her murdering it." It's a bit of an ironic way to refer to her big scene when remembering how "The Mist" ends, but few words come close to encapsulating just how good McBride is and has always been. "The hardest job for an actor is to be a smaller character who basically flies in during the middle of some shoot and you've got a day, maybe two days, maybe half a day, and then you fly out," says Jane. "When you do find them, it's that much more impressive, to watch somebody jump into something, come in, knock it out of the park and then leave. It's f***ing great."
Cinematographer Rohn Schmidt remembers the crew in tears while she pleaded for people to help her save her children. "I'm not just saying that like, 'Ooh, it was a moment," he says. "We literally were choking back tears because it was such a perfectly impassioned speech." Schmidt says that he's unsure if McBride had children at the time (McBride is a fiercely private person), but that the care she took was palpable. "And that look she gives them before she heads out that she gives everyone there is like, 'I can't believe you people,' It just touches on the humanity of all of that."
Frank Darabont called Melissa McBride 'courageous'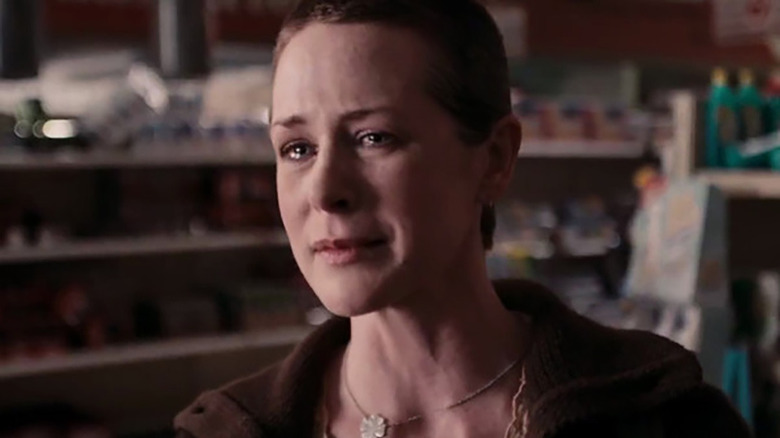 Dimension Films
Frank Darabont had found Melissa McBride as a local talent, a testament to any working actor worried they'll never "make it big" without relocating to the coasts. He refers to her as a "courageous actor," commending her ability to deliver a "wrenching emotional thing" in front of roughly 100 people. "And people were blown away by what she did. And yes, burst into spontaneous applause, that does actually happen," he says.
Nathan Gamble, who was only a child during the filming of "The Mist," tells Eric Vespe that everyone clapped once she was done. "At the time no one really knew who she was. She wasn't this huge action star in 'The Walking Dead,' so she knocked our socks off." Gamble also says that McBride is "probably one of the best actresses that I've ever had to work around," despite the fact the two didn't really have any screen time together. Apparently, production stopped for roughly 5-10 minutes so everyone could praise McBride for her performance, which is somewhat unheard of on a film set.
As for McBride herself, she tells Vespe, "Obviously, it felt good to know that people liked the performance," but notes how special the moment was in the scope of her acting career. "It was also strange because I've been on several shoots and have never experienced anything like that. It was unusual," she says. "I thought it was unusual and it was a little out-of-body feeling for something like that to happen."
Frank Darabont struck gold in casting Melissa McBride, the woman who went from being "Oh hey, they cast that lady from 'The Mist' on that new zombie show!" to one of the finest actors of our time.