The 14 Best Daniel Craig Movies, Ranked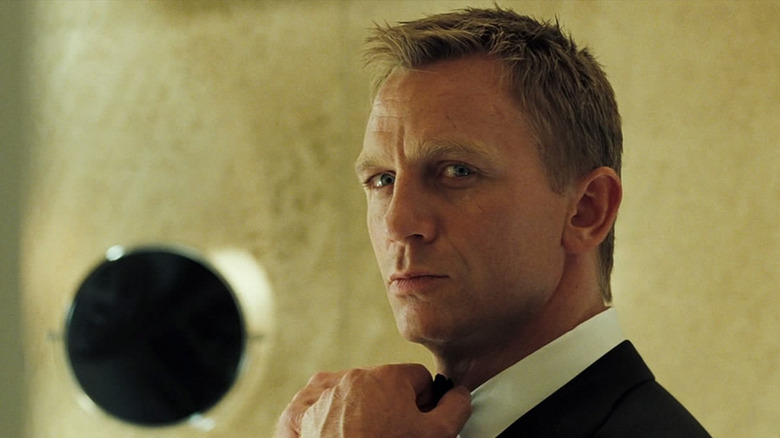 Sony Pictures
With the upcoming release of Rian Johnson's "Glass Onion: A Knives Out Mystery," there's no better time to discuss Daniel Craig's acting career. He was so magnetic in "Knives Out" that fans all but demanded a sequel — leading Netflix to greenlight two Knives Out films for $400 million. Even before he (arguably) became the 21st century's preeminent James Bond, Craig had several impressive performances. Despite taking on the daunting role of 007, he escaped typecasting by continuously working with great material, directors, and castmates.
Craig's work — especially post-"Casino Royale" — generally falls into two categories: stoic and livewire. Over the years, he's played complicated heroes, despicable villains, and the occasional comic relief role. He's also been kicking around longer than you may think. Do you remember him as an evil German solider in "The Young Indiana Jones Chronicles" or as Master Kane alongside a young Kate Winslet in the risible Disney flop "A Kid in King Arthur's Court"? It's no tiny miracle that he's escaped the shadow of Bond, an even more impressive feat when you consider how few missteps appear in his filmography before and after his debut as the titular spy. In celebration of Craig's Detective Benoit Blanc returning to the big screen soon, we rank the star's most memorable performances from worst to best.
15. Lara Croft: Tomb Raider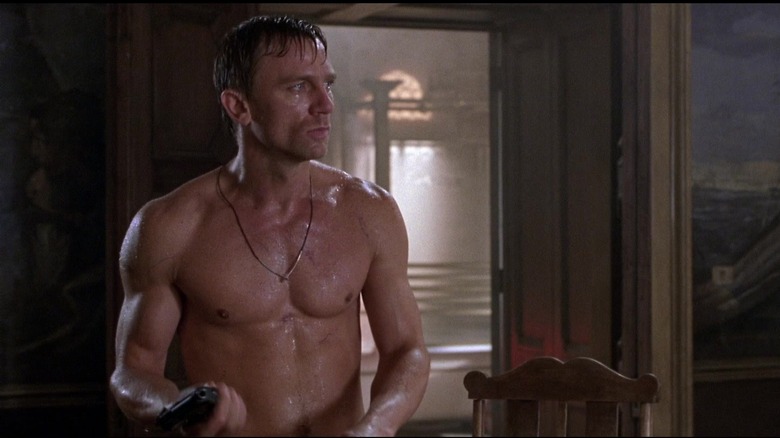 Paramount Pictures
Hollywood has consistently struggled to adapt video games into feature-length films (see: "Super Mario Brothers" or "Doom"). But if you can turn the dimmer down on your brain a couple of notches, 2001's "Lara Croft: Tomb Raider" is a hoot. The short-lived film series starred Angelina Jolie in her first time top-lining an action franchise, and only the second action film of her career to date at that time. Between the early-2000's needle drops to the overreliance on dated CGI, it's definitely a product of its era — embracing the cheesecake aspects of Lara Croft in the '90s.
In "Lara Croft: Tomb Raider," Craig portrays Alex West, a globetrotter invented for the flick. While Craig is no stranger to being objectified in film (the man was, after all, James Bond), he's fetishized here as the himbo for Lara's millionaire archeologist/adventurer in "Lara Croft: Tomb Raider." It's fun to see him as the bedroom-conquest figure, a neat inversion of the stereotypes that he would inherit as Bond. There's even a charged scene opposite Lara in which West is fully nude (though his privates are cheekily obscured and cut around). Craig and Gerard Butler (who plays the hunky love interest in the sequel "Lara Croft: Tomb Raider – The Cradle of Life") would graduate from arm candy to mainstream action heroes. In a neat wrinkle (pun intended), Craig sports a look similar to his Madagascar duds in "Casino Royale." Both films share a costume designer in Lindy Hemming.
14. The Jacket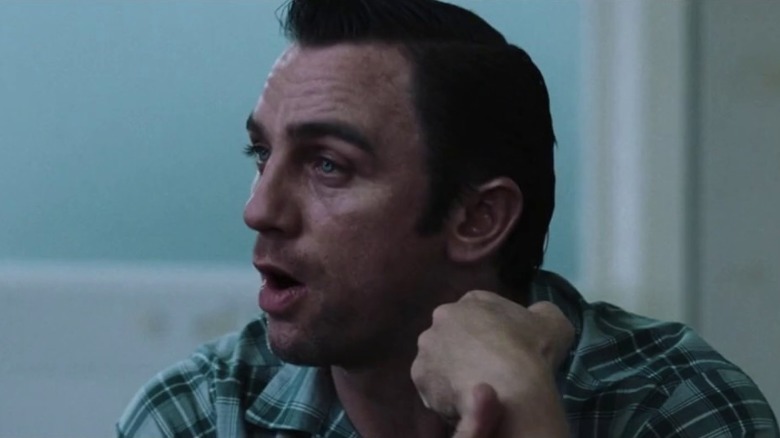 Warner Independent Productions
Sometimes, an actor waltzes into a movie and makes a lasting impression with only a few minutes on screen. In the psychological time-travel thriller "The Jacket," Craig appears in four scenes and is more of a garnish to the film's supporting cast than a crucial player in its trippy plot. Craig portrays Rudy Mackenzie, who Jack Starks (Adrien Brody) meets at a mental institution. His performance evokes Brad Pitt's twitchy weirdness from "12 Monkeys." (Chris Marker's 1962 short "La Jetée" served as inspiration for "12 Monkeys," and to say "The Jacket" borrows from that film too is an understatement). While he shines in his handful of scenes, there's not enough Craig in "The Jacket" to warrant a higher spot on this list, and he has another role as an incarcerated man that is superior (more on that later).
Unfortunately, "The Jacket" never provides a plausible explanation for the pseudoscience that powers its story: This makes "The Jacket" not quite as mind-bending and clever as it thinks it is. Regardless, it's a compelling ride. Ambient music legend Brian Eno delivers a simple but effective score. In a weird coincidence, the film's end credits play over "All the Time in the World," the same song heard in the credits of "No Time to Die." "The Jacket" debuted one year before Craig would portray James Bond in "Casino Royale."
13. Elizabeth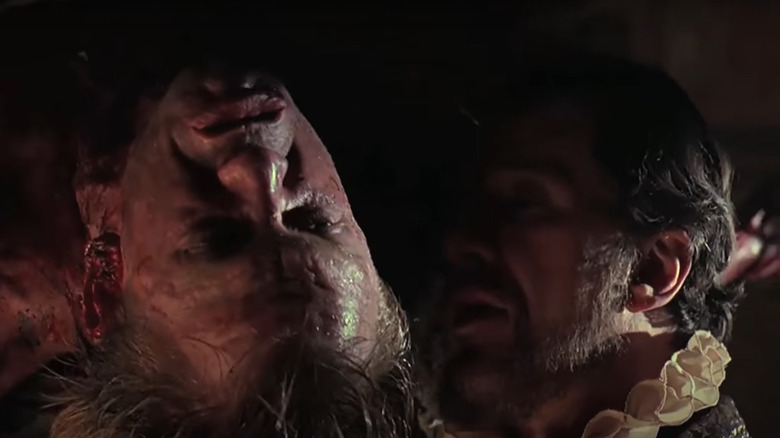 Polygram Filmed Entertainment
Director Shekhar Kapoor's "Elizabeth" tells the story of Queen Elizabeth's rise to power. A critical and financial success, the historical epic garnered seven Academy Award nominations, including Cate Blanchett's first Oscar nomination. In the 1998 film, Craig is John Ballard, a Catholic priest, caught in a courtly web of espionage. Despite his modern rough-and-tumble energy here, this wasn't Craig's first outing with a period piece. Previously, he lent his talents to the Middle Ages-set ABC series "Covington Cross" and the miniseries "The Fortunes and Misfortunes of Moll Flanders," sporting an awful wig. His supporting role in "Elizabeth" befits him with a bit more dignity — even if Ballard meets a grisly end halfway through the picture.
Craig's character endures a brutal torture scene — an ongoing motif in his acting career — at the hands of the scheming Francis Walsingham (Geoffrey Rush), who has manipulated events to implicate Ballard in an assassination attempt on the life of the Protestant Elizabeth I and for plotting a Catholic coup. Some historians have pointed out some of the liberties taken with the known history that inspired the film, particularly with the characterization of Ballard and his exact role in the narrative's Machiavellian power struggle.
12. The Adventures of Tintin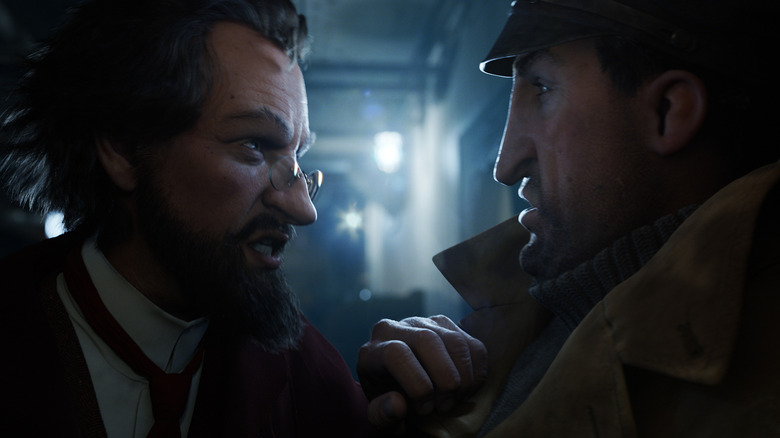 Paramount Pictures
You're forgiven for (possibly) not knowing Daniel Craig played the big bad of 2011's "The Adventures of Tintin." Since it's a motion capture film, Craig's villainous Sakharine looks nothing like the world-famous British actor. An unexpected reunion with Steven Spielberg, who had previously directed him in "Munich," "The Adventures of Tintin" is an early example of Craig's ability to go broad and mine his time on screen for solid laughs. To be ludicrous and scary simultaneously is a tricky balancing act, but Craig rises to the occasion.
In a 2011 interview, Craig expressed his feelings on the actor's first (and only to date) experience working in mo-cap. "You can be bigger and more expressive," he said. "Because of the filming technique, you're trying to instill as much character into the part as possible so the animators have something to work with." Craig — as this list will showcase — is very fun when he's allowed to go full-bore. "The Adventures of Tintin" is a notable qualifier in this regard, and one which we think should have spawned its once-promised trilogy.
11. Defiance
Paramount Pictures
"Defiance" tells the true story of the Bielski brothers, four Polish Jews who helped lead a rebellion against Nazi occupiers in Belarus during World War II. Craig stars as Tuvia Bielski — despite not being Jewish. Liev Schreiber, who plays the hotheaded Zus Bielski, is the grandson of Ukrainian Jews and has been assisting with charitable efforts for Ukrainians living through the current Russian invasion. Edward Zwick, no stranger to period wartime films, is a steady hand in the director's chair.
Tuvia and Zus are opposed when it comes to their mission. While both men are prone to violence, Tuvia believes more in saving lives than taking them. Since this film is a war survival story, there are meditations on the consequences of armed resistance. Unfortunately, it's an all-too-relevant film amidst these dark times and a harrowing look at enduring risky odds. In "Defiance," Craig gives a haunted and soulful performance, delivering nearly all of his dialogue in Russian. He offers a similar performance in "Munich" (again playing someone of Jewish ancestry), although that's an even more morally conflicted one and thus more compelling.
10. Road to Perdition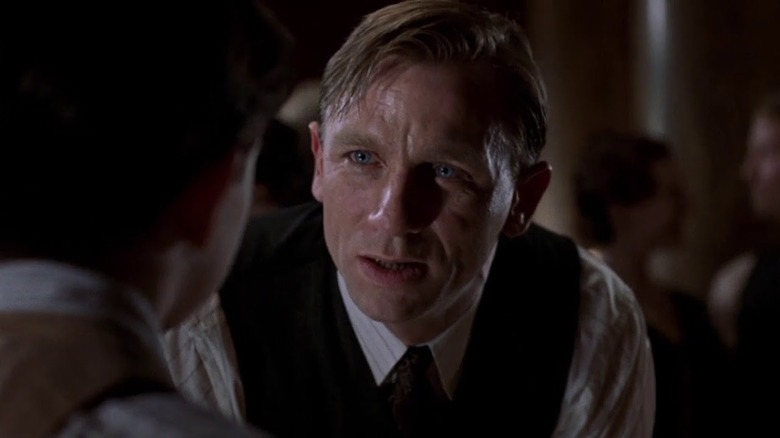 DreamWorks Pictures
Based on Max Alan Collins' graphic novel, 2002's "Road to Perdition" was Sam Mendes' follow-up to awards-season ringer "American Beauty." During the prohibition era, Tom Hanks stars as Michael Sullivan, an enforcer for gangster John Rooney (Paul Newman). Craig plays Rooney's nihilistic son Connor (one wonders if Craig's piercing blue eyes — not unlike Newman's — were a partial factor in his casting). Connor sets the film's plot in motion when he impulsively assassinates a Rooney associate while Sullivan's son, Michael Jr. (Tyler Hoechlin), looks on in horror.
From his first frame, Craig is captivating, despite being out of focus in the foreground, purring from the shadows and sucking luxuriously on a cigarette while reclining on a loveseat. Even when not in a close-up, you can read every atom of Connor's insecurity towards Rooney's paternal relationship with Sullivan and his latent psychopathy across Craig's face. He's prone to laughing at the cruel circumstances of the hand he's been dealt in life, in the first of many times he would inhabit broken, violence-prone characters like James Bond. His selfish decisions throughout the story lead him toward unspeakable crimes. He's the movies bogeyman — a less inscrutable Anton Chigurh.
9. No Time to Die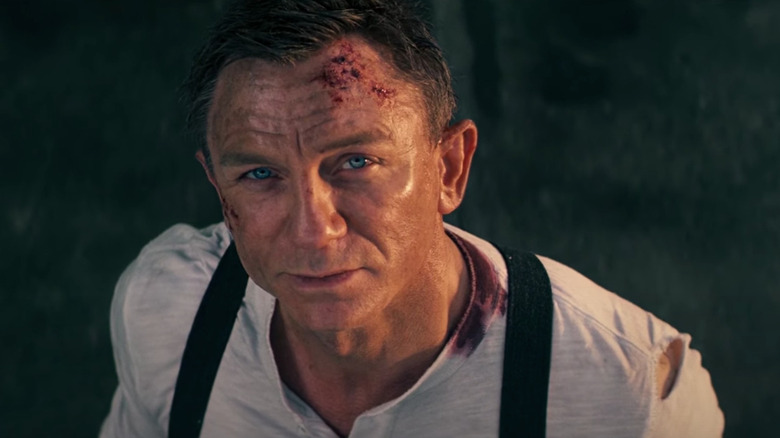 Universal
After Craig's traumatic experience filming 2015's "Spectre," people wondered if he'd play Bond again. But as his heartfelt message to cast and crew upon wrapping filming on "No Time to Die" proves, this shouldn't have been questioned. In "No Time to Die," Craig managed to do what no other Bond actor has achieved: ending his tenure on a high note. Remarkably, "No Time to Die" retroactively improves the middling "Spectre." "No Time to Die" incorporates crucial plot elements while honoring the legacy and overarching character arc of Craig's Bond.
By now, it's common knowledge how "No Time to Die" concludes: Craig insisted on Bond's heroic sacrifice, and the film is all the better for it. That's only one of the film's many benchmarks in the Bond franchise — such as finding true love and becoming a father. Craig rises to these high demands admirably. Craig's Bond has a rewarding and slow-building emotional arc. While it's not his best portrayal of Bond, "No Time to Die" is the perfect capper to his journey, as it's hard not to get teary-eyed during his last frames on screen as 007.
8. Layer Cake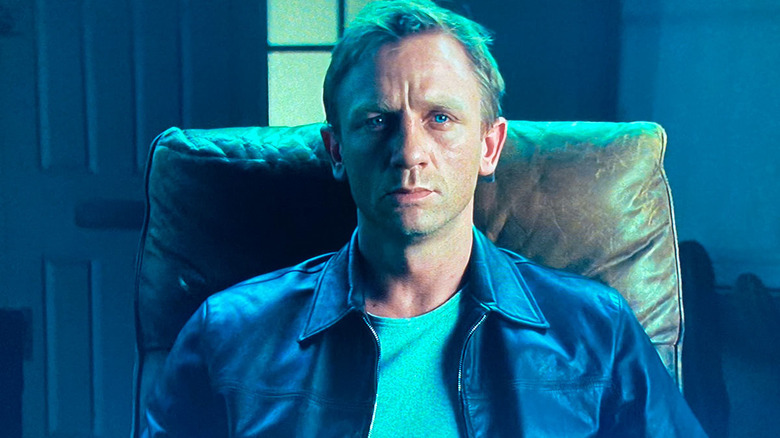 Columbia Pictures
"Layer Cake" is a remarkable artifact from 2004. Matthew Vaughn's London crime thriller (his directorial debut, following in the footsteps of his longtime protégé Guy Ritchie) stars a murderer's row of British actors — including Craig, Tom Hardy, Ben Whishaw, Colm Meaney, Michael Gambon, and Sally Hawkins. Whishaw would reteam with Craig as the Q to his Bond in "Skyfall."
Eight minutes pass before Craig's title card appears in the film. By that time, he's owned the movie. His character is never named (technically credited as "XXXX"), a mid-level cocaine dealer who becomes entrapped in a criminal scheme beyond his control. Befitting the genre, he has an archetypal "one last job" to do, but things don't go according to plan. Watching "Layer Cake," it's easy to see why Craig vaulted to the top list of contenders to portray James Bond after Pierce Brosnan's exit from the franchise. There's an especially notable scene with a silenced pistol in "Layer Cake," not to mention a fleeting moment where he expertly fixes his cufflinks — a character tick he'd use in "Skyfall," which is now of his Bond's most iconic images. "Layer Cake" confirms Craig's growing aptitude for creating believable characters on either side of the law.
7. The Girl with the Dragon Tattoo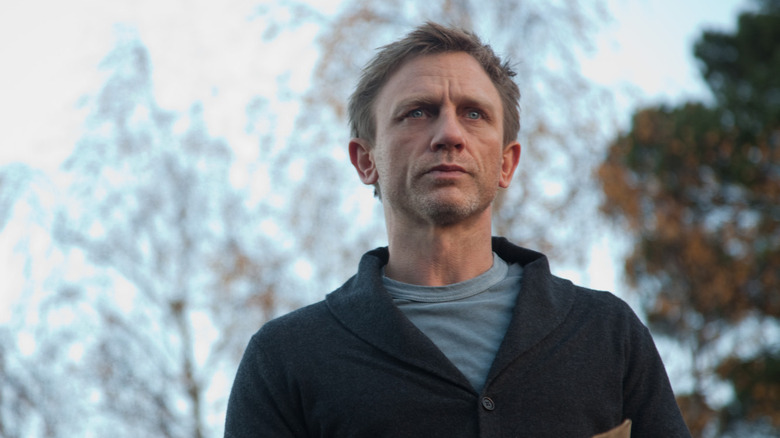 Sony Pictures
Craig receives top billing in 2011's adaptation of the bestselling novel by Swedish author Stieg Larsson, "The Girl with the Dragon Tattoo." Directed by David Fincher, Craig plays the disgraced but dogged journalist Mikael Blomkvist. In the film's convoluted mystery plot, Blomkvist crosses paths with a hacker named Lisbeth Sander (Rooney Mara, in her first leading film role).
The film also marks one of the first instances of Craig playing against type in a Hollywood blockbuster, though evocations of his 007 status are there nonetheless. The movie's striking opening credits sequence (designed by Tim Miller of "Deadpool" fame) feels inspired by the iconic openings of the Bond film franchise. Craig's Blomkvist is a cardigan-clad nerd with an odd way of taking on and off his glasses. All apologies to James Bond, but Craig is a cat guy in this film, automatically making it his sexiest role.
If you're a Fincher fan, this is a must-see, especially for the late-film scene — which we won't spoil here — ironically and inexplicably set to Enya's "Orinoco Flow." (By now, Craig has three incredibly iconic torture scenes on his résumé. The man has a gift for depicting suffering!) Stay for the heartbreaking ending. As with "Lara Croft: Tomb Raider," it's evident from "The Girl with the Dragon Tattoo" that Craig is as good at playing second fiddle to a female action hero as he is at being a leading man. 
6. Skyfall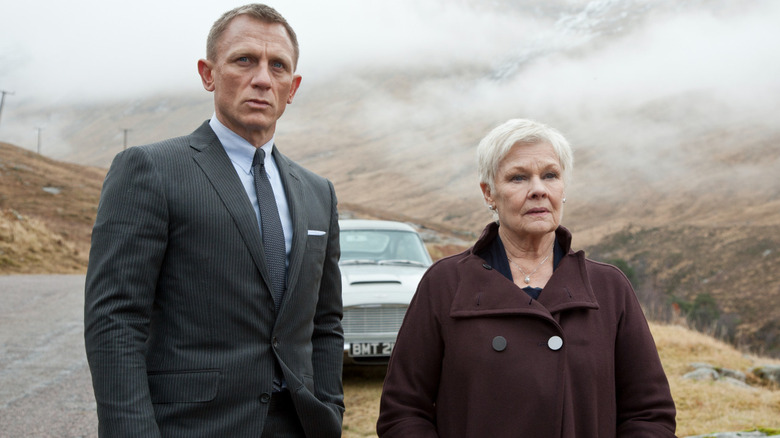 Sony Pictures
In keeping with James Bond tradition, "Skyfall" was a course reversal after the middling reception to 2008's "Quantum of Solace," which was relentlessly grim and too indebted to the action shooting and editing style established by the Jason Bourne franchise. In contrast, "Skyfall" was an elegant and smooth Bond film with Oscar-nominated cinematography by the great Roger Deakins. "Skyfall" also heralded Craig's reunion with director Sam Mendes.
"Skyfall" follows the trend of Craig's Bond films — breaking the man down, only to see our hero rebuild himself triumphantly by the film's end. This is would be Craig at his "Bond Best" (his farewell scene with Dame Judi Dench is one of the finest moments of his acting career). But it's ranked lower than "Casino Royale" because it doesn't feel quite as fresh, and lacks a central, and utterly engaging, romance. Still, "Skyfall" had arguably the best Bond villain of recent years in Raoul Silva (Javier Bardem, whom Craig personally selected for the part).
5. Munich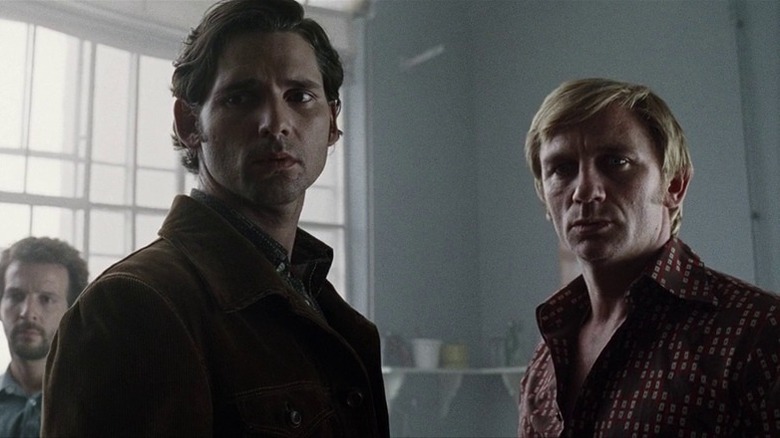 Universal
In 2005's "Munich," Spielberg directly addressed one of the thorniest geopolitical conflicts of the last 80 years. Dramatized by frequent collaborator Tony Kushner (along with Eric Roth), "Munich" tells the story of a ragtag team of Mossad agents seeking to wipe out those responsible for the murder by the Palestinian Liberation Organization of members of the Israeli International Olympics team at the 1972 games. However, "Munich" is not a simple black-and-white depiction of events. Instead, it's a gripping morality tale about the cost of violence and the thin line between justice and retribution.
Craig portrays a South African mercenary named Steve — dripping in '70s swagger and simmering intensity. "Munich" is an absolute masterclass in tension and required viewing (there's a bombing sequence an hour in that is some of the deftest filmmaking of Spielberg's Dreamworks SKG years). It lands at an interesting time in Spielberg's directorial oeuvre, sandwiched between blockbuster stretches and equally somber and complex period films like "Lincoln" and "The Post." Craig is the film's co-lead, sharing the screen with Eric Bana's Avner. As with "Layer Cake," "Lara Croft: Tomb Raider," and "Road to Perdition," you can see the DNA strands of his Bond interpretation manifesting throughout the runtime. Here, he outshines those previous films by being equal parts smooth, lethal, relentless, and beleaguered.
4. Knives Out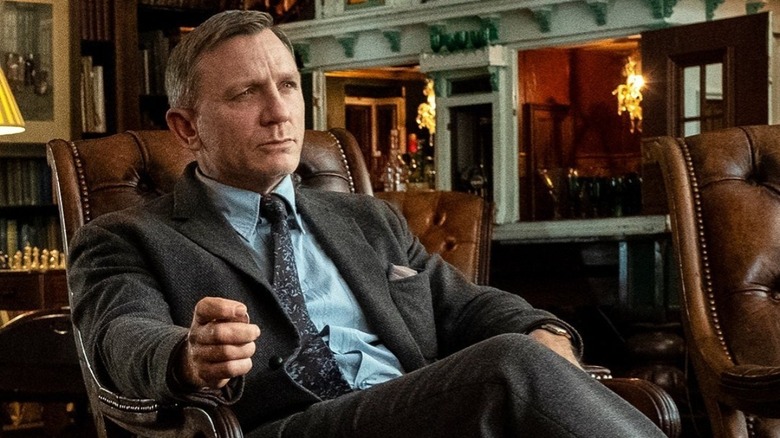 Lionsgate
"Knives Out" was writer/director Rian Johnson's homage to Agatha Christie's murder mysteries. Craig steals the show as private detective Benoit Blanc, "the last of the gentleman sleuths." Craig's take on the character is a coin-flipping, cigar-smoking, and tweed-jacket-wearing super-genius. He has a Foghorn Leghorn accent and is always 15 steps ahead of everyone in this film's estimable ensemble cast — including legends like Christopher Plummer, Jamie Lee Curtis, Toni Collette, Don Johnson, and more. (Craig would reunite with co-star Ana de Armas in "No Time to Die.")
His movie was a surprise hit in 2019 and jumpstarted a franchise centered around Craig's charismatic sleuth. Funnily enough, Netflix will be releasing "Glass Onion: A Knives Out Mystery" in December. (The streaming service is jokingly mentioned in a scene featuring Shannon's Walt and Plummer's Harlan discussing film adaptation rights.) As with many of Craig's strongest performances, he succeeds in standing out amidst a veritable wrecking crew of incredible actors. He walks right up to the line of being too campy and larger-than-life but never crosses it. 
3. Logan Lucky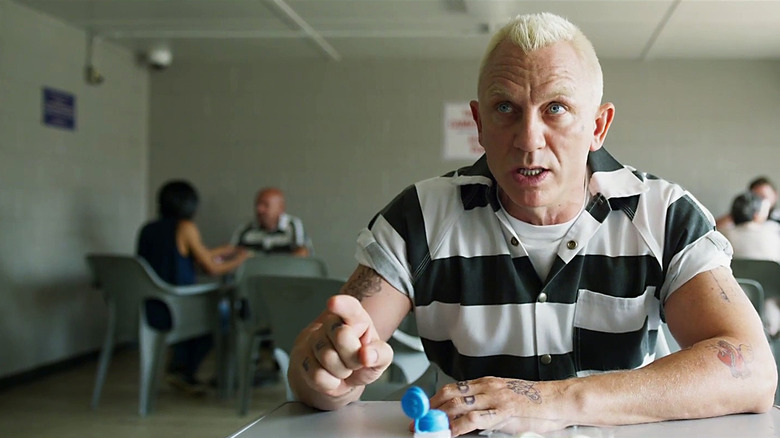 Bleecker Street
"We are dealing with science here!" "No peekin'!" "I am. In-car-cer-a-ted." Craig nails the comedic line delivery in Steven Soderbergh's "Logan Lucky." Without a doubt, it's Craig's most quotable film — beating out his starring role as Benoit Blanc in "Knives Out." Here, he's employing an outlandish Southern accent and playing to the rafters. Craig portrays the perfectly-named, tattoo-covered Joe Bang, a convicted felon and demolitions expert roped into a crime scheme by two Appalachian brothers, Jimmy Logan (Channing Tatum) and Clyde Logan (Adam Driver). Weirdly enough, this was a reunion of sorts for Craig and Driver. (Craig had an uncredited cameo as a stormtrooper in "Star Wars Episode Seven: The Force Awakens," though the two never shared a scene in a galaxy far, far away.)
Craig has never been funnier than he is in "Logan Lucky." He steals every scene, despite the all-star cast that surrounds him. Is his accent cartoonish? Yes. Does it matter? Absolutely not. He knows what kind of film he's in, and every time he's present in "Logan Lucky," his performance sends high voltage energy back into the film. It's a credit to Craig, Soderbergh, and writer Rebecca Blunt that a redneck prisoner becomes one of the movie's most sympathetic characters by the time the NASCAR-swindling caper has wrapped. Given the strength of his fleeting moments in "The Jacket," maybe Craig should portray "in-car-cer-a-ted" men more often in films.
2. Casino Royale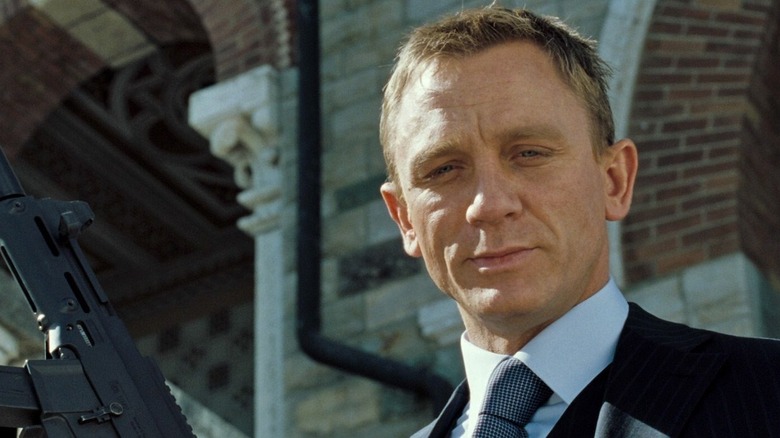 Sony Pictures
When fans learned Craig would portray the next Bond, some fans derisively dubbed him "James Blonde." But from the excellent black-and-white prologue that establishes his double-0 status and the incredible parkour action scene that follows, we see that Craig earned the part. (He busted through that drywall like it was tissue paper!) He presented a more physical and threatening iteration of the 007. As Judi Dench's M describes him, he's "a blunt instrument." (This description hails from a line dictated to the Bond producers by original author Ian Fleming early circa the development of "Dr. No.")
Apart from his admirable action chops, what sets this performance apart is the emotionality that Craig imbues into him. Bond is a work-in-progress character who falls for the lovely Vesper Lynd (Eva Green), only to have his heart broken. "Casino Royale" further distinguishes itself because the Bond/Vesper romance is so convincing, a rarity in a franchise where the female roles are almost exclusively disposable eye candy. We feel Bond's loss when he fails to save Vesper — despite believing she'd betrayed him. When he tells M, "The b*tch is dead," the audience is dealt an overdue justification for the character's decade's-long misogyny. He tees up the ultimate finale for Craig's Bond tenure, which we've discussed above, as a wounded man who finds love in an unexpected place, but it ends in tragedy.
1. Honorable Mention: Belvedere Vodka Commercial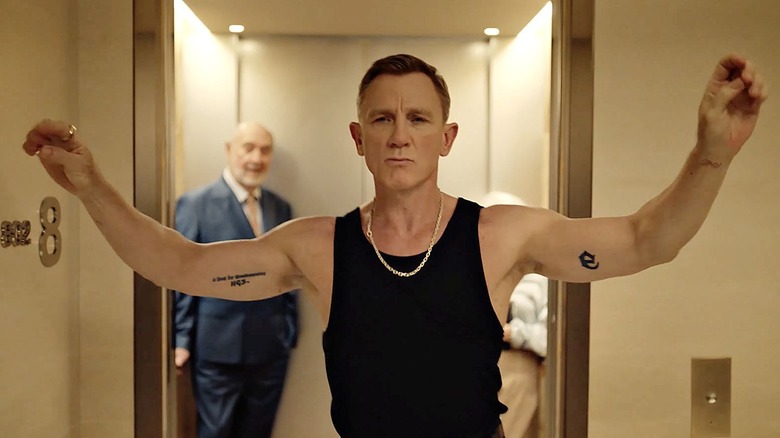 Belvedere
Playing Bond essentially obligates an actor to an entire second career as a spokesperson, and Craig has done his fair share of commercial appearances — mostly with frequent Bond product-placers Heineken Beer and Omega watches. But his most recent ad spot is already a viral sensation.
In a commercial for Belvedere Vodka — directed by Taika Waititi with original music from his wife Rita Ora — Craig plays "himself." Or a version of himself. When the ad starts with Craig breaking the fourth wall and turning to the camera to smirk, you know you're in for a good time. Featuring multiple costume changes and a lot of hip-thrusting dance moves, it's Craig at his most gleefully ridiculous. Once it seems like the ad is over, it goes even more meta! Waititi adds to the fourth-wall-breaking comedy, imploring Craig to try it again. "Just be yourself," Waititi says. We're further treated to Waititi mockingly playing himself as a self-centered director. The whole thing is good fun and a testament to Craig's enduring charm.