How Winnie The Pooh: Blood And Honey Turned Pooh And Piglet Into Killers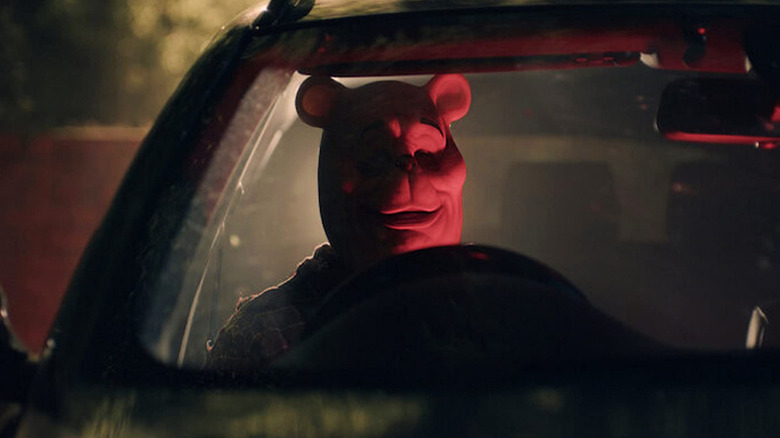 Altitude Film Distribution
When author A. A. Milne and illustrator E. H. Shepard created their 1926 children's book "Winnie-the-Pooh," one assumes it never crossed their minds that the titular character and his neighbors in the Hundred Acre Wood would be re-imagined as sadistic killers nearly 100 years later.
Inspired by the real-life teddy bear and other toy animals owned by A.A. Milne's son Christopher Robin Milne, the "Winnie the Pooh" franchise was synonymous with wholesome family entertainment up until 2022. Spanning books, stage plays, radio shows, films, and TV series both animated and live-action, "Winnie the Pooh" centers on the daily activities of the titular honey-loving bear. A naive yet gentle creature, Pooh spends most of his time learning valuable life lessons while getting in and out of trouble with his friends. Their ranks include the plucky Piglet, anxious Rabbit, downbeat Eeyore, boisterous Tigger, and their sole human companion: An ever-patient, soft-spoken boy by the name of Christopher Robin.
Outside of A.A. Milne's original books, most people likely associate "Winnie the Pooh" first and foremost with the many TV shows, shorts, and feature films Disney has made since it gained the rights to the property in 1961. Most of these productions have taken on the form of pleasantly-colored animated works full of cheerful songs and whimsical merriment, save for the one-off moments of spooky strangeness like the "Heffalumps and Woozles" musical number from the 1977 movie "The Many Adventures of Winnie the Pooh." Compared to the upcoming slasher film "Winnie the Pooh: Blood and Honey," however, that infamously surreal tune is as harmless and soothing as Pooh napping against a tree on a sleepy summer afternoon.
Christopher Robin goes to college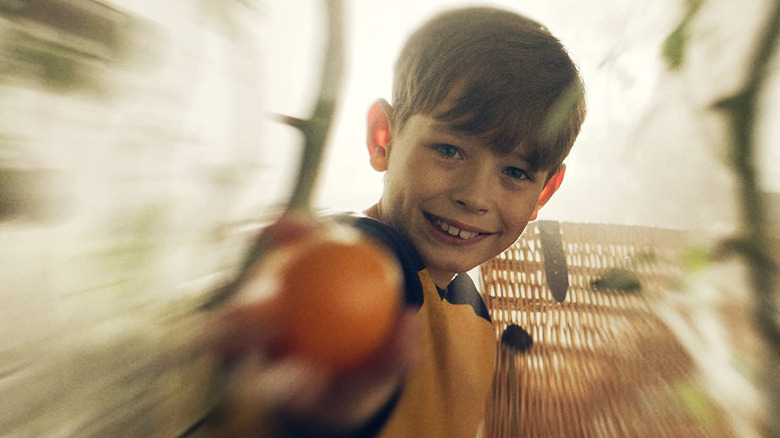 Altitude Film Distribution
"Winnie the Pooh: Blood and Honey" was announced in early 2022, shortly after A. A. Milne and E. H. Shepard's original novel entered the public domain at the start of the year. While the Mouse House still retains the exclusive rights to its specific version of Winnie the Pooh and his friends, "Blood and Honey" writer/director Rhys Frake-Waterfield and production company Jagged Edge Productions are free to revamp the characters as they deem fit. And how have they chosen to do so?
"Blood and Honey" sees a grown-up Christopher Robin (played by Nikolai Leon) heading off to college in a plot that, at first, seems like it was lifted right out of "Toy Story 3." But where that film saw its characters undergo a touching, poignant emotional journey, Waterfield's horror movie has Pooh and Piglet "going on a rampage." The filmmaker explained the logic behind this story in a May 2022 interview with Variety, stating:
"Christopher Robin is pulled away from them, and he's not [given] them food, it's made Pooh and Piglet's life quite difficult. Because they've had to fend for themselves so much, they've essentially become feral. So they've gone back to their animal roots. They're no longer tame: they're like a vicious bear and pig who want to go around and try and find prey."
Waterfield filmed "Blood and Honey" in 10 days near Ashdown Forest, England, itself the real-life inspiration for the Hundred Acre Wood. Tonally, of course, the movie couldn't be further removed from A.A. Milne's original vision, with trailers and images showing a decidedly un-cuddly iteration of Pooh and Piglet attacking people in hot tubs and slaying them with cars. There's even a shot of Eeyore's tombstone, implying the gloomy donkey was devoured by his pals at some point.
A balance of horror and comedy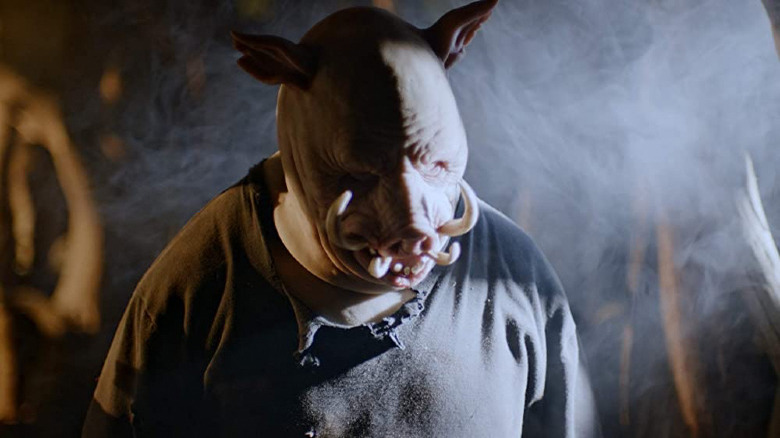 Altitude Film Distribution
If "Winnie the Pooh: Blood and Honey" sounds as dour as Rabbit on a blustery day, Rhys Frake-Waterfield assured Variety that the movie has a sense of humor about itself. "When you try and do a film like this, and it's a really wacky concept, it's very easy to go down a route where nothing is scary and it's just really ridiculous and really, like, stupid," he noted. "And we wanted to go between the two."
There are, in fact, some legally-imposed limits to the film's depravity. Characters like Tigger are still under copyright and could not be included in "Blood and Honey" — in case anyone was afraid the movie would feature your favorite springy feline bouncing someone to death à la the notorious pogo stick kill in "Leprechaun." Pooh will also be swapping out his famous red top for a lumberjack shirt to better set him apart from the Disney version, much like Piglet will be dressed all in black. "No one is going to mistake this [for Disney]," Waterfield added. "When you see the cover for this and you see the trailers and the stills and all that, there's no way anyone is going to think this is a child's version of it."
"Winnie the Pooh: Blood and Honey" is scheduled to open in theaters on February 15, 2023. Will anyone actually have a strong opinion about the film once the initial shock of seeing their childhood faves behaving like Michael Myers and Jason Vorhees wears off? Even the Silly Old Bear himself could probably tell you the answer to that one.