'Goodbye Christopher Robin' Trailer: Learn The Origins Of Winnie The Pooh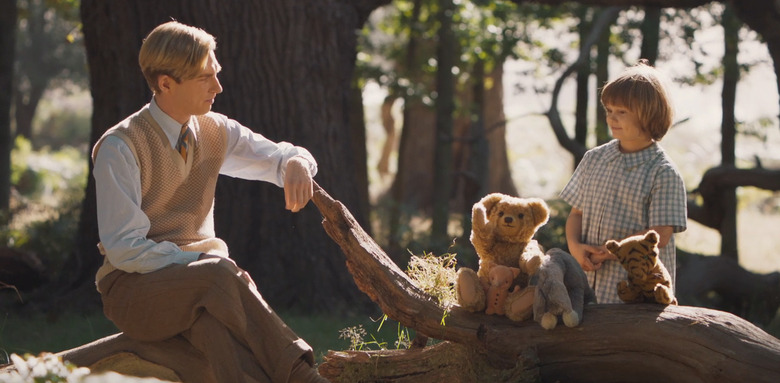 Following the end of World War I, the globe was in a state of recovery, looking for hope wherever they could find it. That's where author A.A. Milne comes in as his creation of the honey-loving bear called Winnie the Pooh became a literary phenomenon and gave the world the pick-me-up it needed to endure.
Goodbye Christopher Robin recounts how author A.A. Milne was inspired by his son, whose real name was Christopher Robin, to write this story, influenced by the child's imagination and his signature stuffed animals that just so happened to include a bear, a little pig, a donkey and a tiger. But once Winnie the Pooh becomes a global sensation, it has a more devastating impact on the family than you might think.
Watch the Goodbye Christopher Robin trailer below to find out more.
As you can see, this full theatrical trailer for the Fox Searchlight release shows the complications that come with success. All the time that A.A. Milne spent with his son Christopher Robin while writing the book suddenly goes away when Winnie the Pooh becomes popular enough to warrant even more books to be written. The father suddenly doesn't have time for his son, who seems overwhelmed by being at the center of the fictional tale that uses his real name.
The flairs of Finding Neverland are even more prominent in this trailer, though that doesn't make it look any less significant. The performance from Domhnall Gleeson as A.A. Milne looks like it will be one to keep an eye on around awards season, and the same can be said for Margot Robbie as his wife Daphne Milne, as well as Kelly Macdonald. The rest of the cast includes Will Tilston as Christopher Robin, Phoebe Waller-Bridge, and Stephen Campbell Moore.
Does director Simon Curtis (My Week with Marilyn, Woman in Gold) have the potential to get some awards buzz when the movie arrives in the fall? It's not out of the realm of possibility, but it's a little too early to make that call.
If you'd like to see more from Goodbye Christopher Robin, watch the first trailer right here.
A rare glimpse into the relationship between beloved children's author A. A. Milne (Domhnall Gleeson) and his son Christopher Robin, whose toys inspired the magical world of Winnie the Pooh. Along with his mother Daphne (Margot Robbie), and his nanny Olive (Kelly Macdonald), Christopher Robin and his family are swept up in the international success of the books; the enchanting tales bringing hope and comfort to England after the First World War. But with the eyes of the world on Christopher Robin, what will the cost be to the family?
Goodbye Christopher Robin will hit select theaters on October 13th, 2017 and expand wider in the weeks following.