Why Band Of Brothers Was A 'Vital' Production For The British Film Industry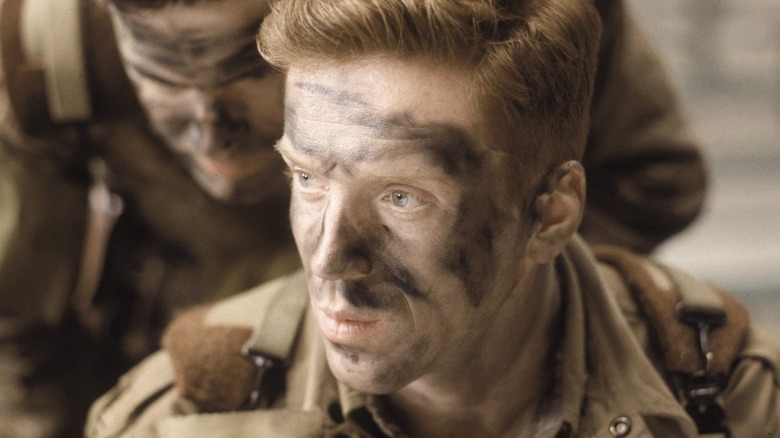 HBO
In the U.S., many of us who subscribe to five or more streaming services have grown tired of internet packages that bundle cable TV services we don't want or need. As streaming becomes more prevalent, UK households face their own kind of inconvenience, though it's not exactly new for them. On top of subscriptions, each household must pay an annual TV license fee to access broadcast television, which is currently set at £159 ($189 in today's USD) or face criminal prosecution. The fee, which funds the BBC, has become so controversial that earlier this year, UK Culture Secretary Nadine Dorries called to freeze it at the present rate and abolish it by 2027.
Other instances of the TV license fee facing such intense public scrutiny have been with respect to the programming that BCC produces. I mean, if we were taxed to fund the Marvel Cinematic Universe instead of voluntarily handing over all our money to Disney, we'd probably all feel even more strongly about what they put out (if that's even possible).
Over the years, Brits have proven to be especially sensitive when matters concern representations of their history, such as the country's place in the world wars. And in 2001, Steven Spielberg and Tom Hanks' co-produced HBO miniseries "Band of Brothers" struck quite a nerve. After spending up to £15 million on UK broadcasting rights for the show, the BBC faced criticism for investing in a story that puts American soldiers at the center of the final World War II counteroffensive against Germany's armed forces.
But this may not be a fair way to look at things. As a show filmed entirely in the UK, "Band of Brothers" was a boon for British actors and industry professionals alike.
The cast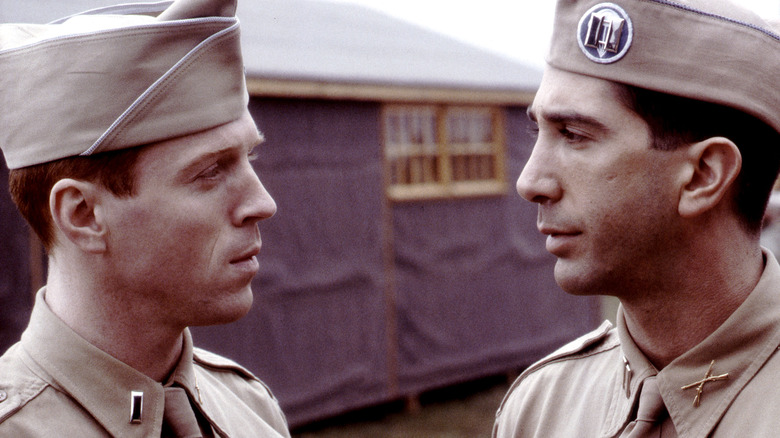 HBO
While "Band of Brothers" could not establish David Schwimmer of "Friends" as an actor to take seriously in a dramatic role, it was a door-opening opportunity for many of its other leading cast members. For British actor Damian Lewis, starring as commander of Easy Company's Lieutenant Richard Winters would secure him steady work over the ensuing decades in other TV series where he plays Americans ("Homeland," "Billions"). More recently, Lewis appeared as Steve McQueen in Quentin Tarantino's "Once Upon a Time in Hollywood."
Being a big-budget and well-connected WWII production, "Band of Brothers" was sure to create near-infinite openings for white men in Hollywood, and the list of now well-known actors who appeared in the show early in their careers runs deep. As easily as it brought on American actors like Jimmy Fallon to deliver a couple lines, the show features short one-episode appearances by English actors James McAvoy and (very briefly), Dominic Cooper, as well as by Irish actor Andrew Scott ("Sherlock," "Fleabag"). Simon Pegg ("Hot Fuzz," "Shaun of the Dead") and Stephen Graham ("Boardwalk Empire," "The Irishman") showed up in a couple episodes too. All these actors had acted professionally before, but their involvement in the show certainly helped their careers.
For others, "Band of Brothers" was their big break. In his first major role, Irish actor Michael Fassbender was cast in seven episodes as technical sergeant and machine gunner Burton "Pat" Christenson, while Tom Hardy also made his debut in the show. Some of these careers may not have taken off without the show's commitment to shooting in the UK.
The crew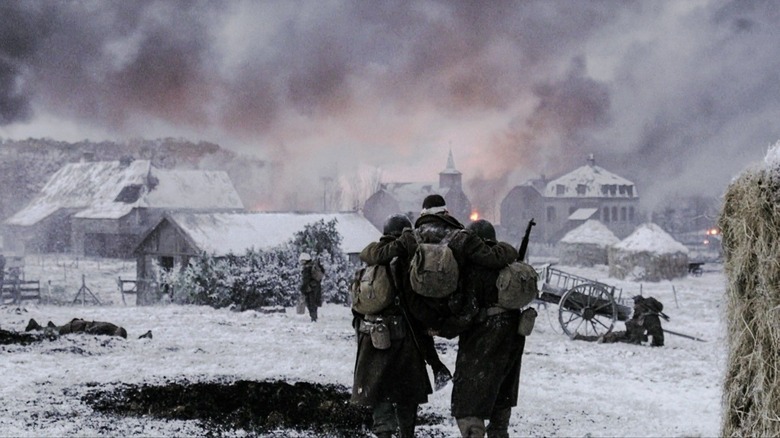 HBO
As much as it created opportunities for actors, filming "Band of Brothers" in the UK was also an economic boost across the country's film industry. Prime Minister Tony Blair personally oversaw negotiations with Spielberg's DreamWorks SKG production studio to make sure the show was made in the UK. As a result, most of the miniseries was shot on a massive $120 million 12-acre set at a private airfield in Hatfield, England.
In addition to securing a job in the crew for his son Euan, Blair's bargain also benefited directors, cinematographers, and other film technicians in the UK. Along with Tom Hanks, British filmmakers Richard Loncraine and David Leland directed single episodes of "Band of Brothers," while British cinematographer Remi Adefarasin took on camera duties for an entire half of the show's episodes. Needless to say, the show was "a vital production" for British cinema as former UK Culture Secretary, Chris Smith, put it at the time.
There are certainly limits to the value of American-produced movies and TV shows like "Band of Brothers" filming in the UK. But with the level of British talent on display in "Band of Brothers," it's fair to speculate that the BBC might have faced just as much criticism for failing to lock down the UK distribution rights. And given the successes seen by many of the show's stars, not to mention the fact that BBC viewers got to enjoy a pretty fantastic miniseries, it looks like they made the right choice in hindsight.