Band Of Brothers Almost Ended Dominic Cooper's Acting Career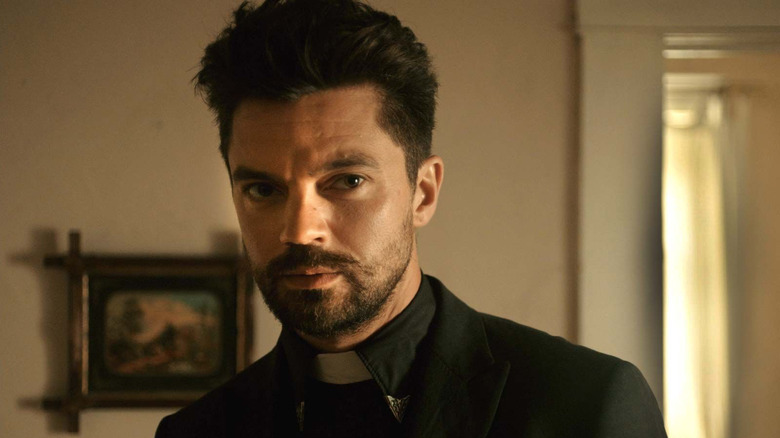 AMC
Dominic Cooper is one of those actors who, when compared with his contemporaries, slips under the radar despite delivering consistently great work. Most of the world knows him for his roles in the comic book realm, with his portrayal of a young Howard Stark in the Marvel Cinematic Universe and his memorable take on the Reverend Jesse Custer in AMC's "Preacher" TV series. And let's not forget his musical turns in the "Mamma Mia!" films as Sky Ramand.
It's hard to imagine what we would've lost had Cooper thrown in the towel early on in his career. Yet, it almost happened, and we never would have gotten our favorite Daddy Stark portrayal (among other things). So, what led Cooper to consider giving up on acting in film and TV entirely? As he explained to The Guardian while promoting "Mamma Mia! Here We Go Again" in July 2018, his experience working on the Steven Spielberg-produced World War II miniseries "Band of Brothers" crushed his spirits and made him reconsider whether or not this was the right career path for him.
"Band of Brothers" originally aired on HBO in late 2001, its 10 critically acclaimed episodes adapting Stephen Ambrose's 1992 non-fiction book of the same name. The miniseries focuses on telling the story of Easy Company, 506th Regiment of the 101st Airborne Division, U.S. Army, during WWII. Throughout the course of the series, we watch as the young soldiers encounter numerous obstacles and embrace not only their courage but also their fears. With a cast peppered with now-well-known actors, "Band of Brothers" was an honest-to-goodness star-launching vehicle, but it came with a cost.
'I was terrified'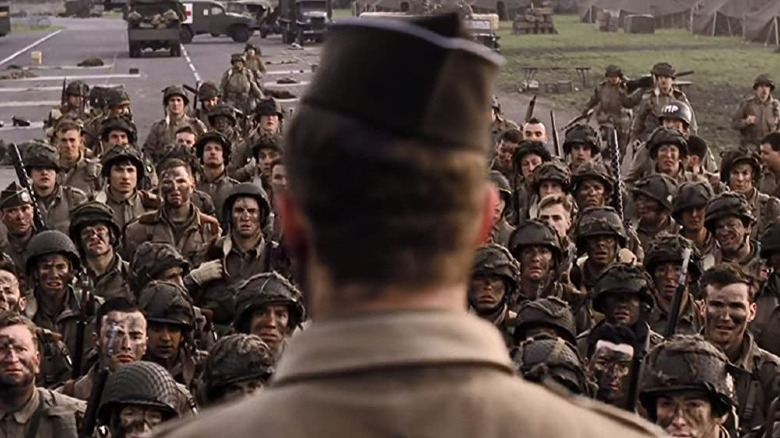 HBO
When you picture a project featuring Steve Spielberg as an executive producer, it's not hard to imagine something huge in scale. There are loads of moving parts on any big-budget project which, when it came to "Band of Brothers," could easily overwhelm a less-experienced actor. Indeed, being one of his first times acting in front of a camera, filming on "Band of Brothers" was incredibly daunting for Dominic Cooper.
"I'd never been on a film set and I was terrified," he told The Guardian, recalling that the "Band of Brothers" cast was full of young male actors who were actively competing with one another. From Andrew Scott to James McAvoy to Michael Fassbender, we know now how incredibly talented they all were. Thinking back to 2001 when "Band of Brothers" was released, one can easily imagine the pressure they were all under while trying to snag whatever attention they could on-screen.
Cooper did emphasize that the project itself was incredible, but the memories are clouded with a tinge of sadness. Ultimately, the experience unearthed emotions and insecurities that he wasn't entirely prepared for, which left him questioning his future:
"It was all to do with my own insecurities. It was camaraderie, competition, and masculinity at its highest level. I just wasn't ready for it. Luckily I got other work quite quickly. It could have been quite damaging. I could have gone, 'Nah, this isn't for me.'"
Cooper has split his time post-"Band of Brothers" between film, television, and theatre. Needless to say, his career since the show illustrates his perseverance.