Dominic Cooper Explains How Howard Stark Fits Into 'Captain America: The First Avenger'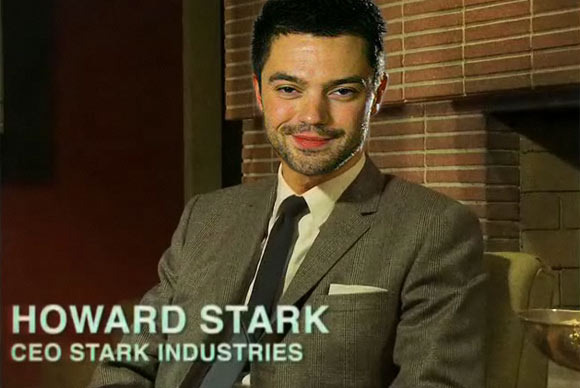 We've known for some time now that a younger Howard Stark would be appearing in Captain America: The First Avenger, and that he'd be played by Dominic Cooper (Mamma Mia!, The Duchess), but to what extent is the character featured in the film? Will his role be a fan service cameo, or does he actually pertain to the story? How much will we find out about the master inventor who fathered everyone's favorite technologically advanced superhero?
Find out the answer to all of these questions and more after the break.
Vulture got a chance to speak with Cooper, who was happy to reveal some new details about his character in the film.
When asked what we learn about Howard Stark in the film, here's what Cooper had to say:
We learn the whole idea of where Stark Industries comes from, which is out of pure curiosity and creative juices and excitement towards thinking of the future and developing things for good. He's a Howard Hughes. He's a guy that loves inventing, that's extremely intelligent, and that loves his lifestyle as well.
We got a small taste of this through archived footage that Tony discovers in Iron Man 2, but at that point it seemed like the troubling combination of alcohol and fatherhood had wore him down. Does that mean there's no chance that we might see a very young Tony Stark at some point in the film? Is Howard Stark a father yet?
No, he's still a young man with lots of ambition in an extremely exciting time.
That doesn't mean we won't get at least a sense of Tony in the film, however. When asked whether or not Howard is a ladies man like his son, Cooper responded:
Absolutely. You're never quite sure where he's been or where he's just come from. And it's always like he's just come from somewhere in a tuxedo, from showing people his inventions and his new flying machines. He's great fun.
Cooper also went on to explain his relevance to the story as it relates to Steve Rogers aka Captain America:
He's important because he's part of the machinery that helps Captain America manipulate his body.
This much has already been hinted at. Captain America's costume evolves over the course of the film, and prior to him wearing the final suit that's appeared in several official photos, he finds himself being used as a tool for propaganda while wearing the traditional winged-helmet suit found in the comic books. Howard Stark is the one who helps him build his new, advanced suit.
That's all well and good, but there's one more thing we must know: Does Howard Stark get to kick any ass in the movie?
Um, no.
Fair enough.
Captain America: The First Avenger will be released on July 22.