Band Of Brothers Wasn't The Big Break Michael Fassbender Hoped It Might Be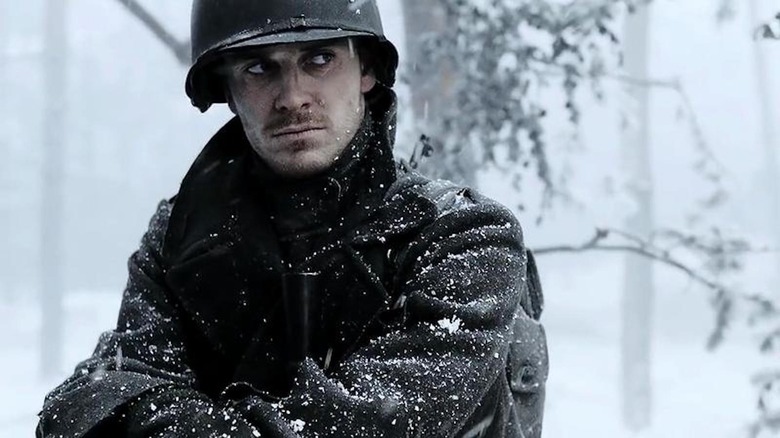 HBO
Have you ever revisited a film or television series you haven't seen in about 10 or 15 years, and suddenly, you start to notice that a number of the smaller parts are populated by actors who have since become gigantic box office draws, Emmy winners, and Oscar favorites? Maybe it's looking back on "The Wire" and recognizing a young Michael B. Jordan, or Jessica Chastain in "Veronica Mars." Perhaps no single series has ever resulted in more, "Wait, he's in this!?" moments than HBO's World War II epic "Band of Brothers."
It shouldn't come as much of a surprise that executive producers Steven Spielberg and Tom Hanks were able to attract what has become a veritable who's who of acting talent, from Tom Hardy, to James McAvoy, and even Simon Pegg in a blink-and-you'll-miss-it appearance.
One of the biggest stars to emerge from the series was Michael Fassbender. However, the critically acclaimed miniseries wasn't the career launchpad the two-time Academy Award nominee had hoped it might be.
While the Irish actor, probably best known now for his role as a young Magneto in several "X-Men" movies, has found plenty of mainstream success as a proper movie star over the years, he wasn't truly able to attain mainstream success until nearly a decade after working with two of the biggest giants in Hollywood.
Struggling to capitalize post-Band of Brothers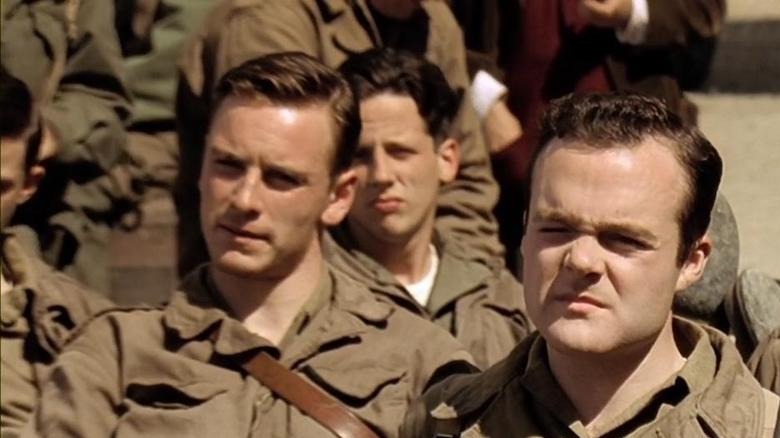 HBO
"Band of Brothers" was released in 2001, and filmed primarily in England. It's no surprise, then, that the cast included so many up-and-coming British and Irish stars. It earned 20 Emmy nominations, taking home seven trophies. While the show did win the Emmy for outstanding casting in a miniseries, no actors were recognized for their work individually. The Golden Globes gave nominations to stars Damian Lewis and Ron Livingston, but the rest of the cast remained in the background. That's not overly surprising for a sprawling epic featuring dozens of speaking roles spread out over 10 episodes.
So, while the series itself was finding tremendous success, the same couldn't be said for many of its younger cast members. That proved particularly unfortunate for Fassbender, who was so confident that "Band of Brothers" would lead to a plethora of bigger and better roles coming his way that he burned through his paycheck despite not having any future gigs lined up.
Fassbender worked sporadically, mostly doing TV work, before his next Hollywood gig would come along in the form of "300."
Even that film proved to be yet another, "Oh, I forgot he was in this!" type of role, despite Fassbender getting one of the film's most famous lines of dialogue. He finally earned individual acclaim for his performance in the film "Hunger," winning Best Actor at the 2008 British Independent Film Awards — a full seven years after "Band of Brothers."
Getting a delayed breakthrough thanks to Tarantino and the X-Men
20th Century Fox/Marvel Entertainment
After the critical success of "Hunger," the work started rolling in for Fassbender. Soon enough, he was cast in Quentin Tarantino's 2009 masterpiece (yes, I'm breaking out the "m" word) "Inglourious Basterds" — even though that role was originally meant for one of his "Band of Brothers" cast mates, Simon Pegg. Still, Fassbender jumped off the screen in his small but pivotal role, making it clear he was an electric performer with genuine star power. Two years later, he'd get arguably the two biggest breaks of his career — exactly a decade following "Band of Brothers" — with his Oscar-nominated turn in "Shame" and landing the role of Magneto in "X-Men: First Class."
Since what could be called his career-year in 2011, he's become a bonafide movie star, earning his second Oscar nomination in 2013 for his work in "12 Years a Slave" and continuing his stellar work in the "X-Men" franchise. Proving just how deep that "Band of Brothers" cast truly was, his most frequent scene partner is James McAvoy, another member of the small screen version of Easy Company.
Sure, Fassbender has had a few career stumbles recently, like the much-maligned "The Snowman" and his somewhat baffling adaptation of "Assassin's Creed." There's no denying he's a charismatic and magnetic — pun only slightly intended — presence on the screen, however. One person who seems to agree is David Fincher, who chose Fassbender to star in his upcoming Netflix film "The Killer."