Ralph Fiennes' First Instinct Was To Turn Down Harry Potter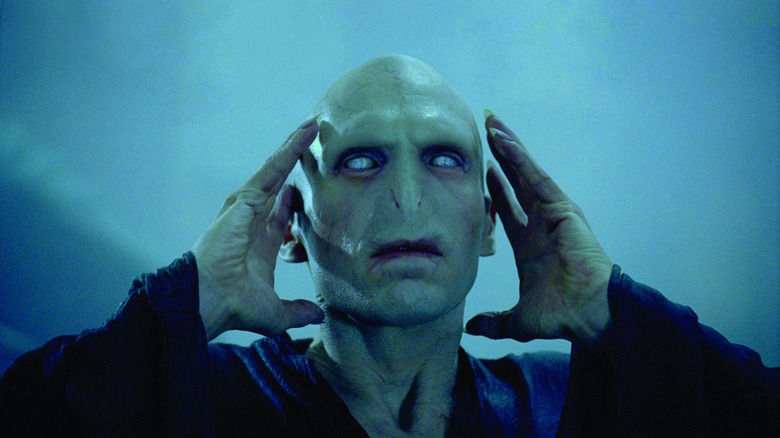 Warner Bros. Pictures
At first glance, it may seem a bit surprising that Ralph Fiennes, an esteemed actor known for his roles in deadly serious movies like "Schindler's List" and "The English Patient," was cast to play Lord Voldemort starting in the fourth film of the "Harry Potter" series. But that surprise dissipates if you look at who'd already been cast in the movies.
The "Harry Potter" films are not only a massively successful franchise but a who's who of great British acting talent. With such stars as Richard Harris, Maggie Smith, and Alan Rickman, who stayed on with the franchise for the full eight films despite hating a good bit of his time doing it, it was a veritable all-star cast. The movies not only featured these prestigious veterans of the craft but successfully launched the careers of its young stars, such as Daniel Radcliffe and Emma Watson. To add a performer of Fiennes' caliber to such a strong ensemble was just a natural decision.
Despite all of this, Fiennes was not always sure whether he'd accept the role. The English actor talked about his hesitancy to embody the noseless Dark Lord during a recent interview on "Watch What Happens Live." "In my stupid ignorance I hadn't read the books, I hadn't seen the first movies, and I was, I have to say, a little snobby about it," said Fiennes. But this self-proclaimed snobbiness wouldn't keep him from donning the robes for long, as he'd receive some encouragement from multiple people to take the infamous role.
A bit of encouragement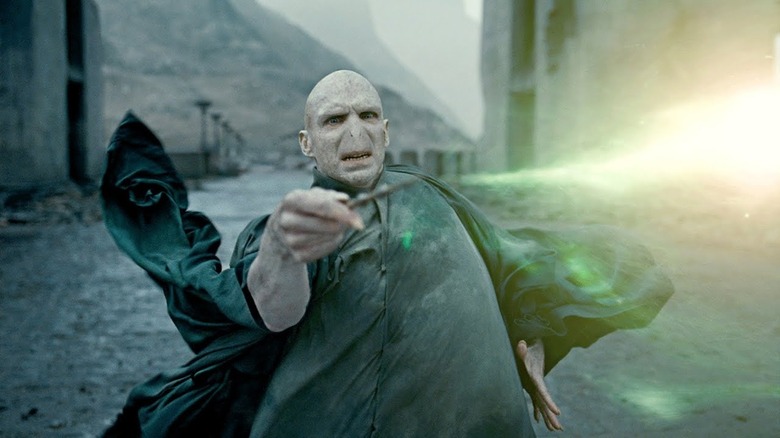 Warner Bros. Pictures
By the time Fiennes was cast as Voldemort, the first three "Harry Potter" films had already been huge successes, so the popularity and potential longevity of the franchise were not in question.
Even with such a clearly lucrative decision in front of him, Fiennes was unsure of whether or not to accept. According to Fiennes, it took some encouragement from multiple sources for him to decide to hop into the role, one of which was the film's casting director.
"Until the casting director, great lady, English Lady, Mary Selway sat me down– I mean, I've known Mary for many years. She could be tough, and very insistent, and she just said, 'You have to do this movie. Just do it Ralph.' And she said it with such emphasis."
Of course, a casting director would certainly have some ulterior motives when it comes to talking someone into accepting a part in the movie they're working on. But it seems that words from Fiennes' sister, which he spoke about in the "Potter" 20th-anniversary reunion, "Return to Hogwarts," did more to solidify his decision.
"My sister has children who were then around 11 and 12, and I said, 'Martha, I don't know about this Voldemort.' Her response? 'What? You're being asked to play Voldemort? You've got to do it!'"
It may seem a sentimental reason to make such a big decision, but it wouldn't be the first time somebody took a role in a popular series to please the children in their family. 
Embodying the Dark Lord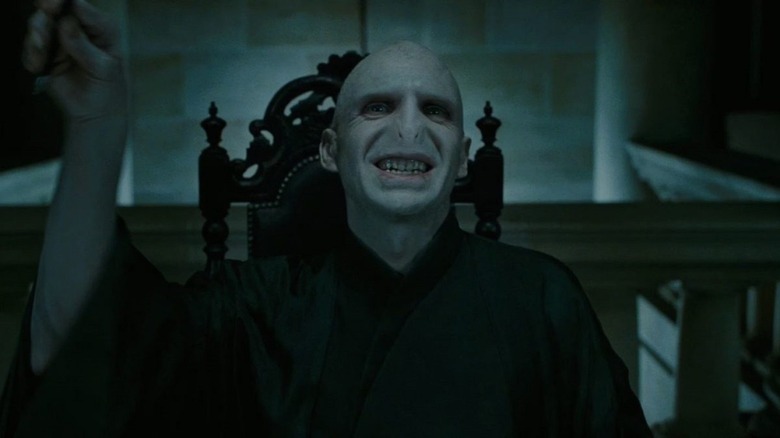 Warner Bros. Pictures
And so, Ralph Fiennes became Voldemort, and it's no surprise that an actor of his skill level was able to make the part his own. From the terrifying, high-pitched voice he used, to the little glimpses of humanity he was able to show between his bouts of sheer villainy, Fiennes did an excellent job bringing Voldemort to life.
If there was any reason he'd regret taking the role, it was the prosthetics and makeup he had to put on as the character, a process he did not enjoy one bit. He hated acting in prosthetics so much that, during his appearance on the Graham Norton Show, he remarked that he tries to avoid parts that require them ever since his time as Voldemort. In spite of his hatred of the prosthetics process, Fiennes explained when he knew the Voldemort makeup was working.
"I passed by the script supervisor, who had a little boy who was on set [...] 4 or 5 years old. Anyway, I passed by this little child, I just looked at this boy and he burst into tears."
Poor kid. Despite his new tendency to make children cry, it seems Fiennes did not share Alan Rickman's disdain for the filming process, as he recently told Variety he'd happily return to the series. While I don't particularly hope to see Voldemort return to the silver screen, if he has to, I sure hope Fiennes is the one who plays him, as his performance has now become the canonical Voldemort for me and millions of others.