Severus Snape Actor Alan Rickman Didn't Like The Harry Potter Movies And Kept Trying To Quit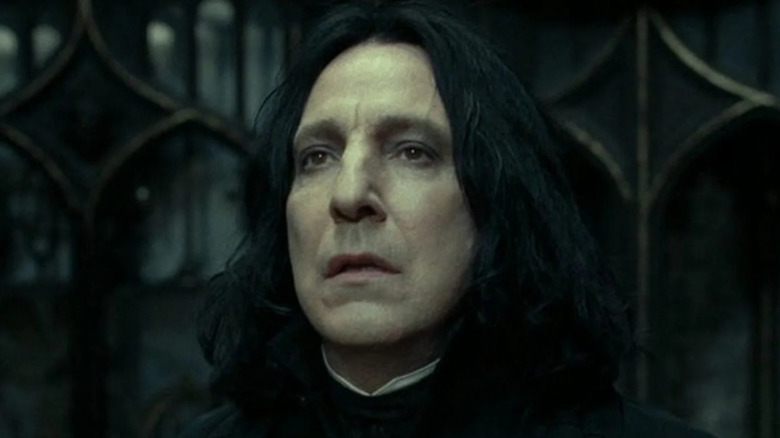 Warner Bros. Pictures
The "Harry Potter" franchise of books and films has a frighteningly loyal fanbase. Even over 10 years after the final film of the series was released, fans still talk about and base their entire personalities around "Harry Potter." For them, the actors who brought their favorite story to the big screen are legends. But not all of those legends enjoyed being part of the franchise.
Alan Rickman did not count himself among the legions of "Potterheads," according to his recently revealed diary entries. Rickman, who portrayed the cold and mysterious Severus Snape in all eight of the "Harry Potter" movies, has never been afraid to criticize films in the past. An actor of his caliber is often given some leeway in being a bit rude about projects they see as beneath them. But to see how poorly he felt filming "Harry Potter," and how often he considered leaving, is a bit of a surprise considering his long run as Snape.
Rickman, also known for his roles in movies like "Die Hard" and "Robin Hood: Prince of Thieves," died in 2016. But with the surfacing of his show business-focused diaries, we've gained more insights into the mind and opinions of the man behind the tragic Professor Snape.
Not all fun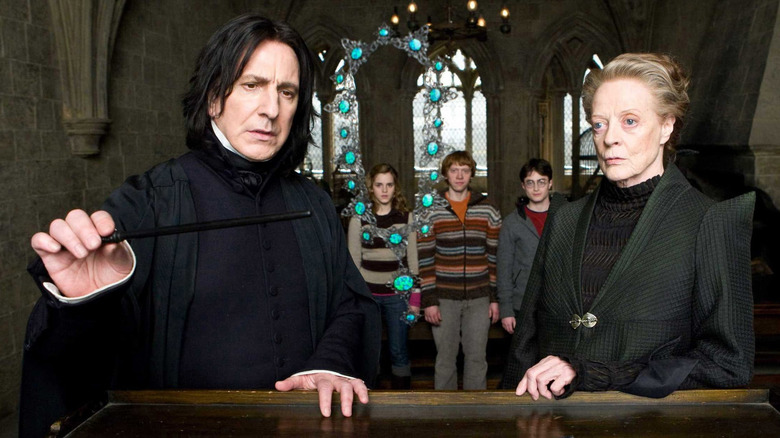 Warner Bros. Pictures
It took a good bit of convincing for director Chris Columbus to get Rickman to agree to play Snape, as he was worried about being typecast as a villain. Once he agreed to take on the role, however, Rickman put in a great performance, and he even influenced some of Snape's wardrobe choices.
Unfortunately, according to the now-public diary from the actor himself, Rickman was definitely not happy during his time filming "Harry Potter." This was largely in part due to his struggle with prostate cancer, which he was diagnosed with in 2005. When filming of the fifth film in the series, "Harry Potter and the Order of the Phoenix," Rickman began his diary entry flatly:
"Finally, yes to HP 5. The sensation is neither up nor down. The argument that wins is the one that says: 'See it through. It's your story.'"
Even before "Prisoner of Azkaban," the third film of the franchise, Rickman was attempting to bow out of the films. He wrote:
"Talking to [agent] Paul Lyon-Maris about HP exit, which he thinks will happen. But here we are in the project-collision area again. Reiterating no more HP. They don't want to hear it."
Rickman felt that when he was donning the Snape outfit, he wasn't himself. "I realize as soon as [Snape's] ring and costume go on — something happens. It becomes alien to be chatty, smiley, open. The character narrows me down, tightens me up." He would get into on-set fights with director Alfonso Cuarón during "Azkaban," and even took some snippy shots at Emma Watson's acting. He was clearly unhappy.
Positive takeaways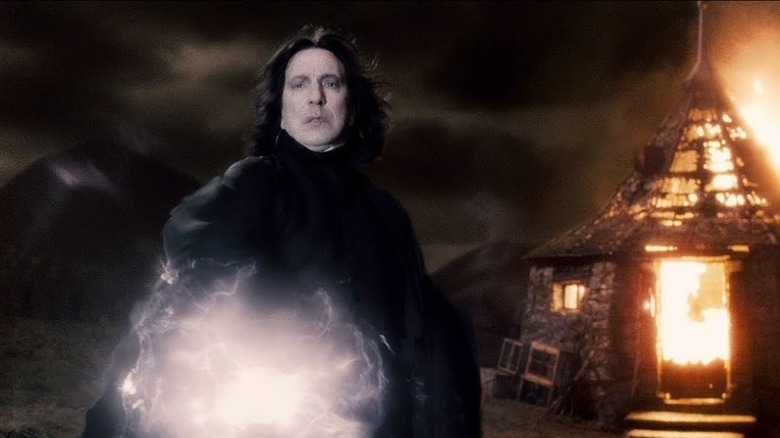 Warner Bros. Pictures
Despite being miserable during some of his time on "Harry Potter," Rickman was not without his positive takeaways from his time filming. He still loved the character of Snape, especially when he finally read the last book in the series and discovered the character's exit from the Wizarding World. The actor also held onto one key detail he learned before many of the fans even knew:
"Snape dies heroically, Potter describes him to his children as one of the bravest men he ever knew and calls his son Albus Severus. This was a genuine rite of passage. One small piece of information from Jo Rowling seven years ago – Snape loved Lily [Potter] – gave me a cliff edge to hang on to."
Rickman also spoke well of some of his co-stars, including Harry Potter himself, Daniel Radcliffe, noting that when he was unable to be kind to the crew, Radcliffe always would be with an ease and charm.
Other less well-known actors like Matthew Lewis, who portrayed the hapless Neville Longbottom, have fond memories of working with Rickman, even if he was terrified of him throughout most of the franchise's production. On the "Inside of You" podcast, Lewis discussed approaching Rickman on his last day on set, after being too afraid to speak to him during all their time filming. He thanked Rickman for treating everyone with respect and ended up getting valuable career advice from the veteran actor.
Even while Rickman was in literal pain and couldn't even find John Williams' "Harry Potter" score to be anything but "hideous," he was to his core a professional. He took his performance seriously, and he dedicated himself to the character of Severus Snape even when he didn't want to. We should be glad he stuck it out, because nobody but Alan Rickman could have done it as well, and fans will remember him... always.