Kyle Gallner And Sosie Bacon Devised An Entire Backstory For Their Smile Characters [Exclusive]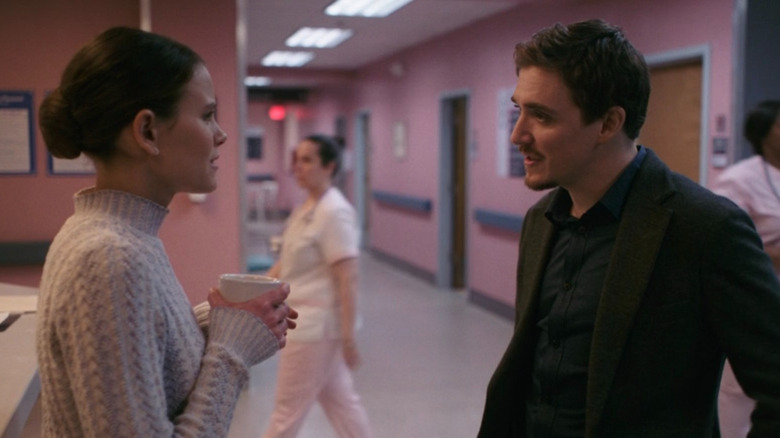 Paramount Pictures
In a year where horror is especially thriving, it's always fun to see movies like "Smile" succeed. Akin to what happened with "Lights Out," Parker Finn's chiller was born out of a short film ("Laura Hasn't Slept"), where its effectively simple premise left enough room for a major studio to give it a boost in a feature-length expansion. The familiar foundation of "Smile" may derive from the bones of "It Follows" and "The Ring," but the meat of its story is an eerie beast all its own. Where Blumhouse failed to make smiling scary with "Truth or Dare," Finn ties the natural human reaction to a silently twisted story about the long-standing effects of trauma and mental illness.
It all starts when Dr. Rose Cotter (Sosie Bacon) meets with a patient (Caitlin Statsey), who violently dies by suicide in her office while sporting a truly menacing grimace on her face. Afterwards, Rose starts to see sinister smiles everywhere she goes, leading her down an investigative path to discover the origin of this mysterious curse. Although initially planned as a Paramount+ exclusive, "Smile," which has currently raked in over $210 million at the box office, was born to scare a crowd.
At the center of its cleverly crafted scares, however, are two performances that make the threat feel even more real. Bacon does a great job at making you feel as if you're losing your grip on reality, in addition to "Jennifer's Body" star Kyle Gallner who plays her estranged ex, Joel. We meet them at an interesting period in their lives, with each actor making significant contributions to their implied history.
Gallner and Bacon had to make up their backstory from scratch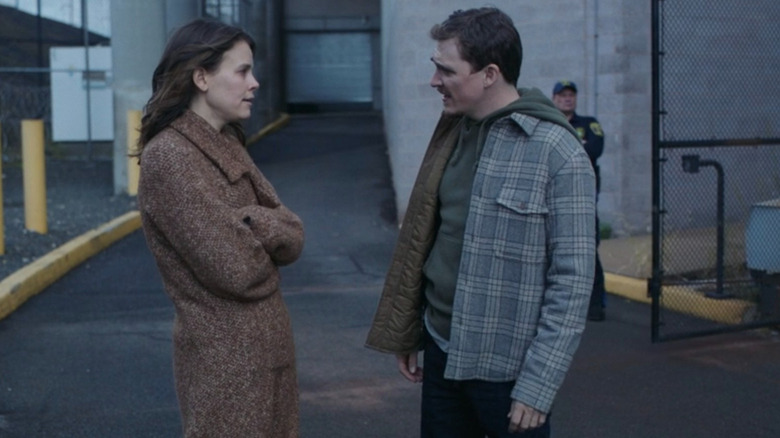 Paramount Pictures
Gallner plays the detective who arrives on the scene of the grisly opening incident, which prompts him to try and reconnect with Bacon's Rose. "Smile" doesn't really divulge much information as to how their relationship crumbled — but based on their shared body language, it's clear that they have a history. Ironically, when it comes to their backstory, Gallner and Bacon formed a bond that led them both to play their parts based on their own interpretation.
In an exclusive interview with /Film's Jacob Hall, Gallner talks about how important it was to them that they come up with something together:
"How do you step into a situation where you have a relationship with this character without showing any relationship, any backstory? There's no monologuing, there's no flashback, there's no nothing. But you have to clearly have a past, and probably a past that isn't like, oh, we dated for six months. These guys were probably together for quite a while and really knew each other for a long time and went through a lot of growing pains and it ultimately just didn't work."
Although the first scene they share together is during a questioning session after her patient's death, the moment where the pair truly reconnects transpires later is when Joel comes to check on her the day after. The way they talk to each other without really talking to one another shows a hesitancy to open up the past, but there's a part of them that can't help it. While Rose's fiancée Trevor (Jessie T. Usher) lashes out at her for her erratic behavior on behalf of the pop-up smiles, Joel is quick to rush in and make sure she's safe. 
'He's going to be there for her because that's what matters'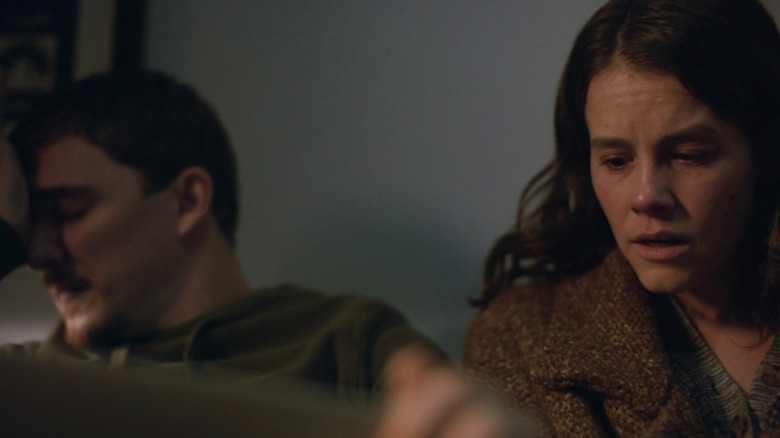 Paramount Pictures
Even when a relationship has ended, there are always those people who you can't help but still feel a connection with. Gallner goes on to talk about how, while Joel struggles with the notably out there story Rose is thrusting upon him, their prior connection gives him a better understanding of how to proceed. Above all else, he deeply cares for her (via /Film):
"Joel may not totally believe her, he may believe her halfway, but whatever it is, it doesn't matter. He's going to be there for her because that's what matters. And to her, if it's real, then to him it's real and he's going to help her figure it out any way he can."
Relationships are a shared experience. Rose is still shaken from her inaction as a child that led to the death of her severely mentally ill mother, after all. Gallner implies that they had a notable relationship before their split. During that period, he most likely saw her in a similar state of mind. The horror of "Smile," beyond its titular scare, lies in how the people around you can negatively interpret your actions during a mental breakdown rather than lending a hand, and the character of Joel subverts that in a refreshing way.
"Smile" is currently streaming on Paramount+.