Bones And All Director Luca Guadagnino Is Working On A New Movie, Won't Say A Word About It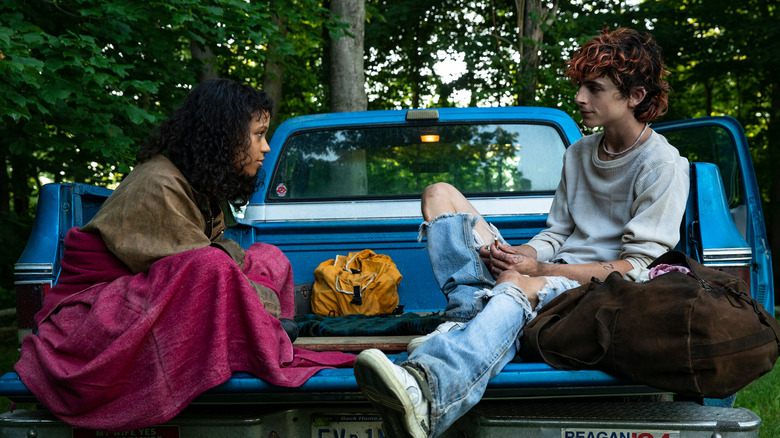 United Artists Releasing
Luca Guadagnino's "Bones and All" feels like a film that came from the same director who made the heartbreaking "Call Me By Your Name" and the enchanted Dario Argento remake of "Suspiria." Based on Camille DeAngelis' book of the same name, Timothée Chalamet and Taylor Russell play two star-crossed travelers scavenging the Midwest countryside during the dead air world of the late '80s, a time and place where, if you wanted to disappear, you could. It's a tragic love story brimming with angst and longing, but "Bones and All" is also a slow-moving chase movie filled with shockingly graphic, violent segments that are truly jaw-dropping. Guadagnino shows you his heart in this film and then literally rips it out on screen along with other bits of flesh and entrails. 
One thing that "Bones and All" is not is a cannibal movie. That's just false advertising. Chalamet and Russell's characters are "eaters" and they're born that way. Cannibals choose to resort to that kind of treachery "eaters" are driven to it. This is a beautiful, haunting film that cements Guadagnino and Chalamet as a powerful creative force. 
Even though "Bones and All" is just arriving in theaters for mass consumption, Guadagnino already has another film, "Challengers," in the works starring Zendaya ("Euphoria") and Josh O'Conner ("The Crown"). "Challengers" is set for release on August 11, 2023, but Guadagnino already has another mysterious film in the works that no one knows anything about. Yet.
'It's very secret'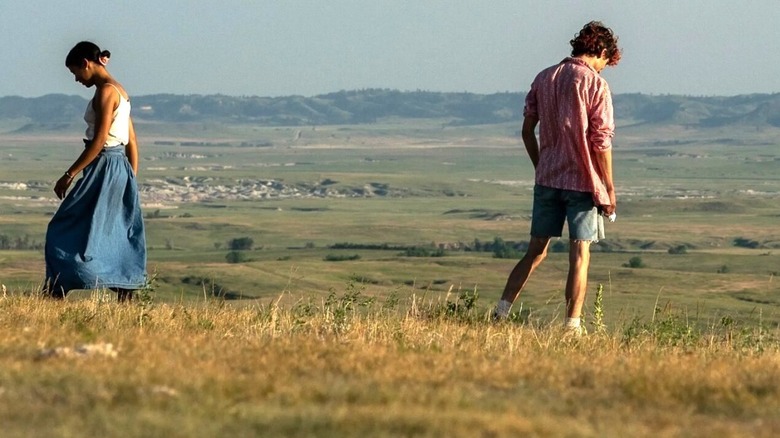 United Artists Releasing
Unfortunately, there's not much to say about this next phantom project, and the Italian maestro can sometimes be a little aloof and curt in his answers in interviews. Per i-D, Luca Guadagnino is officially in prep for this next endeavor, staying busy as always. "Well, I'm preparing a new movie. I'm working on my design practice. I am trying to rest. I'm producing other movies." A shark can never stop moving and, apparently, it seems that the filmmaker is riding a creative wave that keeps pushing him along, but for now, he likes it that way. "I also think that maybe one day I'll change that," ponders Guadagnino. "To clear my mind." 
He also mentions in the i-D convo that he's constantly thinking about "Vanitas," or "the vanity of things" and "what things mean when faced with the possibility of not being anymore." That existential idea is touched on in "Bones and All," but could also be a thread that continues into this next film. Hopefully, we will hear more soon and maybe Chalamet will be involved in some way. For his character Lee in "Bones and All," Chalamet worked closely with Guadagnino and screenwriter David Kajganich to develop the character, so the in-demand actor seems to have become a fairly close collaborator. After appearing in "Call Be By Your Name" and "Bones and All," a third film with this same team doesn't seem too far out of the realm of possibilities. 
In a final cryptic comment, Guadagnino was asked if anyone knows anything about this new movie. "No, no one does. It's very secret." For a complete non-answer, I couldn't be more intrigued. 
"Bones and All" is in limited theatrical release beginning on November 18, 2022, before opening wide (no pun intended) on November 23.