Even Glass Onion Producer Ram Bergman Missed Key Details When First Reading Rian Johnson's Script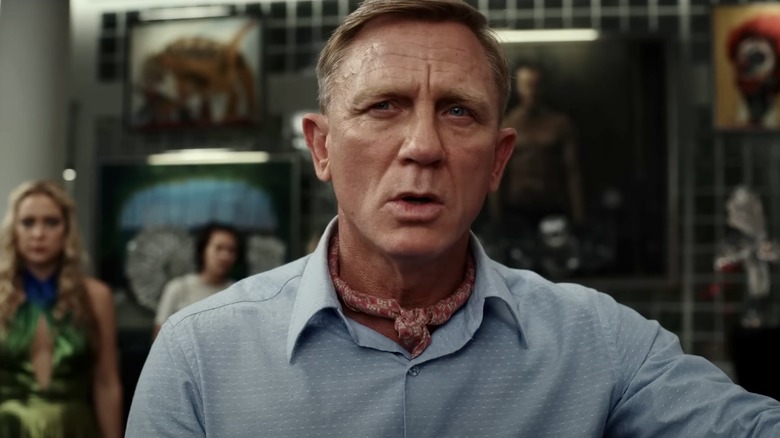 Netflix
The intricate plotting of a murder mystery like "Glass Onion" even kept producer Ram Bergman on his toes and had him going back over the script, picking up on new details he missed the first time around. The sequel to "Knives Out," which earned writer-director Rian Johnson his first Oscar nomination for Best Original Screenplay, "Glass Onion" sees Daniel Craig back in the saddle as private detective Benoit Blanc. This time, he's on an island in Greece with a new murder to solve and a new star-studded suspect list. 
Bergman has served as a co-producer for every one of Johnson's films going back to his directorial debut, "Brick," in 2005, but despite their long collaboration, he still finds himself poring over Johnson's dense scripts and noticing new things each time. /Film's Vanessa Armstrong recently interviewed the producer, who explained (with no spoilers) how "Glass Onion" came together, starting with Johnson's pitch.
"He literally worked through all the key bits," Bergman said, "and we talked about the conceit of the movie, which was like, 'Wow, okay, this is completely different, as it should be.' But I didn't expect it, and it's a challenge."
That challenge is one Bergman was definitely up for, however. He continued:
"If I'm always going to bet on somebody, I'm going to bet on Rian. He went and wrote the script and sent a first draft to me. When you read one of Rian's scripts, they are very dense. You read them, and you read them again, and you still know — the same way when you're watching a movie — that you're going to miss so many different things. You read it, and you read it again and you realize, 'Oh, you missed this. Oh, this is what he meant, you missed it.'"
'This one was a real ride'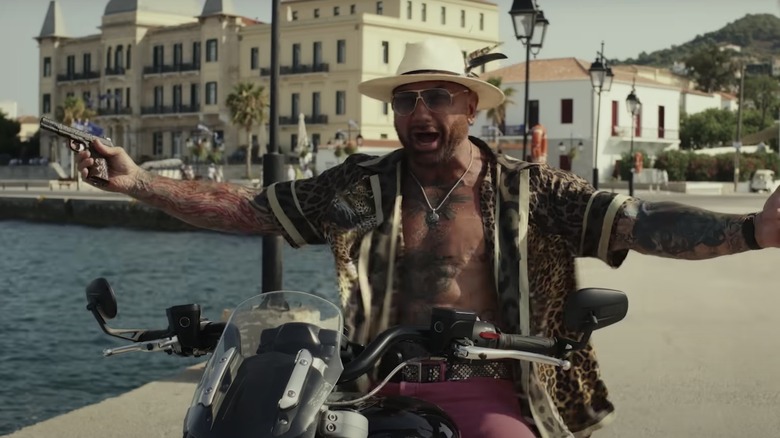 Netflix
Johnson has most of his produced screenplays available to read through his website (the sole exception being the one for "Star Wars: The Last Jedi," which is probably tied up legally with Lucasfilm). Reading the script for "Knives Out," you can see how the blueprint for the film's editing is almost right there on the page, with the way the script jumps around between various members of the Thrombey family as Benoit Blanc and LaKeith Stanfield's police detective interview them at the beginning.
It's almost like a round of speed dating where we get to know all these new characters. By not lingering on any one scene too long, Johnson is able to hold the script reader's attention but maybe also pull off some misdirection and slip a few details past them.
Based on Bergman's experience, it sounds like "Glass Onion" offers a similar roller coaster of a narrative. He continued:
"It was such a fun ride reading the script. I was like, 'Holy s***, he pulled it off.' But right away, I said, 'Okay, I knew what the conceit is going to be. I need people who don't know what the conceit is and see how they respond.' So we have a close group of people, Rian's friends, that don't know anything. We started testing it with them to see how they respond. And then we keep working and just made it better and better through all the stages of making the movie."
Bergman added, "The first ['Knives Out' mystery] was a ride, but this one was a real ride, so I just could not wait to see how it turned out."
"Glass Onion: A Knives Out Mystery" comes to select theaters on November 23, before making its Netflix premiere on December 23, 2022.