The Menu Gave Nicholas Hoult And Anya Taylor-Joy A Lot Of Room To Improvise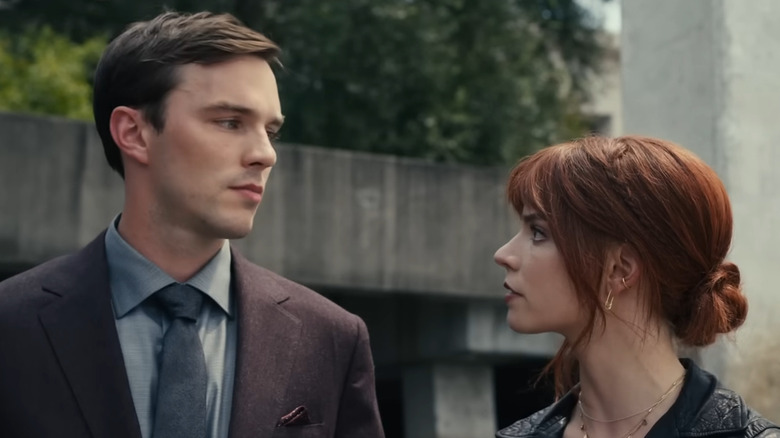 Searchlight Pictures
As we roll into the Thanksgiving movie season, I hope folks don't let a movie like "The Menu," which /Film's Rafael Motamayor calls "one of the best horror movies of the year," fall under their radar. Although it's an entirely different beast than a movie like "Barbarian," this is the kind of movie you want to know little about going in. For that reason alone, it's bound to generate positive word-of-mouth from those who indulge in its deliciously devious feast. To keep things vague, director Mark Mylod's dark comedy sees 12 wealthy socialites hop aboard a boat to a remote island, where an extravagantly expensive dinner turns into a wicked night of twists and surprises.
In addition to its patient sense of intrigue and mystery, "The Menu" boasts one hell of a cast with names like Hong Chau ("The Whale"), Ralph Fiennes ("The King's Man"), John Leguizamo ("Violent Night"), Judith Light ("Julia"), and Janet McTeer ("Ozark"). Fiennes' Chef Slowik is the ringleader of the exclusive Hawthorne establishment, which puts him in a riveting position to have a back-and-forth with Anya Taylor-Joy's Margot, who seems to stick out among the crowd.
But before the two acting giants have a chance to meet, we get to see Taylor-Joy's interaction with Nicholas Hoult's Tyler, a foodie fanboy who takes this experience very seriously. The two actors work really well off of each other, and based on Hoult's words, this wasn't an accident.
Casual conversation over a deadly meal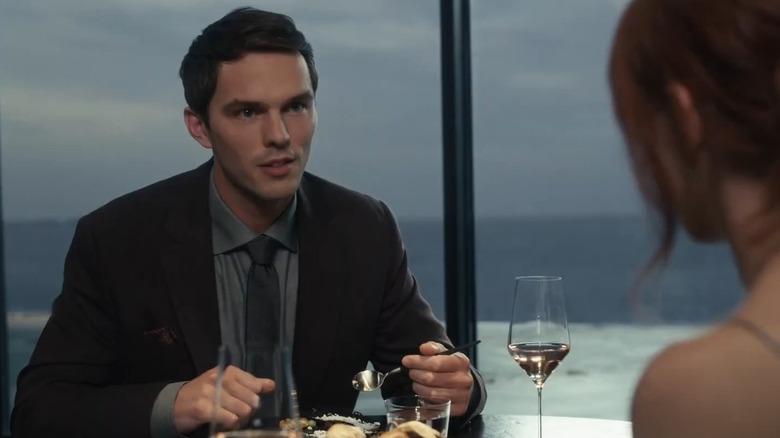 Searchlight Pictures
According to a report from Yahoo! News, during an interview with E! News, Nicholas Hoult talked about how being able to improvise helped him and Anya Taylor-Joy get to the heart of their characters:
"Because there was so much improvisation and time that we were kind of on-screen but not actually with scripted dialogue, we just kind of get to know each other through making up stories and improvising as the characters [...] So, it didn't feel like a date from hell even though, as the characters, they do get under each other's skin a little bit."
Improvisation with a film as meticulously crafted as "The Menu" could bring about its own set of challenges, but the pair make their conversations feel natural to their characters.
Screenwriters Seth Reiss and Will Tracy do an excellent job at having the audience learn the mystery behind this wayward dinner through the diners' perspective in their own time. In the meanwhile, you come to know how these characters interact with the outside world. When you meet Tyler and Margot, there's a noticeable strain between them, and both actors are great at making you feel as if you're on a notably one-sided date. Their relationship in and of itself is a bit of a mystery, so as you see them react to the messed up dinner exhibition in their own ways, everything kind of falls into place.
"The Menu" is set to hit theaters on November 18, 2022.