The Menu Crew Got 'Absolutely Obsessed' Perfecting The Technical Cooking Sequences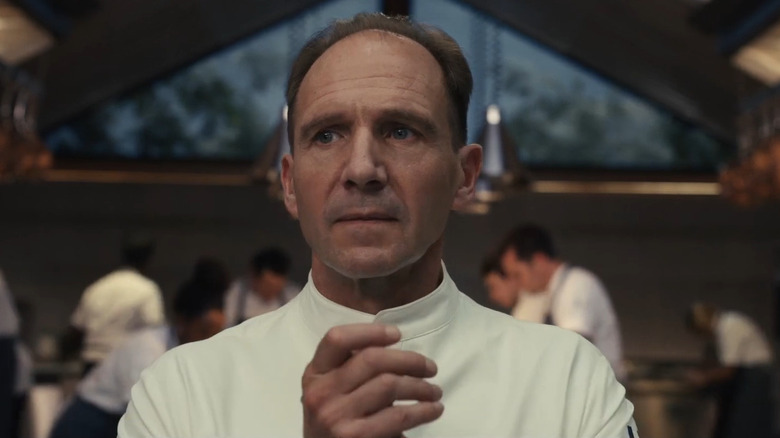 Searchlight Pictures
At first glance, "The Menu" appears to be about a group of rich folk digesting a series of delectable dishes that you'll never be able to afford. But once they're gathered at the secluded Hawthorne establishment, they're at the mercy of Chef Slowik and his army of cooks, who have an eventful evening planned for them. Everything I've seen so far regarding Mark Mylod's dark comedy has only intrigued me further as to what the mystery behind the delicious madness could be.
One of the film's main selling points is its stellar ensemble, with names like Hong Chau ("The Whale"), Ralph Fiennes ("The King's Man"), Nicholas Hoult ('Warm Bodies"), John Leguizamo ("Violent Night"), Judith Light ("Julia"), Janet McTeer ("Ozark") and Anya Taylor-Joy ("The Northman"). Plus, our own Chris Evangelista calls a delightfully wicked treat in his review.
But in addition to getting to see all of these stars sweat for their lives on a remote island, I'm excited to see the kind of dishes they get to eat. I'm a simple person. I often watch a movie like "Chef" and salivate over everything Jon Favreau cooks up. "The Menu" appears to take a darker turn, but if it can deliver on a similar level of food porn, that's already half the battle won. The few glimpses of the dishes we've seen in the film's trailer leads me to believe that they'll nail it.
In fact, when it came to making sure the food lived up to its in-universe $1,200 price tag, Mylod went ahead and brought in the professionals.
Mylod brought in the best of the best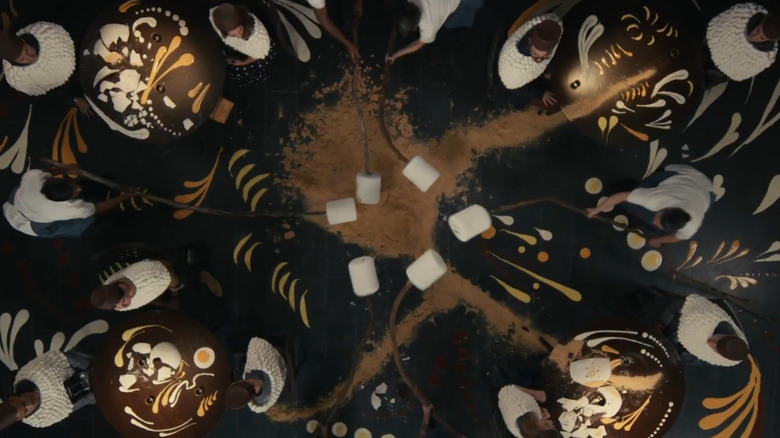 Searchlight Pictures
In an interview with Film School Rejects, Mylod talks about how much he truly wanted to get the dishes to perfection. "We were absolutely obsessed," says Mylod. In order for the food to resemble the authenticity of the meal preparation, Mylod recruited the help of Dominique Crenn, a notable industry chef, to work with the film's writers. The filmmaker explained:
"At any point during the film, whatever anybody's doing in the kitchen is exactly the thing they should be doing for that tasting menu. So our obsession with authenticity was also pathological."
The marketing for "The Menu" has taken liberties to conceal what's actually going on. What we do know, however, is that every meal is grown and slaughtered on the island. The food is prepared not just as a dish, but as a twisted art exhibition. The Hawthorne chefs pride themselves in their work, so it makes sense that Mylod would similarly want the food to resemble their passion. My mind is racing to find out what that massive S'mores demonstration seen above is all about.
"The Menu" is set to hit theaters on November 18, 2022.