How Emma D'Arcy Approached Rhaenyra's Grief-Filled First Season Of House Of The Dragon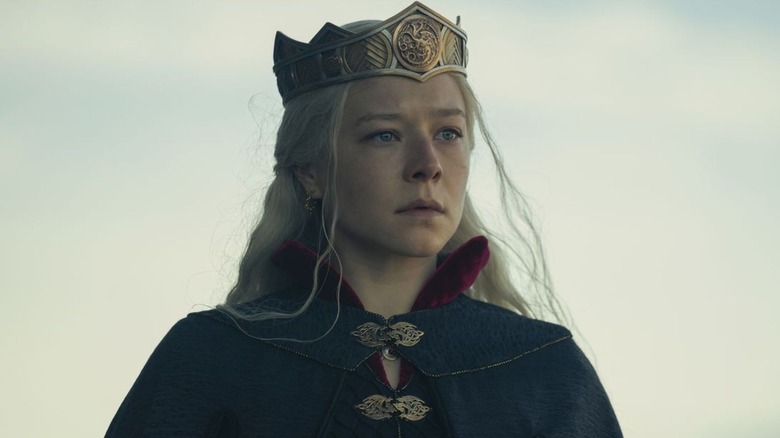 HBO
Since premiering, "House of the Dragon" has already exceeded expectations, delivering a breathtaking, thorough fantasy spin-off show. It progressed both slowly and rapidly to plant the seeds for the medieval nuclear war set to come. It delivered significant dragon action and featured far too many incestuous relationships, setting up a story rich in detail that makes for an incredible viewing experience. The show improves on its source material, creating necessary nuance and depicting fantasy warfare at its very best.
Aside from all that's exciting and fun about "House of the Dragon," several of its characters and their actions are impacted by grief. For Princess Rhaenyra (Emma D'Arcy), the would-be heir and the first woman to lay claim to the Iron Throne, the season has been nothing but a rollercoaster ride of grief. She loses her mother to childbirth, her best friend to politics, her father to his illness, and her daughter to childbirth, and then loses her son to a totally-avoidable act of revenge. 
It has been impossibly hard for Rhaenyra to navigate the endless pit of grief she has slipped into, and a big part of her honest response to it is thanks to actor Emma D'Arcy's stellar performance. In a finale where stakes are high, grief of the highest order is sure to make an appearance. D'Arcy expected it and took it as a challenge.
A landscape with tremors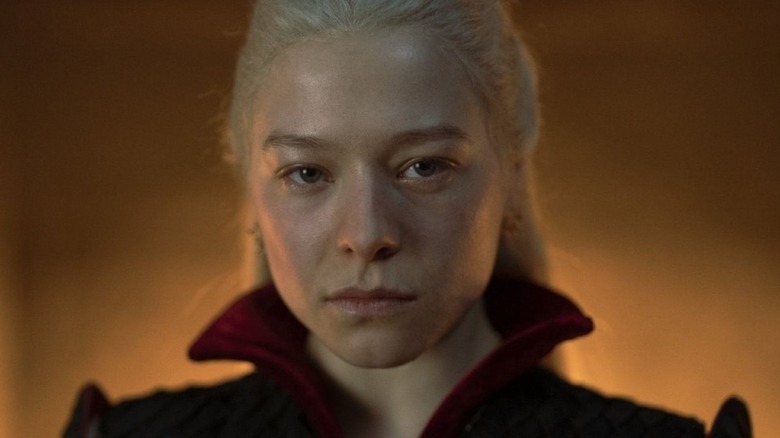 HBO
In an interview with GQ, Emma D'Arcy shared how they approached their character Rhaenyra's time on the tragic season. The finale culminated in the Targaryen Princess losing her unborn daughter and her son Lucerys right after, which ultimately became the last straw in Rhaenyra's inevitable decision to plunge into warfare, aka the Dance of the Dragons. D'Arcy revealed they read about Rhaenyra's journey early on and knew things would get complicated by the time the finale arrived. They described the series as having "massive life events," and a show like that is bound to get bloody.
"Practically, I knew that in the second half of episode 10, the shapes are so big, in that there are state-shaking events throughout. The challenge is to find somewhere to go. The currency of House of the Dragon is literally: massive life events. And normally they are within the category of suffering and trauma. Episode 10 is like one hilly landscape, with huge tremors."
How Grief changed Rhaenyra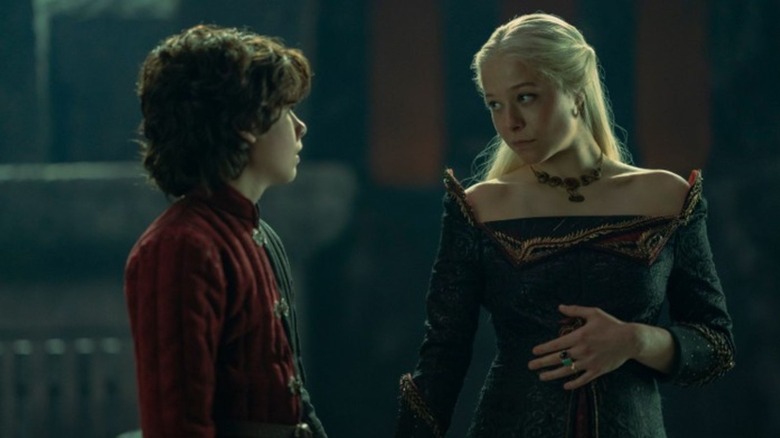 HBO
D'Arcy continued, explaining that since they took over playing Rhaenyra from Milly Alcock (from episode 6), the character was "getting a repeated education in grief." They further broke down Rhaenyra's losses throughout five episodes:
"She loses her lover [Harwin Strong], and she loses her father, too, but this episode, losing her son really shifts the goalposts on what that suffering can do to the body. So I knew, heading into this episode, this was the moment when a massive reframing would happen to her."
Millions of viewers across the globe have admired D'Arcy's earnest portrayal of Rhaenyra Targaryen and are waiting to see them return with bated breath. The "House of the Dragon" finale brought in 9.3 million viewers, making it HBO's most-watched finale since "Game of Thrones." With just one season out in the world, it has become a worthy successor to a well-established television franchise. Whether it surpasses the hysteria, the popularity and cinematic brilliance of "Game of Thrones" remains to be seen.