Missing Trailer: Storm Reid Stars In The Second Searching Film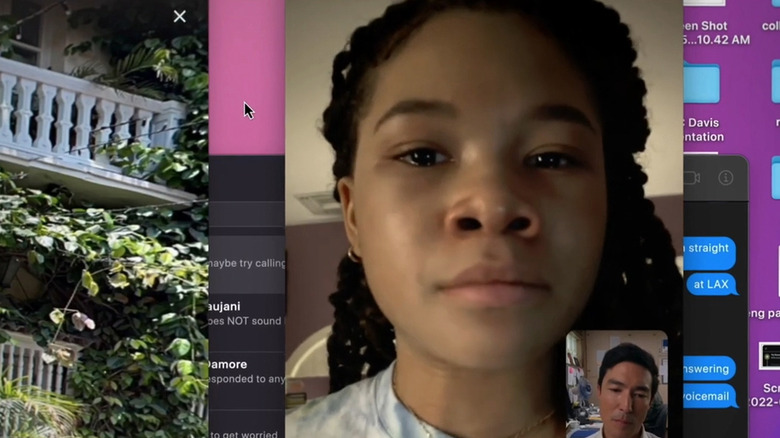 Sony Pictures Releasing
In 2018, John Cho played a father who went to great lengths to find his missing daughter, Margot (Michelle La) in the sleeper hit film "Searching." Now, a new screenlife thriller is set to unfold, as the second film in the franchise, "Missing," has just dropped its first trailer.
Aneesh Chaganty made "Searching" in his feature film debut, and he's handing the reins over to another pair of first-time filmmakers, Nick Johnson and Will Merrick, for a sequel that will feature an all-new cast of characters. Chaganty teased the teaser on Instagram yesterday, posting an Instagram story that included a series of search engine entries including "Find missing person," "#FindGraceAllen," and "FBI Colombia???" You can start guessing where Grace Allen went now with the first trailer linked below:
A brand new screenlife thriller
Storm Reid, Nia Long, and Joaquim de Almeida are set to star in "Missing," a thriller that is meant to be largely unrelated to "Searching" while still following the clever on-screen formula that made the first film a unique crowd-pleaser at Sundance and, later, a box office hit. The first film told the story of widower David (Cho) and his missing daughter Margaret exclusively through the visual perspective of computer screens, showing audiences videos, social media posts, and more.
The screenlife format was a neat trick that made the film's central mystery all the more intriguing — clues appeared on screen in the form of messages or links that we may have noticed before David did — but "Searching" also worked well thanks to its great, emotional lead performance. Hopefully, "Missing" will be able to do the same. Casting Reid, a rising star who's appeared in "A Wrinkle in Time," "Euphoria," and "When They See Us," among other roles, is a great first step towards capturing that pathos that made the first film work.
"Searching" started off as a pitch for a short film made by Chaganty and co-writer Sev Ohanian, but after the film "Unfriended" hit big, the pair met with execs who wanted to turn the story into a feature. The filmmaker initially said no, thinking they didn't have enough material for a full-length, but the pair ended up making the acclaimed film and it went on to gross $75 million at the box office against a shoestring budget of under $1 million.
"Missing" comes from Sony's Stage 6 Films and will be based on a story by Chaganty and Ohanian, with Will Merrick and Nick Johnson penning the script. The film will hit theaters on January 20, 2023.