How Warwick Davis' Improvisations Changed The Willow Series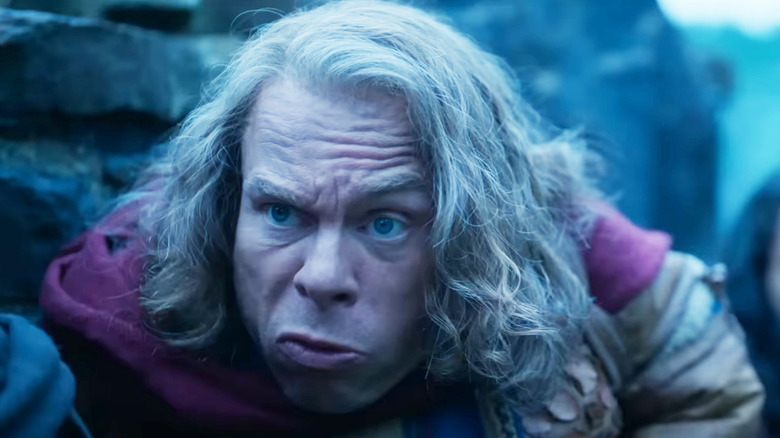 Disney/Lucasfilm
Soon, the world will be treated to yet another Lucasfilm production in the form of the "Willow" TV series. The Disney+ show will debut on November 30, much to the delight of fantasy fans around the world who've waited patiently since the release of the 1988 movie to see more of Warwick Davis' Willow Ufgood.
Though that original effort failed to meet George Lucas' lofty box office ambitions, there soon developed a devoted cult following for "Willow" in the decades since its release. Now Disney and Lucasfilm have once again flipped through their folder of IP and are hoping that giving this particular one the prestige TV treatment will prove to be the magic touch Willow and his band of enchanted heroes need.
In the time it took Lucasfilm to come around to the idea of revisiting this particular fantasy saga, star of the show Davis has had a lot of time to branch out. He did, of course, put in a few appearances in various Star Wars projects, most recently popping up in "Solo: A Star Wars Story" for a cameo. And when he wasn't starring in the Leprechaun horror franchise, Davis was sharpening his comedic skills starring in the questionable (even then) Ricky Gervais and Steven Merchant mockumentary "Life's Too Short." Unfortunate short joke title aside, the show does at least seem to have expanded Davis' acting abilities, providing him with an opportunity to break away from the sci-fi fantasy genre with which he'd been associated for much of his career.
'If he believed it, it was a Willow line'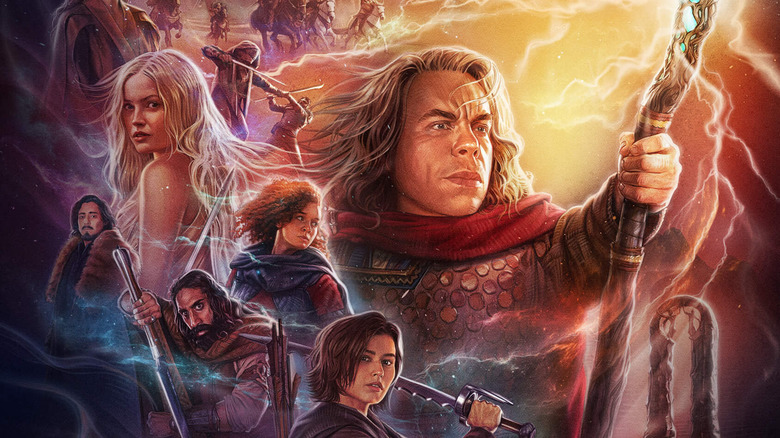 Disney/Lucasfilm
As it turns out, the now-seasoned Davis did indeed bring a lot more to his "Willow" role this time around, including some improv skills that were no doubt honed during his time with Gervais. In a Q&A following a screening of "Willow" episodes attended by /Film, executive producers Jonathan Kasdan and Michelle Rejwan praised Davis' contributions to the upcoming show. Kasdan in particular described the "Harry Potter" actor's attention to the granular details in "Willow," recalling how Davis and the production team would "talk about every script" and how the actor "really came to life" when it came to the finer points of his character. 
But what really seems to have impressed the producer is Davis' confidence with improv. Kasdan explained: 
"What had happened in the years between 1988 and '21 when we made the show is he'd also become this brilliant improviser, having worked with Ricky Gervais and having done that part of his career. So he ... had a kind of looseness to him that I don't think the original movie had, where he's just playful and can have fun and he quickly developed a confidence that if it came out of his mouth and he believed it, it was a Willow line."
Improv comedy meets epic fantasy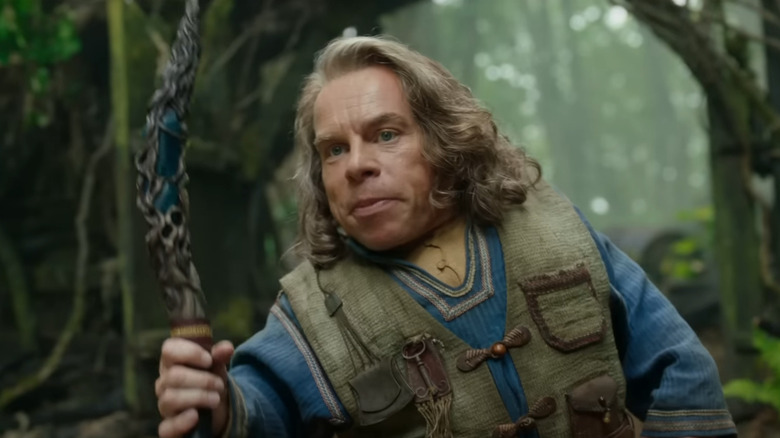 Disney/Lucasfilm
Kasdan's comments bode well for the "Willow" sequel series, which will be set 20 years after the movie's storyline and will see Willow and his mystical group venture, according to the official teaser trailer, "into the unknown." And while it seems strange to think the "epic period fantasy" series will benefit from a Ricky Gervais and Stephen Merchant show that ended after a season, it makes sense in the context of Davis' career and his desire to develop. The actor has clearly been on his own quest to branch out since the original 1988 "Willow," saying during promotion for "Life's Too Short" that he's had "a lovely career of doing some big sci-fi fantasy movies and working with great people but there's always a desire for me to do comedy." Thankfully, that's exactly what he did, bringing much of that experience to "Willow" and seemingly impressing Kasdan at the very least.
Back when rumours about the Disney+ show were swirling, Davis teased some of character evolution, telling Comingsoon.net: "I'm a bit older and a bit wiser as an actor now, and the character would also be a bit older and wiser ... What has happened between the time we saw him in 'Willow' and now? Has he mastered the art of sorcery?" Whether all of this is enough to make "Willow" more of a mainstream hit than its predecessor remains to be seen. It's especially hard to say considering the bloated genre that is fantasy in 2022 — not to mention general audience burnout in the face of the seemingly never-ending supply of "content" being pumped onto our streaming services. But "Willow," with its diverse international cast and more experienced star, certainly has a good chance of at least lasting longer than "Life's Too Short."