Richard Linklater Originally Passed On School Of Rock, But The Producer Didn't Accept It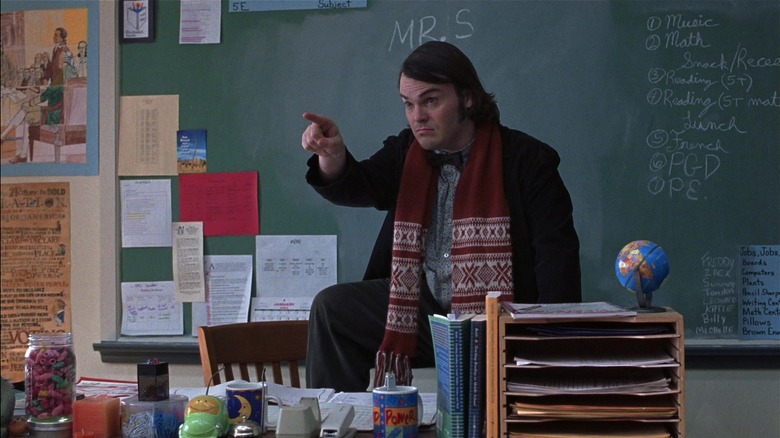 Paramount Pictures
Richard Linklater's unorthodox filmmaking style has earned him a career of success and praise. He was even at one point named one of Time's 100 most influential people in the world, something I assumed was reserved for world political leaders. He has also shown a great range within his work, able to pull off a teen comedy like "Dazed and Confused" as well as a years-spanning ultra-ambitious project like "Boyhood."
"School of Rock" was not like most of Linklater's other films. The comedy starring Jack Black teaching a group of privileged schoolchildren how to be a rock and roll band is a delightful piece of entertainment, but it doesn't exactly fit in with most of Linklater's oeuvre. That's intentional, according to a Vanity Fair interview with the director in 2019 where Linklater said:
"I always saw the challenge of studio comedies, like 'oh, I'm a comedy director, everything I do is funny,' but to see an overt comedy, I was always critical of a lot of those. I had this opportunity, like, put your money where your mouth is, let's see if you can make a studio comedy."
So with the goal in mind of making a sort of film he'd never done before, Linklater began looking at scripts. When "School of Rock" came across his desk, he wasn't initially interested, until producer Scott Rudin stepped in to fight for the movie.
Have fun with it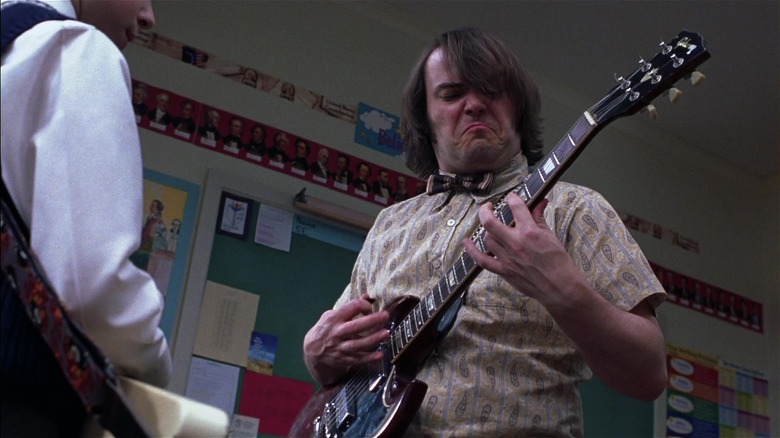 Paramount Pictures
According to Linklater in the Vanity Fair video, he'd turned down many comedy scripts before "School of Rock" became the one that stuck thanks to the tenacity of its producer:
"I'd turned down things for like 10 years. The producer, Scott Rudin, deserves the matchmaking credit here, because I instinctually did pass on it, I was like, 'oh it's kind of cheesy,' and then I got a call, 'Well, Scott Rudin's not accepting your pass, you need to talk to him.'"
While a 2021 Vulture piece shows that "School of Rock" wasn't exactly the only thing Rudin was pushy about, it's a good thing that he got Linklater to sign on to the project. It definitely makes sense that Linklater thought it was cheesy at first. On paper, it certainly is! But there's just a certain undeniable magic to Jack Black's character in the movie, a character that Linklater related to a lot.
"Something in Jack's character I found very personal to me, kind of the slacker who society's looking down their nose at, is not a productive person, but, in fact, he does have something to offer society."
And so Linklater went through with making the film, creating a classic family comedy that was so good it actually helped convince Robert Downey Jr. to work with him later. Most importantly for Linklater, it showed that making movies could be just for fun.
"It opened my cinematic horizons a little bit to think, I can work in the industry a certain way and have fun with that and be successful with it."