How School Of Rock Pushed Robert Downey Jr. To Star In A Scanner Darkly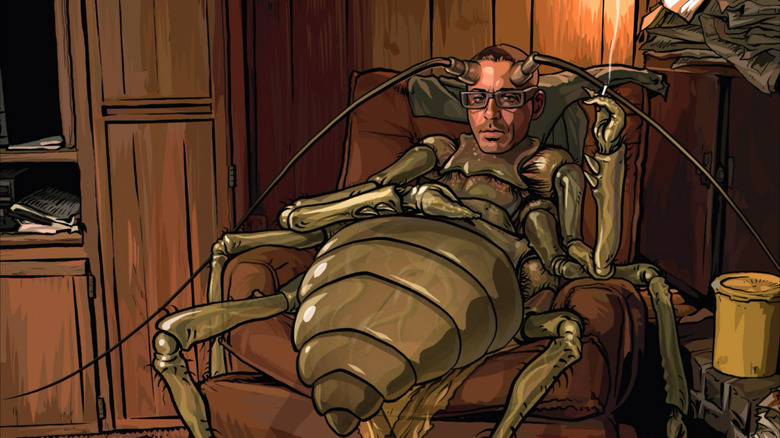 Warner Independent Pictures
As of this writing, filmmaker Richard Linklater has directed three animated features: 2001's "Waking Life," 2006's "A Scanner Darkly," and the brand new "Apollo 10 1⁄2: A Space Age Childhood." In all three cases, Linklater employs an animation technique called rotoscoping, which involves filming live-action actors and then animating directly onto their movements. This allows for imagined backgrounds to come to life ("Apollo 10 1/2" recreated the suburban living rooms of the 1960s without having to build sets) or casual bodily mutation (as with the dreamlike tour guide characters of "Waking Life" who pulse and vibrate). In "A Scanner Darkly," adapted from a novel by Philip K. Dick, Linklater depicts a group of strung-out addicts and uses animation to realize their hallucinations, as well as a high-tech disguise suit that gives its wearer several faces simultaneously. 
"A Scanner Darkly" is one of Linklater's bleaker films, and covers heavy themes of addiction and insidious government conspiracies. Panic and paranoia are palpable throughout. Keanu Reeves stars as an agent for a shadowy DEA-like organization so secretive that its members don't know each other's identities; they employ the above-mentioned disguise suits during meetings. Reeves has infiltrated a local group of potential drug-dealers — among them Woody Harrelson and Robert Downey Jr. — and all of them, Reeves included, have become addicted to the future's last remaining narcotic, Substance D. 
The movie will eventually reveal that control of Substance D has always been with the government, casting a critical eye on the foolish War on Drugs. 
But Downey's appearance in "Scanner" may not have happened had the actor not been so impressed with Linklater's 2003 comedy "School of Rock."
School of Rock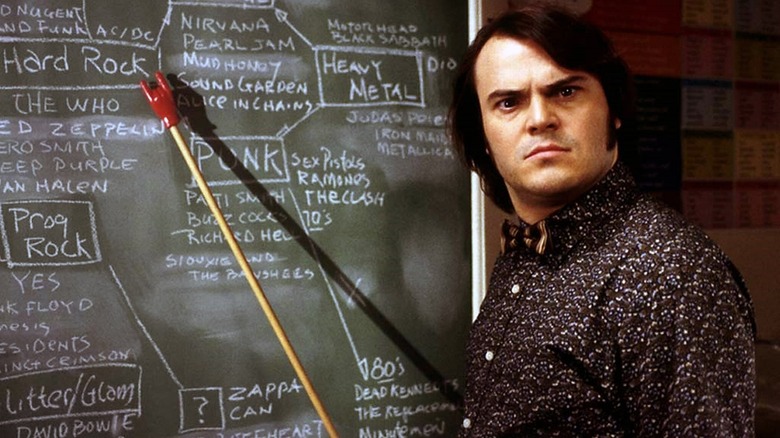 Paramount
In a 2006 interview with Movieweb, Downey talks about the experience of receiving the script, meeting at a mysterious location he refers to only as "the chateau" (whether it was his chateau, Reeves', or Linklater's, he doesn't specify), and talking about the movie. The interviewer was tactful enough not to mention Downey's own experiences with substance addiction (Downey famously went to rehab and was also arrested several times in the late 1990s on drug-related charges), but it seems to have been the thing driving Downey toward "A Scanner Darkly," a film about the dangers of addiction and the politics of drugs. 
"I got a call, I read the script, and I thought, this is nuts, this is going to be cool. And Keanu was playing the lead, so I went to the chateau, and we just started to have this spit ball session. We talked about the characters and all that. And Woody, and Winona, it was just a great experience for me."
But, most importantly, it was the presence of Linklater that appealed to Downey the most. Three years prior, Linklater made a delightful classroom comedy called "School of Rock," wherein Jack Black played a rockin' slugabed who unwittingly becomes the substitute teacher at a high-end private school. Rather than learn the curriculum, Black teaches his classroom everything he knows about pop metal music, eventually training the kids to play in a band of their own. 
"I saw 'School of Rock,' and I was like, why haven't I worked with Richard Linklater already? Then by the time I got him I was like, I'm really pissed off. I feel like you owe me some retroactive swag. He gave me the 10-year anniversary 'Dazed and Confused' t-shirt, which I still wear with relish."
Linklater's filmography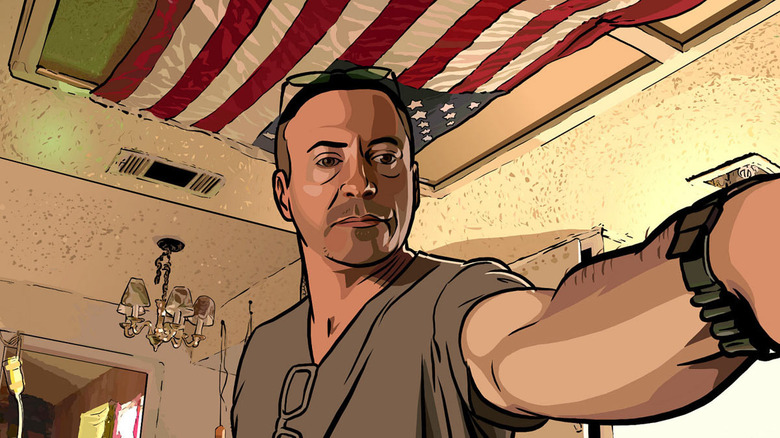 Warner Independent Pictures
Richard Linklater hasn't ever really had a "down" period in his career. He exploded onto the indie movie scene in 1990 with his second feature film "Slacker," one of the defining films of its decade, and has been on a roll ever since, making a film ever year or two. "School of Rock" was already Linklater's eighth movie, and would make "Before Sunset" (a sequel to "Before Sunrise") and a remake of "The Bad News Bears" prior to making "A Scanner Darkly." Downey may have been impressed by "School of Rock," but understood that Linklater had an impressive and prolific filmography besides: The same year as "A Scanner Darkly," Linklater would adapt Eric Schlosser's famous nonfiction book "Fast Food Nation" into a fictional narrative feature. 
Downey was asked if "A Scanner Darkly" would have appealed to him had it not been a project of Linklater's. He admits that a talented director was more or less a requirement: "It would have had to be someone real special," he said, "and I am convinced that he is one of our great American directors."
After "Scanner," Linklater would go on to make a sports documentary, a biopic of Orson Welles, a true crime movie, and a second "Before" sequel, all prior to finishing "Boyhood," a 12-years-in-production film about a child growing from ages 5 to 17. "Boyhood" was one of the best films of 2014, and Linklater is currently working on a film adaptation of the Stephen Sondheim musical "Merrily We Roll Along," which will be completed after a 20-year production. 
We'll all have to sit tight for that one.