'School Of Rock' At 15: In 2003, Richard Linklater Offered Us The Best Possible Version Of Jack Black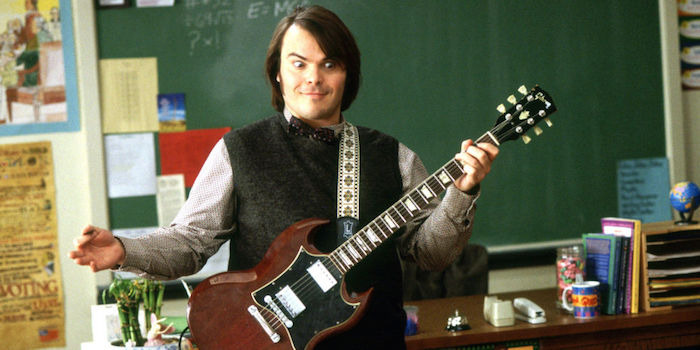 Family-friendly films rarely feel edgy, as you'd expect from the very concept of the genre. How can something intended for everyone be risky? That's what makes the few exceptions to the rule stand out all the more. In the 1970s, the go-to exception was The Bad News Bears, an underdog sports story that was all about kids dabbling in very bad behavior. That led to a series of far less successful sequels, plus a forgettable remake.
In the new century, the go-to example of something remotely edgy for the whole family is School of Rock, celebrating its 15th anniversary today. That film has had a far more major impact on culture, and specifically on its star, Jack Black.
The Genesis of a Wild Man
When Black played the lead of the 2003 Richard Linklater film, he was essentially playing himself. Screenwriter Mike White has spoken about how he was inspired to write the character of Dewey Finn based on his relationship with Black; knowing Black as one of the frontmen of the comic metal band Tenacious D, it's not hard to see Dewey Finn as an extension of Black the person. But over the last 15 years, for one reason or another, Jack Black has shifted away from being a genuine heir to the manic John Belushi to a wholly family-focused superstar. It's not that Black refuses to make darker fare – one of his better roles in the last 15 years was in Linklater's Bernie, and he's got a supporting role in this year's Don't Worry, He Won't Get Far On Foot – but he sticks to big-budget family fare more often than not.
Throughout the 1990s, Black showed up in smaller roles that rarely hinted at his wild-man depths. But you can spot him in Mars Attacks!, as well as action fare like The Jackal and Enemy of the State. It wasn't until 2000 when he had a genuine breakout role, as the loudmouthed record-store employee Barry in High Fidelity. Black is a true scene-stealer in the best possible sense in High Fidelity; he's in only about 30 minutes of the film, but makes such an impact that you wish he was the main character. (At least, after revisiting the film in 2018, this writer does.) That role turned Black into a viable comic star; soon after, he was the lead of the Farrelly Brothers' Shallow Hal. But it was his turn in School of Rock that made him an all-around superstar.
It's perhaps easy to forget now, but School of Rock features a much more offbeat Jack Black, a more rough-edged one, than the co-star of films like Goosebumps and last month's The House with a Clock in its Walls. (And also this month's Goosebumps sequel.) Part of the reason why it's easy to forget is that School of Rock has taken on a life of its own in the last 15 years. Its success as a film never led to a sequel, but there was a Broadway musical that ran for a few years, as well as a Nickelodeon TV series. The Broadway show – which boasts not-bad, but not-terribly-memorable music – very often quotes directly from White's screenplay, but to lesser effect. White's writing is unquestionably solid, but there's a point at which Black turns dialogue like "This will test your head, and your mind, and your brain" into something close to genius. It's the same point that the stage and TV shows couldn't cross, because they never found an actor who could replicate Black's unique screen presence.
Staying in the Family
So much of School of Rock manages to walk a fine balance between being a proud-of-it crowd-pleaser and being more daring than most family films. The combination of Black, White, and Linklater is a large part of why the film resonates now. Though Black and White had worked together on the college-set comedy Orange County in 2002, White was also well known for the black comedies Chuck and Buck and The Good Girl. And Linklater was fresh off of the rotoscoped Waking Life. Since then, White's moved onto other projects as eclectic as his earlier work, from the TV show Enlightened to appearing in seasons of The Amazing Race and Survivor. Linklater's directed more entries in the Before trilogy, as well as the superlative Boyhood.
But Jack Black remains a family star. A year after School of Rock, he voiced one of the lead characters in the mostly awful DreamWorks Animation film Shark Tale, and a couple years later, he appeared in the Nickelodeon movie Nacho Libre. In the 2000s, he tried to balance his family fare with darker movies like Be Kind Rewind and his appearances in movies like Margot at the Wedding. Now, though, Black sticks almost entirely to family films, from the Kung Fu Panda franchise to Jumanji: Welcome to the Jungle. It's not exactly a depressing trajectory, in part because enough of the family films he's made aren't half-bad. (Both Goosebumps and The House with a Clock in its Walls have an unexpected wealth of charm, and though he's the one weak part of a larger quartet, the new Jumanji was pretty enjoyable, too.)
But when you watch School of Rock, it's a little sad to see a Jack Black who doesn't appear that much anymore. Yes, Dewey Finn helps improve the life of some slightly awkward kids in the New York City area, and he does so through the power of music. But Black's performance suggests a true screw-up, to the point where he doesn't even care about how far he's fallen. The failed mosh-pit attempt during the opening credits is Dewey in a microcosm: he has no filter and no self-awareness. When he's kicked out of the band he had helped start, he's shocked even though he's a shameless stage hog. When his put-upon roommate Ned (White) sheepishly kicks him out because of his girlfriend's haranguing, he's shocked that his mooching style has finally reached a breaking point.
Getting the Band Together
Once he's at Horace Green Prep, Dewey basically flies by on the skin of his teeth because the other teachers and the rigid principal (a very funny Joan Cusack) are so self-absorbed that they don't exactly notice that the kids in his class are in an all-day class known as "Rock Band". When Dewey sees the kids in a music class, playing string instruments, percussion, and keyboard, the Rock Band idea takes form in his head, as he raises and lowers his eyebrow as if they're doing the Worm above his eyes. The scene (embedded above) in which Dewey tests each of the kids out with his Rock Band idea is arguably the film's best; Linklater and cinematographer Rogier Stoffers let the interactions play out with as few edits as possible. In this moment and throughout the rest of the film, Linklater wisely lets Black share the screen with the kids (aside from Miranda Cosgrove, most of them haven't done much more after this movie, making their performances feel even more genuine), so the sparks of chemistry are even more impressive.
The natural, unforced qualities of Black's performance are what makes School of Rock so special. At no point does it feel like he's condescending to the kids, or that the film is condescending to the family audience. (Though it's become a much more family-friendly title in the last 15 years, it's worth remembering that this was rated PG-13.) When Dewey acts blown away at the talent of the quiet Lawrence on keyboard, or nerdy Zach on guitar, or awkward Tomika on vocals, it seems clear that Black is genuinely impressed at the kids' innate musical gifts. Dewey could easily be nothing more than a musically pretentious blowhard, but his embrace of AC/DC, Motorhead, and Led Zeppelin ("You don't get the Led out?!?" he shout-asks at one point, and it manages to be funny instead of insufferable) somehow feels endearing because of how he sees the class as a way to get kids interested in the classics.
The Jack Black of School of Rock hasn't exactly gone away, but we only get glimmers of him in his recent performances. (Jumanji: Welcome to the Jungle was perfectly decent, even if the choice to have Black portray a selfish and self-centered teenage girl led to him making some fairly lazy and faux-effeminate choices.) Black represented something close to the ideal of old-school rock-n-roll in School of Rock. Just as Dewey Finn decries the presence of The Man in life, Black's performance seemed like an act of defiance amid plenty of other safe family films. Richard Linklater had his biggest box office success with this 2003 film, but has largely stayed away from more crowd-pleasing fare in favor of his indie success. Jack Black, on the other hand, turned into a movie star after this film. Nothing against him making more family films, many of which are plenty charming. But 15 years later, Jack Black has turned into something close to The Man.