M'Baku Actor Winston Duke Split His Pants Wrestling Chadwick Boseman For His Black Panther Audition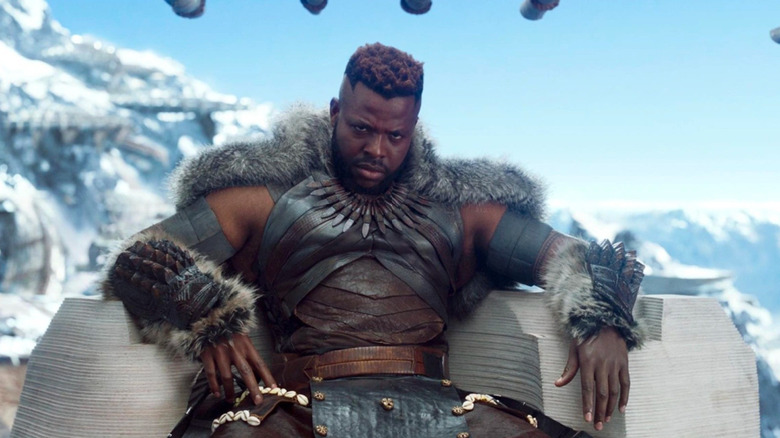 Marvel Studios
When Winston Duke's character M'Baku first appears onscreen in the original "Black Panther" movie, he's there to challenge T'Challa (the late Chadwick Boseman) for the throne of Wakanda. A fight ensues, with M'Baku wielding his formidable club against T'Challa's spear and shield until the weapons fall aside and the men are left engaging in kicks, head butts, and a bit of wrestling over the side of a precipitous waterfall.
Duke got a foretaste of that in his "Black Panther" audition, it seems, as he and Boseman were directed to show off, not only their acting chops but also their wrestling chops. Thankfully, neither of them was left bloody like their characters in the movie, but Duke did walk away with a pair of split pants. Sometimes, you have to make sacrifices for your art.
While promoting the sequel "Wakanda Forever," Duke related the story of his "Black Panther" audition to Esquire, saying: 
"[The audition process] lasted maybe a couple of months. I knew nothing about what I was auditioning for, it was top secret. It was just said to be 'Untitled Marvel Property' at the time. And I went in and I'm seeing all these people that I knew, like Sterling K. Brown, Michael Jai White, and all these people that I said, 'Oh man, I'm not getting this.'

"They said, 'Ryan Coogler would like to meet you,' and I got in there and it was Chadwick and myself at the screen test. And they kept saying, 'Do more stuff!' you know, 'Can you guys wrestle?' So we wrestled, and I split my pants, my underwear was out and everything, and I was like, 'You know what, if I don't book this job you guys gotta buy me new pants.'"
'I was ready to jump into the scene'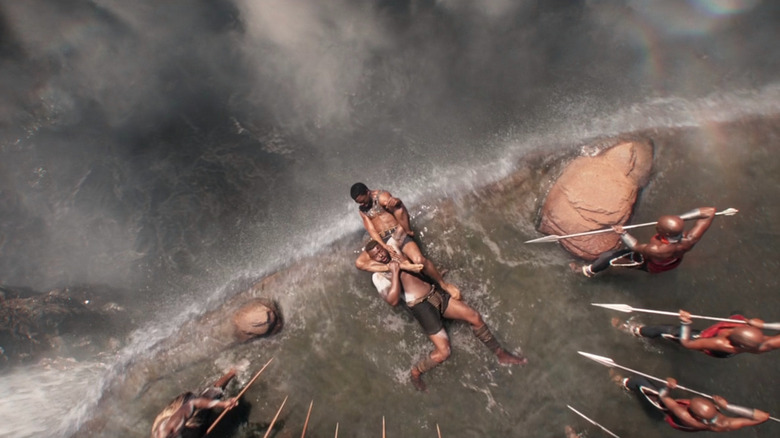 Marvel Studios
An audition can be a nerve-wracking experience, where an actor is made to feel vulnerable and judged, but it sounds like Duke and Boseman were able to have fun with theirs. Later in the interview, Duke recalled the first time he met Boseman at his "Black Panther" screen test. "He was just very calm, quiet, and really generous," Duke said. "I could tell that he was willing to play."
In this case, "play" meant livening things up with a little impromptu roughhousing. Duke showed no hesitation about that, which engendered a mutual respect between him and Boseman, not unlike the one formed onscreen between their characters after M'Baku, having "fought with honor," finally taps out and yields to T'Challa as king. Duke continued to Esquire:
"I said I was ready to jump into the scene, and [Chadwick] was like, 'You don't wanna rehearse?' I was like, 'Nah, I got this, I'm ready to go.' And ever since I felt like he had a lot of respect for me. I had a lot of respect for him. He was very generous with advice and everything else on set, so that was a really great thing. Every time I met him he always had a good thing to say to me."
The loss of Chadwick Boseman reverberates all throughout "Black Panther: Wakanda Forever," but as an actor, he left a legacy of admiration among fans and respect among his co-stars. In his absence, Duke's character may take on more of a leadership role in the future, and in the meantime, all that remains is to deliver the late great Boseman a hearty Wakanda salute.