Disenchanted Director Teases The Film's Winks And Nods To Other Disney Movies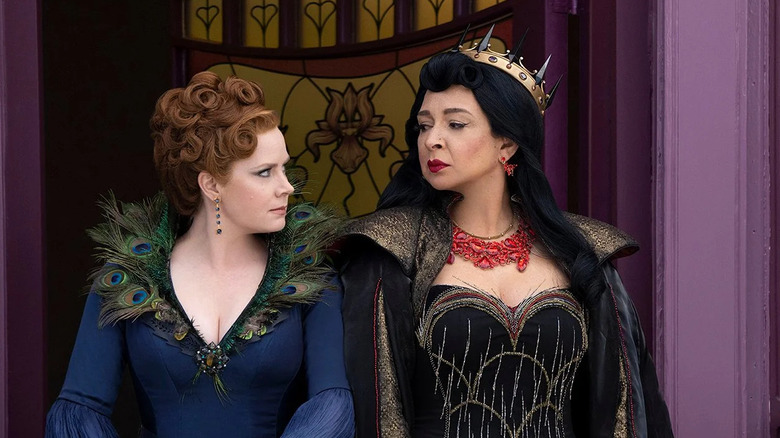 Disney
About 15 years ago, director Kevin Lima ("A Goofy Movie") made something pretty special with "Enchanted." The 2007 live-action riff on Disney tropes is loaded with charm primarily thanks to Amy Adams as Giselle, the marriage-hopeful Princess who finds herself leaving her animated world of Andalasia for the real world after falling down a well. "Shrek" may have beaten them to the Disney-satire punch, but Adams' earnestness about the whole affair sells the princess parody nevertheless.
Lima isn't returning for the sequel, as "Hairspray" filmmaker Adam Shankman has taken over directing duties. Fortunately, Shankman has worked with Disney before with "The Pacifier" and "Bedtime Stories." Funny enough, he seems to be one of the few people in Hollywood who knows how to effectively utilize James Marsden's talent and charisma, so it's pretty great news that they'll be reunited here.
Where "Enchanted" was about a cheery princess acclimating to the world around her, "Disenchanted" shows a more reality-seasoned Giselle wishing her life were more like the fairytale world she came from. Unfortunately, the more magic she uses, the more she becomes a more wicked stepmother fairytale presence. In the midst of returning to these characters, "Disenchanted" will continue the trend of the first film, and feature an abundance of nods to beloved Disney classics.
'You could swing a cat, you're gonna hit a trope'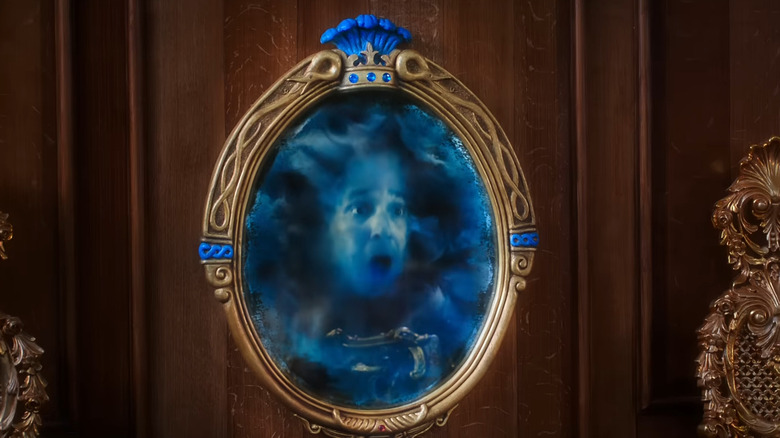 Disney
During a press conference, which /Film's Ryan Scott attended, Adam Shankman was asked about how he was able to integrate all of the references to Disney movies in "Disenchanted," of which there are many. "The Magic Mirror is a replica of the Magic Mirror from 'Snow White,' so it is floor to ceiling," Shankman says. "Everywhere you look, you could swing a cat, you're gonna hit a trope."
From villainous transformations to "Cinderella" ball gowns, it appears that the film will have attentive viewers darting their eyes around the screen. The countryside town of Monroeville that Giselle moves to with her family, whose motto is "your fairytale starts here," is all but littered with Easter eggs. Shankman even mentions how every shop has some sort of nod to a Disney property, in addition to a song from Gabby Baldacchino that resembles the musical numbers the company's princesses often sing.
If there's any movie that's going to do this, it at least makes sense for something like "Disenchanted." This series is essentially a family-friendly "Deadpool" for Disney princesses, so it would be strange if they didn't pull from the studio's history. Shankman had more to say on the matter during the press release:
"It is the fundamental construct, theoretically, of "Enchanted" is the sending up of all of the tropes, and it's one of my favorite things about the movie and about participating in it because to my knowledge, this is the first time Disney ever winked at itself [...] I don't think Disney ever allowed winking at itself, and so this was such an incredible opportunity."
Although to go against Shankman's last point, this is far from the first time the House of Mouse has ever made jokes at their own expense.
Disney has made an industry out of referencing themselves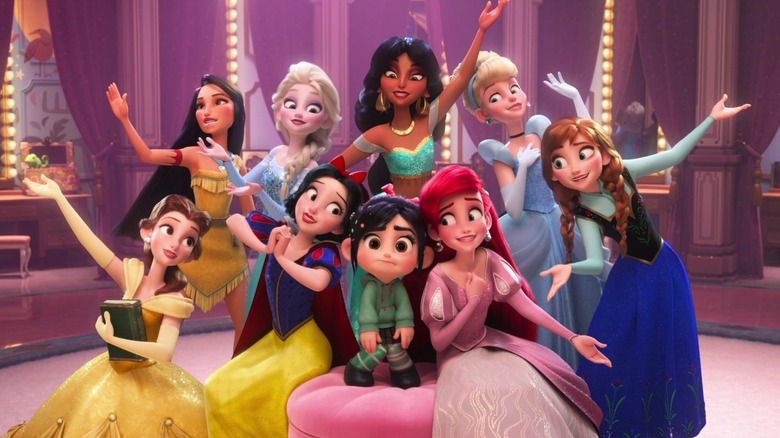 Walt Disney Studios Motion Pictures
In the age of self-referential humor, if Disney has a chance to make fun of themselves, they'll very much jump at the bit. Even before the overabundant use of meta-humor embedded itself into the DNA of pop culture media, the House of Mouse has been including nods to their movies since the Disney Renaissance in the 1990s. 
In "Aladdin," the Genie (Robin Williams) wears a Goofy (the character, not the adjective) hat, whereas in "The Lion King," Zazu (Rowan Atkinson) sings "It's a Small World After All," which Scar (Jeremy Irons) finds annoying. A few years later, "Hercules" even has the hero wearing the skinned fur of the aforementioned Scar in one scene. But when you're thinking of how deep Disney has dug into their past, look no further than "Ralph Breaks the Internet."
The 2018 animated sequel to "Wreck-It Ralph" sees Vanellope (Sarah Silverman) making friends with all of the Disney princesses, and it's not a short scene either. They laugh, change out of their Princess garb, and poke fun at all of their tropes. I'm not even counting the scene where Vanellope wanders onto the Disney website, where she walks past a constant string of jokes aimed at every Marvel, Pixar, and "Star Wars" character they could fit in there. So yeah, "Disenchanted" will be far from the first time the conglomerate has snuck in their trademarks throughout their projects. I feel like the references will fit more naturally in Adam Shankman's film, however, because that's exactly what "Enchanted" was all about from the start.
"Disenchanted" will be streaming on Disney+ on November 18, 2022.