Florence Pugh Was Fighting The Elements (And The Animals) On The Set Of The Wonder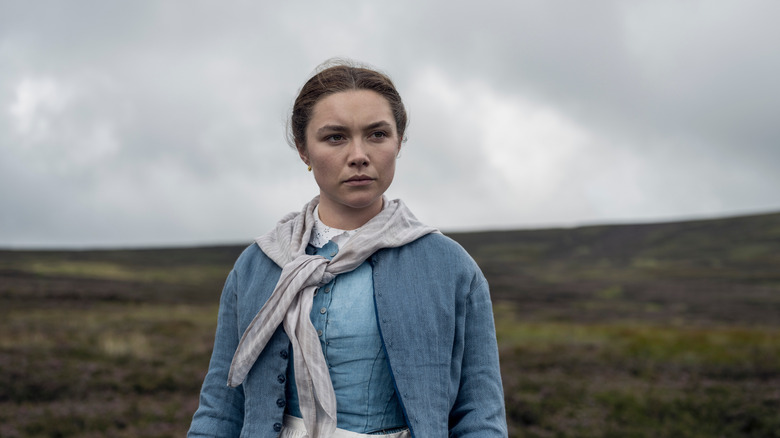 Netflix
Now that the dust has settled on the drama llama that has been the "Don't Worry Darling" news cycle, Florence Pugh has a new project for viewers to take in on Netflix. Titled "The Wonder," it stars Pugh as Lib Wright, a nurse who has been sent to the Irish countryside from England to investigate a supposed miracle. 
The miracle? A young girl who is still surviving months without eating. "The Wonder" grapples with many themes such as love vs mercy, science vs religion, etc., but ultimately, the wonder that keeps the film together is Pugh and her commitment to character.
Shot on location by director Sebastián Lelio, "The Wonder" perfectly captures the beautiful and turbulent nature of Ireland. Where there is nature, though, there are animals and, having had run-ins with animals in the wild, sometimes it leads to some awkward situations. As Pugh revealed in a recent interview on "Late Night with Seth Meyers," those animals made sure she knew who the boss was while shooting. First, it started off with battling the elements and horse-related stubbornness:
"We were shooting on the top of mountains for months and weeks, and it was so windy, and you'd see all four seasons in one day. And whenever you'd work with the animals on the mountains, they were also like, 'Why are we on a mountain? It's really windy and cold.' And there was one take, we were walking with a horse, and the horse just turned around sideways and was like, 'Nope. Not walking anymore.'"
 All of this was fine and dandy. But then, the sheep took things to the next level.
Those darn sheep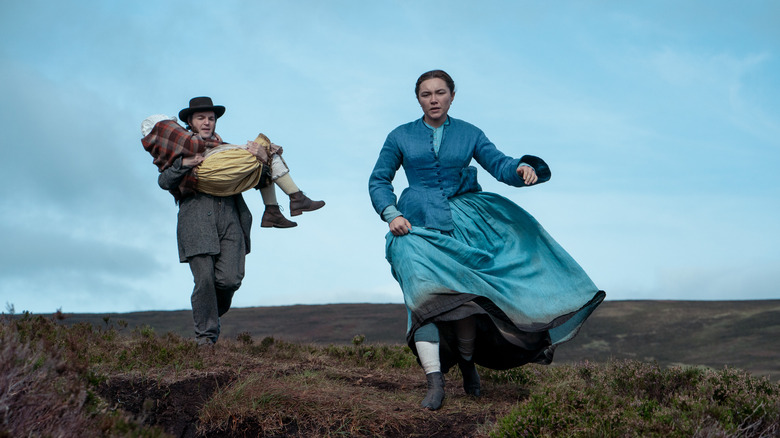 Netflix
Battling wind and uneven terrain in unfamiliar territory is one thing. On set of "The Wonder," Pugh also had to contend with another unstable element: sheep. She recounted to "Late Night" host Seth Meyers an embarrassing encounter she had with sheep:
"When we were working outside, we'd be shooting in these tiny little villages that people would be coming and visiting, and fans would be coming and waiting, just, 'It's exciting, there's a film set.' On this one day, there was probably 50 to 60 people waiting on the side of the barriers, and I had a very simple scene where I just had to walk across. Just walk across the road like that. Just walk. But with really intense facial expressions going on. And, as I was walking past this sheep, the sheep wouldn't move out of the way. So I, like, gently patted the bum. And that sheep went like, 'Rrrr!' And then another sheep next to it went like, 'Rrrr!' And then that sheep ran into me. And I flipped over the sheep and went straight down into a cowpat. It was full-on mud."
To recover from the embarrassment, and filming in general, Pugh would de-compress with "Real Housewives of Beverly Hills" when she got home. Of the coping mechanisms for grueling days, this may be the most wholesome. That said, for anyone who decides to venture out into an area with livestock, just be careful. Those animals do what they want, when they want.