How To Watch Lyle, Lyle, Crocodile At Home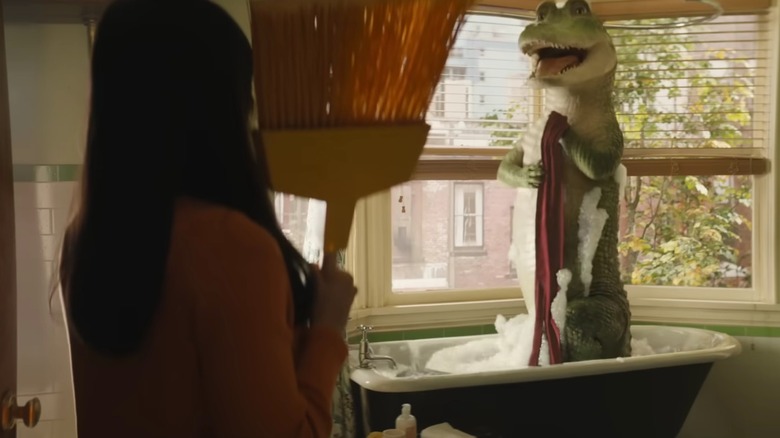 Columbia Pictures
In the ever-growing collection of kids' movies based on beloved books, "Lyle, Lyle, Crocodile" is certainly one of the wackier offerings. The musical comedy adaptation of Bernard Waber's cute 1965 picture book features a lot of off-the-wall bits, from mustachioed Oscar-winner Javier Bardem doing a synchronized dance with the titular CGI croc, to Lyle giving acclaimed character actor Scoot McNairy a wedgie during a croc-on-human wrestling match. The movie also features Shawn Mendes as Lyle's singing voice, despite the fact that he sounds nothing like the growling croc sounds the creature makes when he's not on stage.
Here's the full synopsis for the movie:
When the Primm family moves to New York City, their young son Josh struggles to adapt to his new school and new friends. All of that changes when he discovers Lyle — a singing crocodile who loves baths, caviar and great music — living in the attic of his new home. The two become fast friends, but when Lyle's existence is threatened by evil neighbor Mr. Grumps, the Primm's must band together with Lyle's charismatic owner, Hector P. Valenti, to show the world that family can come from the most unexpected places and there's nothing wrong with a big singing crocodile with an even bigger personality.
The film's wilder plot details aside, the fact remains that this is a children's' movie with catchy original music, which means if your kid saw it once, they'll probably want to see it 100 more times. Luckily, if that is the case, you won't have to keep going broke paying full-price on movie tickets for repeated viewings of "Lyle, Lyle Crocodile," because the Columbia Pictures film is coming to home video soon.
Take Lyle home this holiday season
Columbia Pictures
"Lyle, Lyle Crocodile" is set to come home just in time for the winter holidays, with a digital release date ahead of Thanksgiving on November 22, 2022. Unfortunately, you won't be able to elbow aside shoppers for a physical copy of the film on Black Friday, since its DVD, Blu-Ray, and 4k release isn't until December 13, 2022, but you'll still get all the best bonus features with the digital version of the film as well.
The 4k Ultra HD release, Blu-Ray, and digital release will all include a host of special features, including bloopers, deleted scenes, music videos, and sing-a-long versions of songs including "Take a Look at Us Now," "Top of the World," and more. There's also a storytime feature in which Mendes, Bardem, and other cast and crew read excerpts from the original "Lyle, Lyle Crocodile" book, as well as an introduction to the cast called "Take a Look at Us Now — The Cast." Finally, the special features include a classic joke in the animated kids' movie biz: a featurette called "Croc and Roll — Lyle on Set," which spotlights what it was like to "work with" the croc himself.
The DVD version of the film will include the music videos, "Croc and Roll" feature, and cast introductions, but won't have the karaoke songs, deleted scenes, bloopers, or storytime. So basically, if your kid loves Lyle, you'll want to splurge on the Blu-Ray, 4k, or digital copy.
"Lyle, Lyle Crocodile" will be available on digital beginning November 22, 2022, and on physical media beginning December 13, 2022.