It Took Some Convincing To Snag Javier Bardem For Lyle, Lyle, Crocodile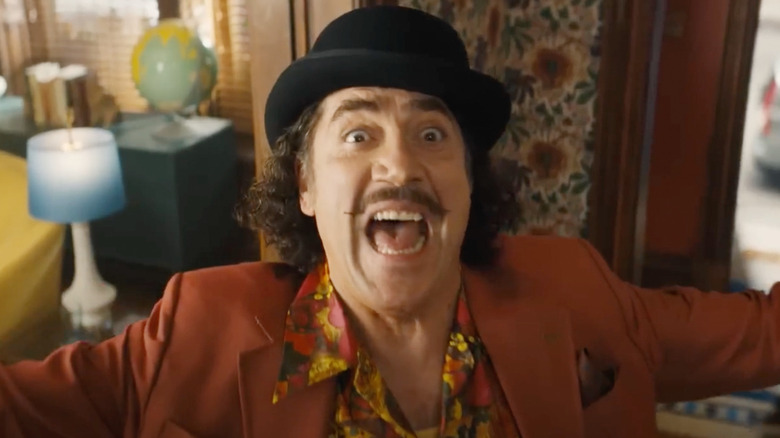 Sony Pictures Releasing
When you think of Javier Bardem, you likely picture him killing people with a captive bolt pistol as the laconic Anton Chigurh in "No Country for Old Men" or tormenting James Bond (while at the same time flirting with him) as the sadistic Raoul Silva in "Skyfall." Heck, if you prefer your Bardem films on the weirder side, you might even envision him as the nameless self-absorbed poet who hosts a house party from Hell in "mother!" or the spiky-haired drug dealer Reiner comically frozen with shock at the sight of his girlfriend dry-humping his car in "The Counselor."
Given his previous roles, the idea of Bardem playing someone who secretly owns a crocodile doesn't seem so out of the ordinary for him. What is a tad odd is to see him playing such a role in "Lyle, Lyle, Crocodile," a kid-friendly film musical in which Shawn Mendes voices a singing saltwater crocodile who befriends a family that's only just moved into the New York City apartment where he's been staying. The movie is based on the beloved children's book series of the same name by Bernard Waber, with Bardem co-starring as Lyle's owner, the "charismatic" Hector P. Valenti.
Speaking to Collider, "Lyle, Lyle, Crocodile" director Will Speck ("Blades of Glory," "Office Christmas Party") confirmed Bardem was always the top pick to play Mr. Valenti:
"We said 'Javier', and the studio said 'Well, you'll never get him, but good luck'. And then six Zooms later, he finally, reluctantly said yes. I think he was nervous about jumping into something that he perceived to be very comedic in his mind. Because he was really swinging out there..."
'You haven't seen Javier do this'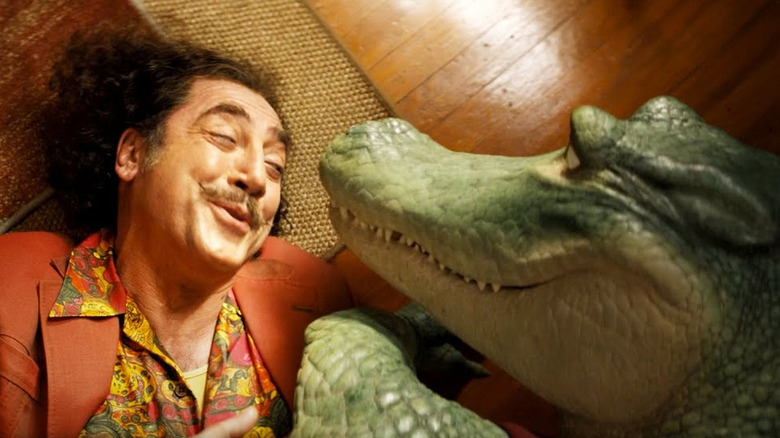 Sony Pictures Releasing
The Oscar-winning Bardem is far from the only big name that's somewhat surprisingly involved with "Lyle, Lyle, Crocodile." Among the other cast members are "Crazy Rich Asians" star Constance Wu, Brett Gelman (aka Murray from "Stranger Things"), and Scoot McNairy of "Halt and Catch Fire," "Monsters," and "Killing Them Softly" fame. The movie also features original songs by Benj Pasek and Justin Paul ("La La Land," 'The Greatest Showman"), including one performed by Bardem — who, yes, can sing, for those who didn't see him do just that in "Being the Ricardos."
Speck assured Collider he really took the time to work on Bardem's role with him, ensuring there was some proper substance to his crocodile-owning eccentric:
"We talked to him about the integrity of the character and finding the dramatic roots to the character ultimately so that it wasn't just played for jokes, but that we wanted to play this as a fully dimensional, real character and that, that's why we wanted him. Because we wanted it to not be an expected performance of something you've seen. And what was exciting about him was I feel like you haven't seen this guy before. You haven't seen Javier do this and his voice was great."
Between its championing of tolerance and self-expression, cast of respected adult character actors, and whimsical tone, "Lyle, Lyle, Crocodile" seems to be trying really hard to be the American answer to the "Paddington" movies, which certainly isn't a bad goal to have. It's not an easy one to realize either, not least of all coming after the exquisite "Paddington 2." But who knows? Bardem's casting might not be the only surprise "Lyle, Lyle, Crocodile" has up its sleeves.
"Lyle, Lyle, Crocodile" opens in theaters on October 7, 2022.