Taylor Sheridan's Original Pitch For Yellowstone Sounded Like A Studio's Worst Nightmare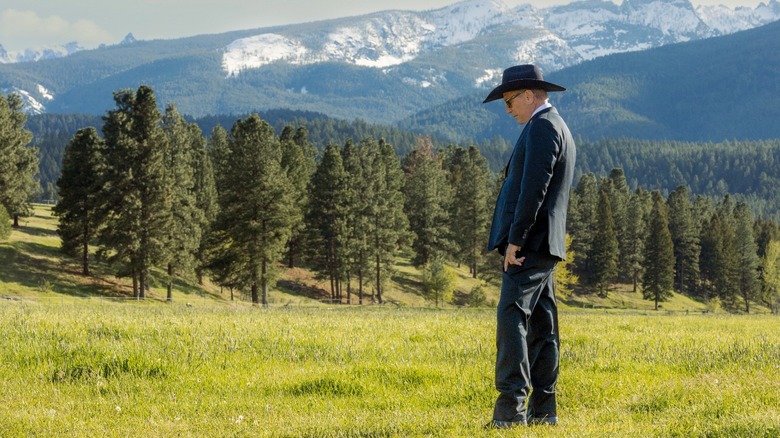 Paramount
"Yellowstone" season 5 just had its two-episode premiere exclusively on the Paramount Network — not HBO, the studio where co-creator and writer Taylor Sheridan first pitched the epic neo-Western. 
Maybe it wasn't quite the right fit for the network responsible for subscription-based prestige television like "The Sopranos" and "Succession." Or, maybe the original vision Sheridan had was just too expensive to greenlight when multiple seasons of "Game of Thrones" were already setting fire to millions of dollars. HBO didn't need another potential flagship show, but the big wigs at Viacom were searching for a bold new series to hang their hat on that could help launch their new cable channel. 
With the help of another executive, former child star David Glasser, Sheridan was able to wrangle away the rights to "Yellowstone" and bring his version of the show over to a new home. If you don't include the NFL, "Yellowstone" is now the most watched program on cable, demanding top dollar from advertisers that now even use actors from the hit series as stars in their own commercials. According to a new deep-dive on the show in The Atlantic by writer Sridhar Pappu, Sheridan's initial demands during the elevator pitch to Viacom top brass were so extreme that he almost torpedoed his own show before it even started. 
The tremendous success could have wound up being a pipe dream, or perhaps Sheridan would have turned it into a Larry McMurtry inspired novel. Somehow, Viacom agreed to give Sheridan almost complete creative control and agreed that he, and he alone, would write and direct every episode of the first season. 
Put your money where your network is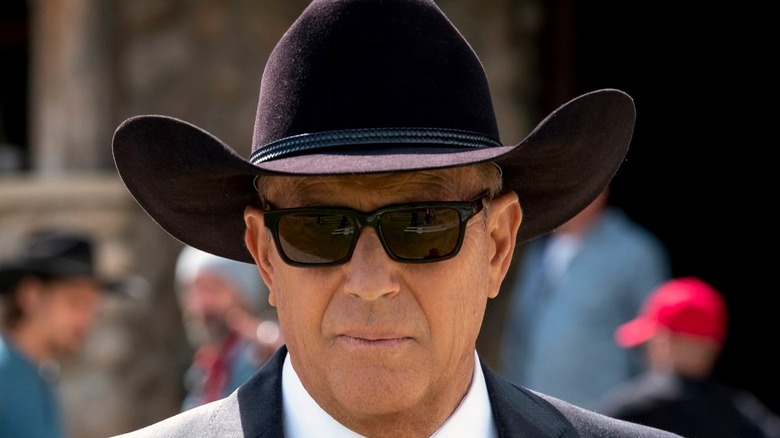 Paramount
According to Glasser, who used to be an executive for the Weinstein Company, Sheridan seemed quite content to leave that first pitch meeting in the rearview and travel back to his home in Park City, Utah without a deal. In the extensive feature story on the show's creation for The Atlantic, Glasser recalled Sheridan telling Viacom's execs that they would only be "footing the bill" for the show and no writers' room would be tolerated. No studio notes would be accepted or read, and there wouldn't even be a story outline for the network to approve. The entire conversation sounds more like a dare than a creative exchange of ideas. 
"It's going to cost $90–$100 million," Sheridan reportedly told them. "You're going to be writing a check for horses that's $50–$75,000 a week." 
After seeing the first season of "Yellowstone," that kind of budget is understandable for such a sprawling story with so many moving pieces. With a plot revolving around encroaching billionaires conspiring to force a massive land grab that turns a natural preserve into an elite ski destination, it needs to look like actual money is being spent on the production. Otherwise, it's a house of cards and these powerful characters don't look like they have any real weight to throw around. 
Sheridan must have been pretty convincing in the room, because Viacom agreed to really invest in him and roll the dice on the Paramount Network while also preparing to launch the streaming service Paramount+. Getting back to his roots as a character actor, Sheridan wound up playing the part of horse trader Travis Wheatley, allowing him to take advantage of that impressive horse budget by showing off his own cowboy skills on screen. Sheridan should turn up in the spin-off show "6666," which will follow the continuing adventures of "Yellowstone" favorite Jimmy (Jefferson White). 
Ruling by executive order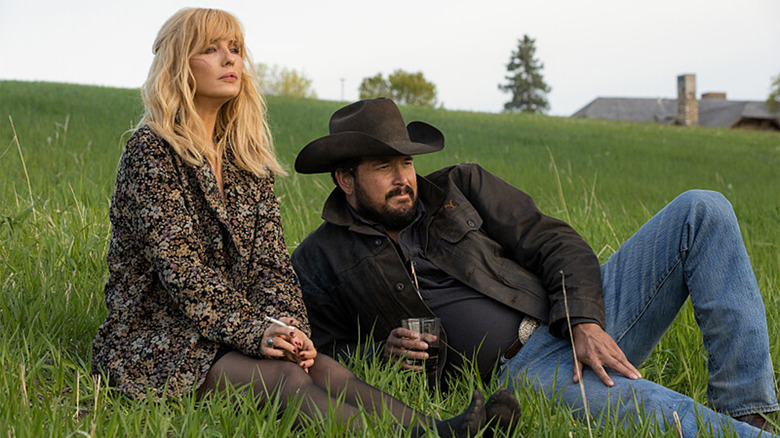 Paramount
Given the huge financial investment that Viacom had committed to, "Yellowstone" took time to build into the smash hit it is today. The numbers for the first season were decent, but Sheridan's original confidence wasn't justified until the show moved from airing in the summer to the fall and placed in the primetime prestige slot of Sunday night. With season 5 focusing on the rise of John Dutton (Kevin Costner) as the Governor of Montana, the brashness that the head of the Dutton family is showing feels in line with the way Sheridan handled that first meeting with Viacom. It's either their way of the highway. Calling the shots now, Governor Dutton wants to essentially clear the board of all outsiders who threaten the Yellowstone Ranch with the stroke of a pen. Sounds familiar. 
Unlike most of the top show runners in Hollywood, Sheridan insists on writing every episode, giving him total authority and complete control even went it might behoove him to try and get along with others. They tried a writers room in season 2; by season 3 that was nixed completely. The way John Dutton's character is progressing after the two-episode premiere, it's starting to feel like he and Sheridan are two sides of the same coin. 
That kind of anti-corporate authoritarianism is certainly working for Sheridan, who is now a wealthy screenwriter developing his Taylor-verse with upcoming spin-offs like "1923," as well as "Bass Reeves" and the aforementioned "6666." It's unclear if these scorched earth tactics will work as effectively for Montana's newest Governor, or if it will create too many enemies for the family to overcome. For Dutton and Sheridan, they'll either take it all or lose everything. For now, they both seem to be fine with that.