Seth Rogen Had A Challenging Role To Play In Steven Spielberg's The Fabelmans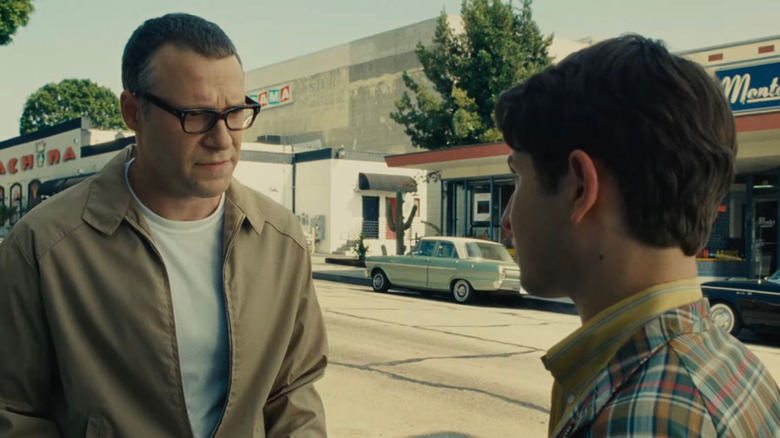 Universal Pictures
With "The Fabelmans," which our review called "One of Steven Spielberg's warmest, most autobiographical films," the revered filmmaker now has a movie about his own origin story. Considering what the filmmaker has accomplished in the industry in more than half a century, it's fitting. But unlike superhero origin stories, there are no villains in this one, though that role could have easily been filled by Seth Rogen's character. 
In the movie — which Spielberg directed and co-wrote with longtime collaborator Tony Kushner — Rogen plays Bennie, an honorary uncle to Sammy Fabelman (Gabriel LaBelle), a Jewish boy based on Spielberg who grows up in post-World War II America with dreams of becoming a filmmaker. Sammy discovers that his mother, Mitzi (Michelle Williams), has an affair, cheating on his workaholic father, Burt (Paul Dano), with Bennie. 
Bennie is based on "Uncle" Bernie Adler, the man whom Spielberg could have blamed, villainized, and ripped to shreds in his cinematic memoir for breaking up his family. But the "Jaws" director didn't, which made the role challenging for Rogen. He explained in a 2022 Q&A with Uproxx:
"What was really a challenge is, a lot of the words used to describe the character by Steven and his sisters and other people who knew the real Bernie was that he was funny and fun-loving, and charismatic and loose. And even then, despite how the story plays out, they were all very fond of him!"
Rogen knew he needed to tap into the real-life Bernie Adler for the movie to work. He couldn't afford not to — he was the chosen man for the job.
Steven Spielberg handpicked Seth Rogen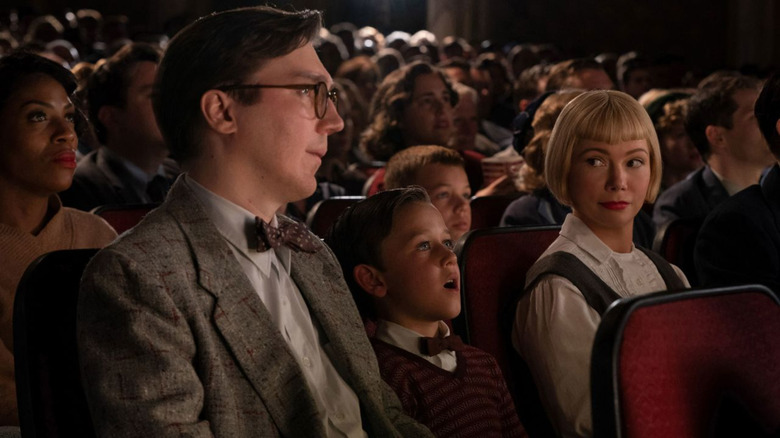 Universal Pictures
Steven Spielberg was constantly moved to tears while on the set of "The Fabelmans." That's how personal this movie is. Naturally, to help him bring this project to life, he turned to reliable allies, such as co-writer Tony Kushner, who worked with him on "Munich," "Lincoln," and "West Side Story." He also turned to Janusz Kamiński, the cinematographer who had worked on every one of Spielberg's movies since 1993's "Schindler's List." He raised an eyebrow or two, however, when he turned to someone whom he had never worked with before: Seth Rogen.
Rogen, known for his roles in raunchy comedies, found himself on the other end of a Zoom call with the legendary director. Spielberg shared that he was writing a "very personal movie," and that he wanted the "Knocked Up" actor to play Bennie. Rogen read the script, and he accepted the part — of course he did. The fact that Spielberg didn't bother to hold auditions and reserved the role for Rogen suggests that Spielberg sees something in the actor that reminds him of Bernie Adler, or it could just be that Rogen epitomizes "fun-loving and funny," and "charismatic and loose." 
But take his performance as Apple Inc. co-founder Steve Wozniak in "Steve Jobs" as all the proof you need that Rogen can kill a dramatic role, figuratively speaking. But still, his comedy experience informs everything. "I think coming from comedy, I'm actually used to working with people on deeply personal films and semi-autobiographical ones as well," he told Uproxx. He credits Judd Apatow: "So, I actually found it to be familiar in some ways of being a part of scenes that were very much based on real life." 
But there was one thing that made him a little uncomfortable. 
Probing into Spielberg's personal life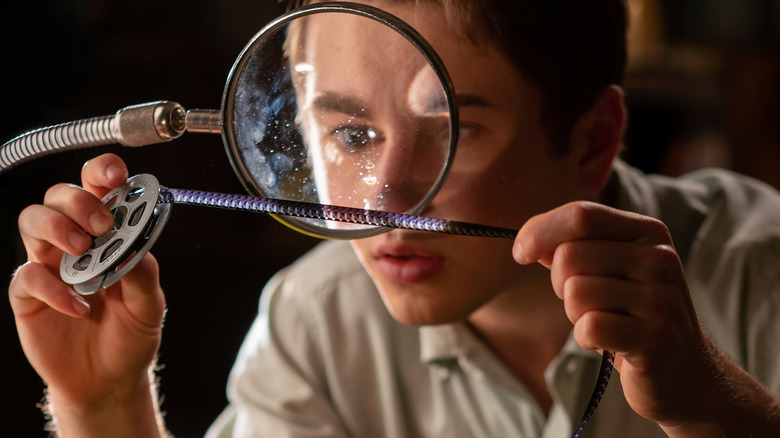 Universal Pictures
Questions about Bennie –  and "Uncle" Bernie — and his dynamic with the Fabelman family flooded Seth Rogen's thoughts during filming. In one pivotal scene, for example, Bennie tries to buy Sammy a camera, but at that point, Sammy had found out about the affair. To be able to execute this scene with the appropriate care, Rogen needed to probe his director. Asking anyone, let alone an iconic Hollywood figure such as Steven Spielberg, to discuss the inmate details of their parents' affair can be uncomfortable. "And I did have a lot of questions about the specifics of it and really wanting to understand how he interpreted it," Rogen told Uproxx. 
Even though Spielberg made himself available, Rogen directed some of his questions to Tony Kushner, who told us in an exclusive interview that he did his own research on Spielberg's family. That knowledge combined with his active role in writing the script with Spielberg made him the perfect secondary option for questions. "Tony is very easy to talk to," Rogen said. "He was on set all day, every single day and I found him to be ... I mean, it seems like it goes without saying, but I find Tony Kushner to be a really valuable resource." I understand Rogen's hesitation to directly go to the source, but Spielberg has called this movie his therapy. It would have better served them both if they had worked through Rogen's questions together. 
"The Fabelmans" had its world premiere at the 2022 Toronto International Film Festival, followed by a limited release in select theaters on November 11, 2022. The film will release wide on November 23, 2022, exclusively in theaters, which shouldn't surprise you. We all know Steven Spielberg refuses to submit to streaming.