Black Panther: Wakanda Forever Lands $180 Million Opening Weekend And 'A' CinemaScore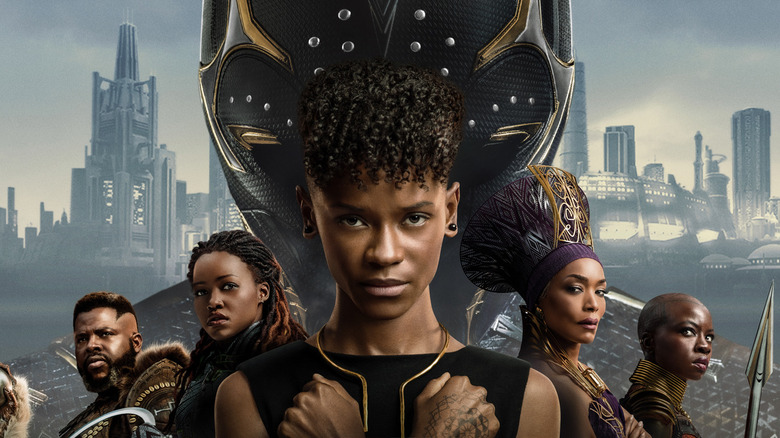 Marvel Studios
"Wakanda Forever," indeed. Released wide on November 11, 2022, the "Black Panther" sequel is already a box office juggernaut. Per The Hollywood Reporter, the film took in $180 million domestically and $150 million globally during its opening weekend, for a total score of $330 million. This opening slightly outperformed some projections, which had "Wakanda Forever" tracking at a $175 million domestic opening. It also set a new opening weekend box office record for the month of November, leaving the $158 million opening of "The Hunger Games: Catching Fire" in its dust.
The film came with a near insurmountable obstacle: franchise star Chadwick Boseman, who played King T'Challa aka Black Panther, passed away in 2020. Whatever creative obstacles this meant for the film, it didn't deter audiences, who showed up in large numbers to attend what is essentially Boseman's silver screen funeral. Part of mourning someone is celebrating the life they lived, after all.
Audiences didn't just show up; they liked what they saw. "Black Panther: Wakanda Forever" received an "A" Cinemascore, only a slight drop from the "A+" that the first "Black Panther" earned. This is also the highest Cinemascore for a Marvel Studios film since "Shang-Chi and the Legend of the Ten Rings."
The first "Black Panther" is currently the 14th highest grossing film of all time. While "Wakanda Forever" didn't quite match its opening weekend gross of $202 million, it has a pretty clear run at the box office in the weeks to come.
Disney v. Disney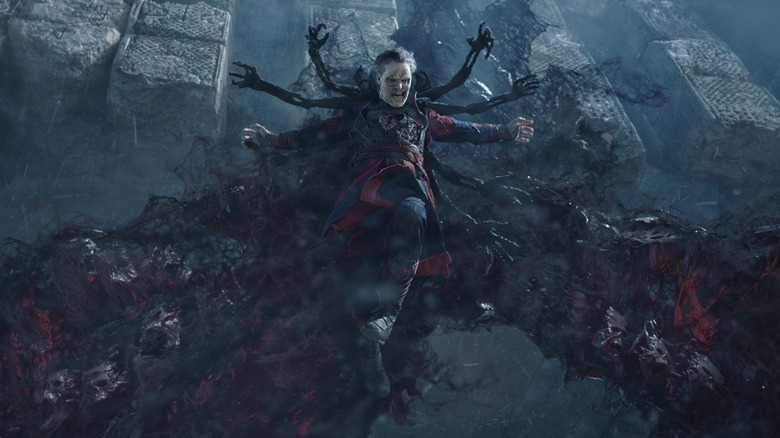 Marvel Studios
Here's the nature of the current box office landscape: "Wakanda Forever" and its greatest opponents are playing for the same team. The film's weekend gross is the second highest of 2022 so far. At the top of the rankings is another Marvel Studios film, "Doctor Strange in the Multiverse of Madness," which arrived in May 2022 to a $185 million domestic gross.
This victory isn't set in stone, though. People seem to be responding to "Wakanda Forever" more than the "Doctor Strange" sequel. "Multiverse" earned only a B+ CinemaScore and 74% positive reviews on Rotten Tomatoes, versus the 84% of "Wakanda Forever." It's also likely that fans who wanted to avoid spoilers by contributed to "Multiverse of Madness" having a front-loaded box office run. Can "Wakanda Forever" surpass $956 million? Only time will tell.
As for upcoming competition, all that stands in the way of "Wakanda Forever" is "Avatar: The Way of Water," arriving on December 16, 2022. This isn't a Marvel film, but it is a Disney one. Early projections from Variety point to a total domestic haul of $650 million for the "Avatar" sequel, about $100 million less than the first film. In any case, the lack of competition for November should give "Wakanda Forever" plenty of time to build legs. It may not dethrone the current $1.5 billion gross of "Top Gun: Maverick," 2022's big theatrical money-maker, but "Wakanda Forever" should wind up sitting comfortably among the year's highest box office hauls.
"Black Panther: Wakanda Forever" is currently playing in theaters.