Ryan Coogler Explains The Inside Joke Behind A Big Black Panther: Wakanda Forever Moment [Exclusive]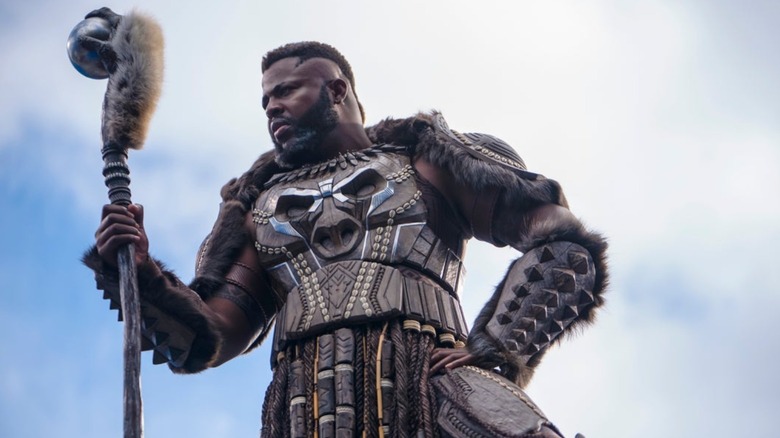 Eli Adé/Marvel Studios
There's a lot to like about "Black Panther: Wakanda Forever," from its moments of homage to the late star Chadwick Boseman to powerhouse performances from actors like Angela Bassett and Tenoch Huerta Mejía. One of the things I love most about the movie, though, is how it successfully recaptures the magic of discovering a fully formed new world within the Marvel Cinematic Universe. Just as "Black Panther" brought Wakanda to vibrant life, its sequel takes us to the underwater depths of Talokan, the Atlantis-like city that a group of sea-dwelling people including Namor (Huerta) call home.
Our introduction to Talokan and its people comes in pieces, beginning with a freaky and thrilling takeover of a mining vessel at sea and culminating with Shuri's (Letitia Wright) deep dive into the vibrant and near-utopic city itself. In the middle, though, we get a closer look at the Talokan forces when a group of Namor's supporters kidnap Shuri and Riri Williams (Dominique Thorne). And what did that closer look reveal? Whales. Big old whales acting as allies to the aquatic army.
Two cynical characters witness something great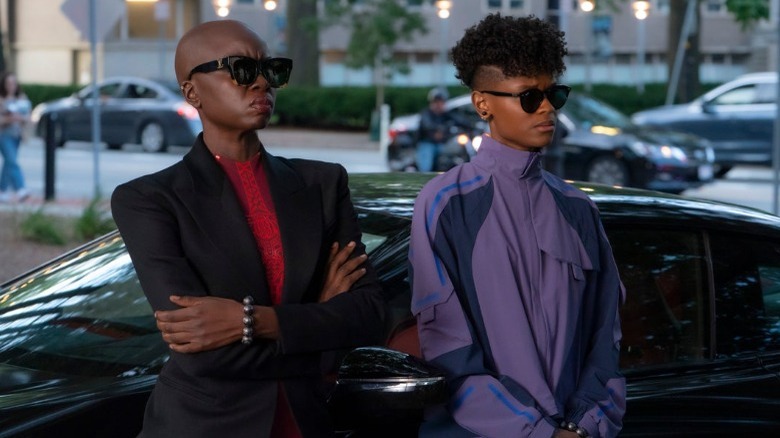 Eli Adé/Marvel Studios
In an interview with /Film's Vanessa Armstrong, director and co-writer Ryan Coogler spoke about the moment that Okoye (Danai Gurira) sees the massive creatures for the first time, reacting in shock and attempting to relay the experience to a skeptical group that includes cocky warrior M'Baku (Winston Duke). Later, M'Baku himself is stunned by the sight of the whales, too. 
"The whole movie, Okoye is very cynical — our most cynical characters are probably her and M'Baku," Coogler explained, "and it was always an inside joke for us to have those two be the ones that encounter the whales and just how crazy that is."
Coogler and co-writer Joe Robert Cole chose to have the two characters who seem most resistant to being awe-struck encounter the impressive animals, and it makes for some great moments of levity in the film. "There's something funny about it to me, personally," Coogler says. He also reveals that his own personal experience encountering some of the world's largest animals led to the way they're portrayed in the film. The filmmaker says that as a kid, he only knew about orcas from their role at the Bay Area theme park Marine World, where they were kept in captivity and presented as "this friendly animal that does tricks and everything." After he learned more about what whales are really like — Coogler cites the documentary "Blackfish," saying it "wrecked" him — he, too, was in awe of them.
'Awesome and awe-inspiring' but also WTF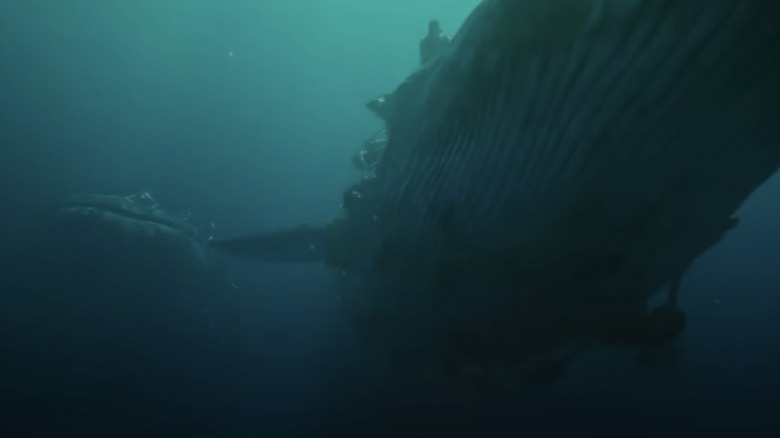 Marvel Studios
"I always thought it was a little bit comical, for this thing that's so dangerous to look like it looks, and to be so massive and kind of crazy," Coogler shared, adding:
"So it was something for us that should be awesome and awe-inspiring, but also a little bit like, 'What the F?' You know what I'm saying? Like, 'What's going on here?' And the fact that it was Okoye who sees it and then has to go report back was always a little inside joke between the creators."
The idea that whales are massive, awesome, and strange seems like a simple one, but the fact that I Googled whales while writing this article and ended up totally astonished and derailed by whale facts (can you believe blue whales weigh 300,000 pounds and are louder than a jet engine?!) is a testament to Coogler's point. It's also a credit to his vision as a filmmaker that we're able to see and feel the awe of the characters on screen when they encounter new wonders, whether they're Wakanda, Talokan — or simply a big old whale in the Charles River.
"Black Panther: Wakanda Forever" is now in theaters.