The Black Panther: Wakanda Forever Cameo You Never Saw, But Definitely Heard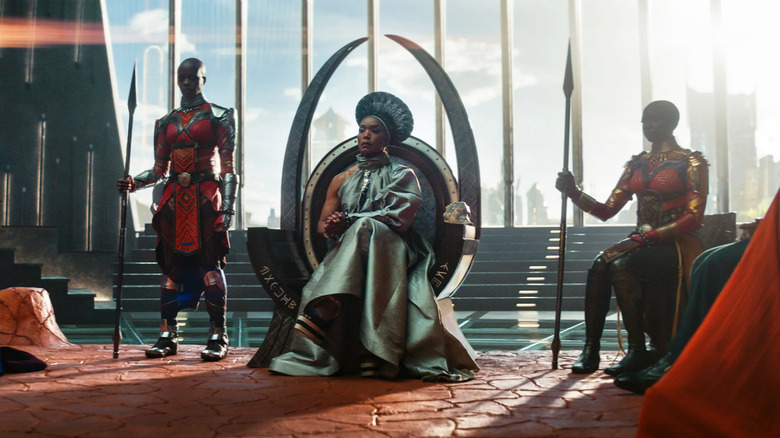 Marvel
Note: this article includes spoilers from "Black Panther: Wakanda Forever."
To my admittedly un-cameo-trained eye, "Black Panther: Wakanda Forever" seems pretty light on traditional Marvel guest appearances. Bruce Campbell doesn't show up and get squirted with mustard, Harry Styles doesn't saunter into the end credits, and Brett Goldstien doesn't appear as a demigod. The movie focuses first and foremost on the feelings it instills in viewers, leaving the perfunctory character intros and one-off cameos to other Marvel movies.
The film does, however, include one familiar name in the credits that you may have totally missed. That's because the movie's biggest cameo isn't a face, but a voice: that of Shuri's (Letitia Wright) robotic assistant, Griot. Her helper is able to calculate stats quickly and advise her about the best possible course of action, but he's also a bit sassy, and sounds so human that I kept expecting him to be revealed as a remote working assistant rather than an actual piece of artificial intelligence. That's probably because Griot sounded so familiar: he was played by none other than comedian and host of "The Daily Show" Trevor Noah, Collider confirms.
Noah actually voiced Griot in the first "Black Panther" film as well, but his role in that movie was much more brief. This time around, he plays a part in several of the movie's most pivotal scenes, as when Shuri tries desperately to save T'Challa (Chadwick Boseman) in the film's opening scene, or when Queen Ramonda (Angela Bassett) tries to find her daughter after she's captured by the sea god Namor (Tenoch Huerta Mejía). The robotic assistant played by the South African writer, comedian, and TV host is pretty much always around in a pinch, and he seems to make it out of the attack on Wakanda unscathed.
Trevor Noah returns as Griot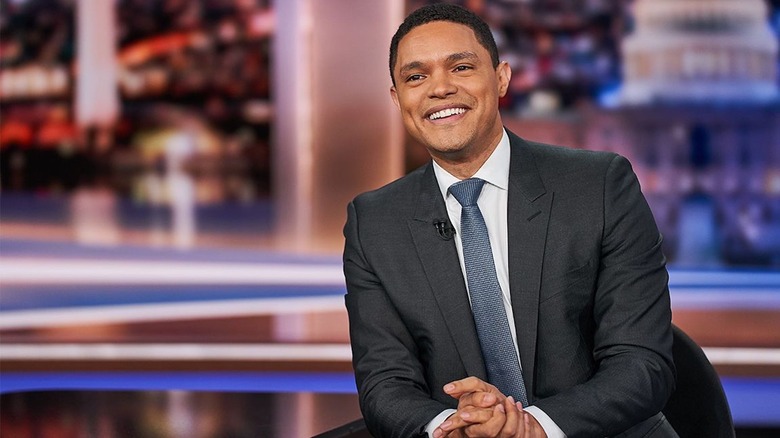 Comedy Central
While Noah's role in "Black Panther: Wakanda Forever" wasn't major, it's worth wondering if he has a future in the Marvel Cinematic Universe. After all, Paul Bettany's J.A.R.V.I.S. started off as a soothing offscreen voice way back in 2008's "Iron Man," and the actor is still playing Vision in some form or another all these years later. There's even reportedly a Vision series in the works at Disney+, despite the character having now been killed off more than once. Though Griot doesn't exist in Marvel comics as of yet, John Ridley and Juann Cabal are currently in the midst of a new, reimagined Black Panther comic run spotlighting Shuri, so anything's possible when it comes to the future of the characters.
Whether or not Noah's future involves more MCU appearances, it's set to include at least one major change. After seven years hosting the Comedy Central political series popularized by Jon Stewart, Noah announced in late September that he would be leaving as the show's host. Noah's last day on the show will be December 8, 2022. In the meantime, you can catch him giving Shuri advice she'll almost certainly ignore on the big screen in "Black Panther: Wakanda Forever."