Sadie Sink Brought A Lesson From Her Stage Acting Days To Her Stranger Things Audition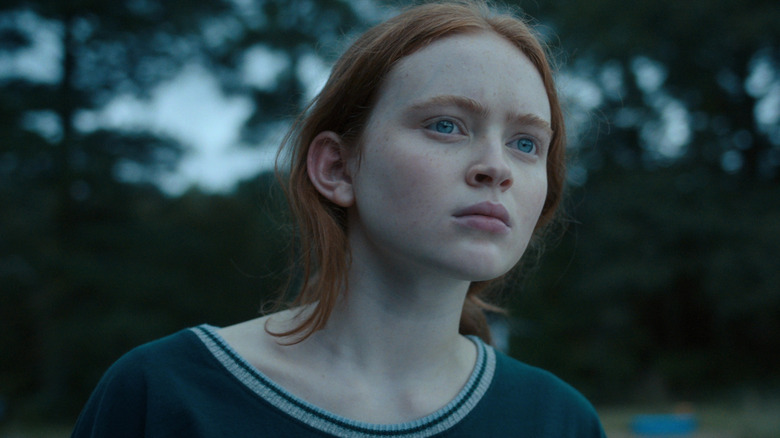 Netflix
Ever since actor Sadie Sink first appeared on the premiere episode of the second season of "Stranger Things" as Max Mayfield, her legion of fans have been steadily growing. Over the last five years, she has solidified herself as one of the most relatable characters in the Duffer Brothers' ongoing epic series that pits the townspeople of Hawkins, Indiana against the eternal horrors of the Upside Down. We last saw Max at the end of season 4 clinging to life in an induced coma, but Sink will next be seen in Darren Aronofsky's acclaimed new film "The Whale" (which Marshall Shaffer reviewed for /Film at the Venice Film Festival). Sink will play Brendan Fraser's estranged daughter Ellie who hasn't seen her father since he abandoned the family years prior. Mega-fans of "Stranger Things" (myself included) are about to see a deeper, more vulnerable side of Sink in "The Whale" that should surprise audiences that have previously only seen her walking the hallways blasting "Running Up That Hill (A Deal With God)" by Kate Bush. 
Earlier in her career, Sink appeared on Broadway in the 2012 revival of "Annie" and the period stage drama "The Audience," where the budding performer played a younger version of Helen Mirren's Queen Elizabeth II. Living the life of a child actor can be quite isolating, and it turned out to be no different for Sink, who received some life-changing advice during the original run of "The Audience" that would go on to help her when she auditioned for her defining role on "Stranger Things."
'Go and be a kid'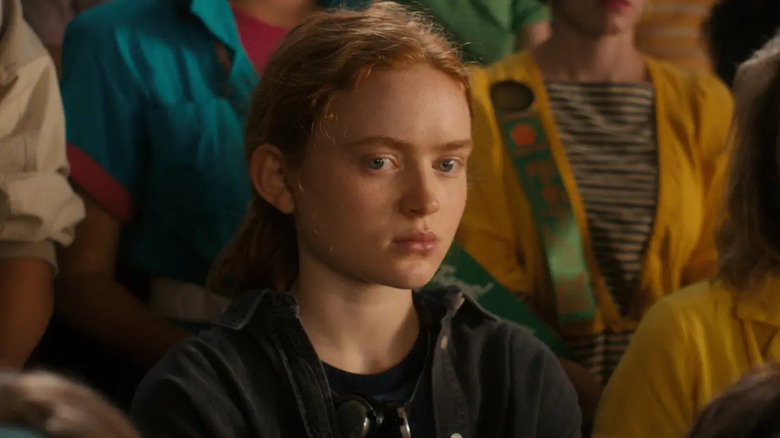 Netflix
The phrase "write what you know" has been used to death, but that doesn't mean it isn't true. The same can be said for actors that need to actually experience life in order to be able to recreate it. Sink was still a young teenager when she worked on the play "The Audience," and luckily, one of her counterparts shared some guidance that made her realize she had become quite sheltered. Telling Backstage in a revealing interview:
"I had been homeschooled for a really long time, and the show was closing when one of the associate directors told me, 'Go and be a kid.' He said, 'You have to have life experiences in order to really understand characters in the future. If you're not living, what experiences do you have to pull from?'"
That advice might seem like a given, but it sounds like it hit Sink at just the right moment, causing her to rethink being homeschooled in order to get out of her shell. She returned to school and then, remarkably, the audition for the Halloween episode of "Stranger Things," called "MADMAX," came her way at the perfect time. Sink recalled, "I remember leaving the screen test with Caleb McLaughlin and Gaten Matarazzo and thinking, I just had so much fun. I can leave this experience and be really happy about it, regardless of the outcome." McLaughlin and Matarazzo were already established regulars as Dustin and Lucas on the hit show, and their chemistry with Sink landed her the role of a newcomer who already feels like an essential part of the gang. 
Sink will be seen in some form in season 5 of "Stranger Things," but next up is "The Whale," premiering on December 9, 2022.