Emma D'Arcy Has Two Characters On Their Mind Going Into House Of The Dragon Season 2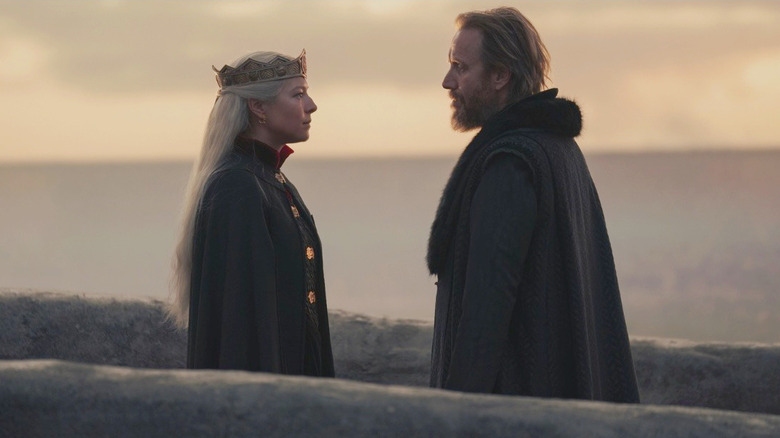 HBO
The "Game of Thrones" prequel "House of the Dragon" started off with the biggest premiere in HBO history, then continued to climb each week until the finale. The series is set almost 200 years before the birth of Daenerys Targaryen (Emilia Clarke) when dragons were still huge and powerful. Halfway through the season, we had a big time jump, and Milly Alcock, who played Rhaenyra Targaryen, was replaced by Emma D'Arcy, while Emily Carey, who played Alicent Hightower, was replaced by Olivia Cooke. These two characters were best friends as young girls, but the scheming of Alicent's father, Otto (Rhys Ifans), to get her to marry Rhaenyra's father, King Viserys (Paddy Considine), ripped them apart, and now they're on opposite sides.
Sadly, we didn't get many scenes between the older Rhaenyra and Alicent, and that is something Emma D'Arcy wants to remedy in season 2. In a recent interview with GQ after the finale of season 1, D'Arcy (who uses they/them pronouns) was asked who they wanted to have more scenes with when the show returns, and Cooke wasn't their only choice. 
'[We] were fighting for more screentime together'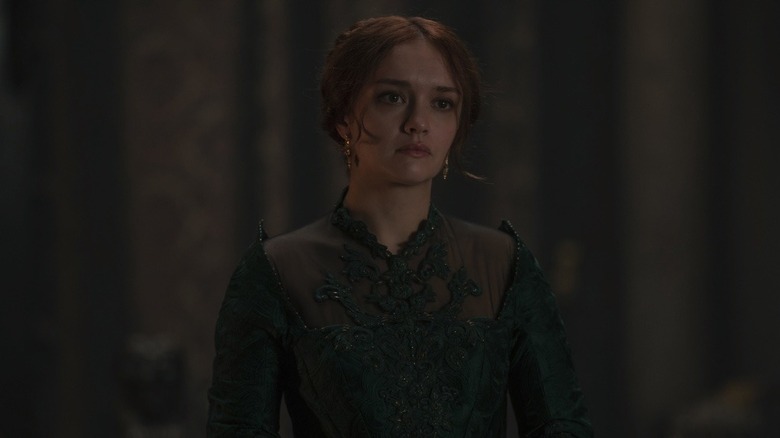 HBO
D'Arcy and Cooke were, according to D'Arcy, "fighting for more screen time together." Though they say they don't know what is coming up, it's a wish. As far as the other actors, D'Arcy said:
"The other one is Corlys Velaryon, (played by Steve Toussaint). I think Rhaenyra really seeks to claim surrogate fathers, and I think she is drawn to him somewhat. It even happens in this episode with Otto Hightower on the bridge.

That scene took me completely by surprise. As soon as Rhys and I rehearsed that scene, I wanted to do right by him, and we didn't plan it this way but that validation of a paternal figure factored into the scene. Rhaenyra has just lost her father, and I think she wants this male authority figure to validate her. If she gives in to him, she can go home, and maybe even be loved, and maybe Alicent would take her back. It caught me off guard, but the desire to do right by this other paternal figure after losing her father was so strong and it came in the moment. I'd love to do more scenes with Rhys, we have had very little together other than large group scenes."
'I think Rhaenyra really seeks to claim surrogate fathers'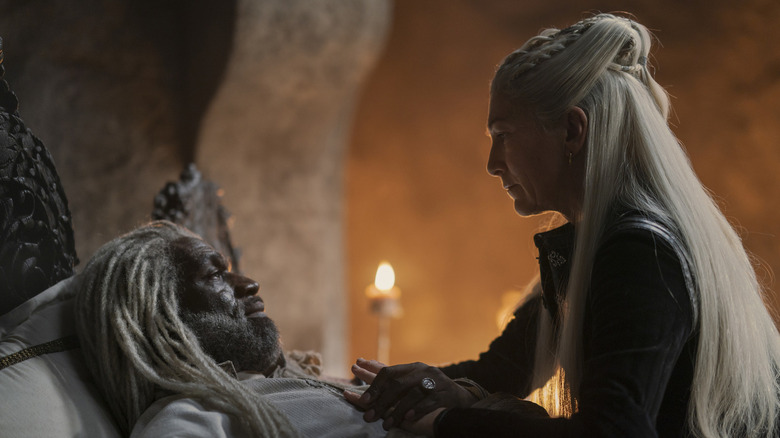 HBO
It makes sense that Rhaenyra would want a father figure. Her own father just died, and she wasn't there. However, King Viserys really did screw her over, despite the fact that he was trying to ensure the crown passed to her. He was a good father in the sense that he loved her and told her the secret prophecy. He believed in her as a future Queen, but he never truly did anything to ensure her rule. Plus, he put his sense of comfort over her feelings for her best friend, sired several children who he had to know would challenge her for the throne, and let his much younger wife Alicent, the mother of those children, take over in the council, giving her power to do whatever she wanted. These are not the actions of a strong father figure, which would only compound the need to find one in hard times. 
Otto would be a bad choice (though I would absolutely love to see these two actors together more in season 2) as a father figure, though what D'Arcy says makes sense, having the feelings come up for them in the scene. Corlys ... well, that would be so much fun to watch! An alliance between them (if he gets better) would put Rhaenyra in a powerful position. Plus, Steve Toussaint is incredible in the role. 
It's interesting that Rhaenyra isn't looking for a mother figure (which she could probably have in Rhaenys, played by Eve Best), though her own mother — in the brief time we got to see her in the first episode — seemed far stronger than her father. Whatever happens, season 2 can't come fast enough. 
"House of the Dragon" is airing on HBO and streaming on HBO Max.