The Score For Guillermo Del Toro's Pinocchio Was Performed With Only Wooden Instruments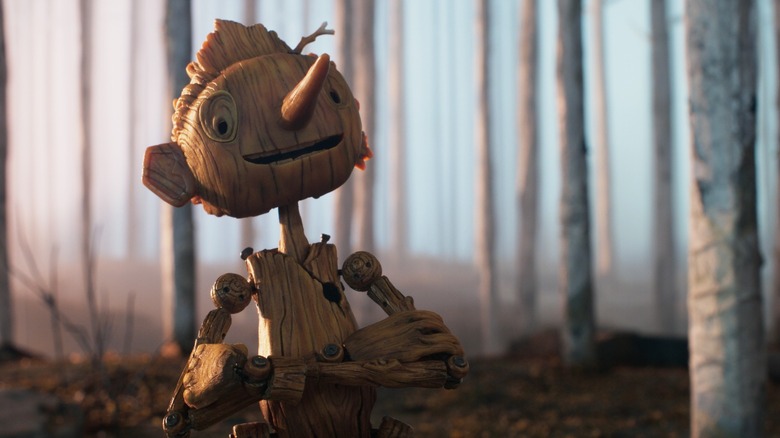 Netflix
The first tracks from Guillermo del Toro's "Pinocchio" dropped earlier today, and they're exactly as magical as we hoped they'd be. Del Toro's films always dazzle, and so do Alexandre Desplat's scores. So of course tracks like "Carlo's Theme" and "The Pine Cone," which you can listen to on the Still Watching Netflix YouTube account, are almost moving enough to make a person cry, even without the context of the movie itself.
The beauty and brilliance of the music may not come as a surprise, but the way it was crafted might. In an interview with Variety, the composer revealed that, in honor of the branch-made boy at the classic story's center, the soundtrack was made entirely on instruments made of wood. "There's no timpani. There are no cymbals. The accordion is also in wood," Desplat told the outlet. The full soundtrack apparently still includes a range of instruments, including a piano, mandolin, guitar, and other percussion and woodwind music-makers, but Desplat says he wanted to "do something different than just having a symphony orchestra."
The idea came out of a simple urge to capture the film's essence. "I always like to find an ensemble of instruments that reflect the film or soul of the film," Desplat shared, apparently while holding a Pinocchio figurine for reference during the interview. "Geppetto's a woodworker, and Pinocchio is made of wood." It's a clever conceit, and one that isn't immediately obvious when you listen to the first two tracks on the soundtrack. According to Desplat, it's totally okay if listeners don't pick up on the wood-based arrangement. "I'm sure nobody notices, which is fine," he told Variety. "We don't want anyone to say, 'Oh, it's in wood!' when they're listening to the music."
It's made with wood, but it still sounds soft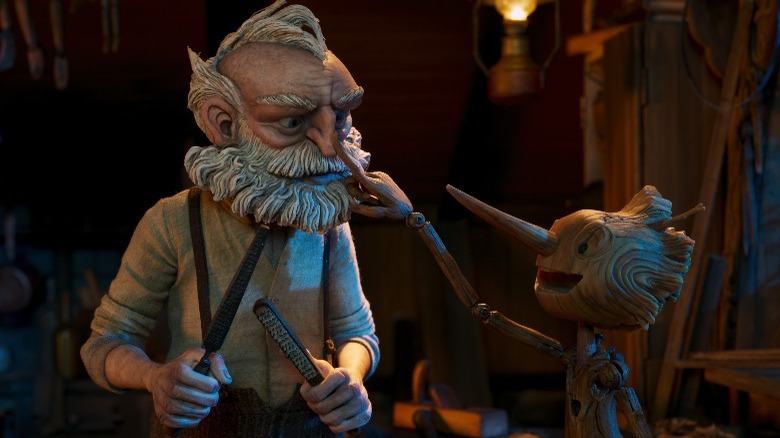 Netflix
The artist says the wood brings a "softness" to the arrangement, and one of the songs that's already available certainly captures that. "Carlo's Theme" is inquisitive and adventurous, fitting for a track that seems like it may have been named after "The Adventures of Pinocchio" author Carlo Collodi. "The Pine Cone," meanwhile, has a more epic sound, with wistful elements and ethereal vocals. In her review of the film, /Film's Hannah Shaw-Williams says that Del Toro's take on the story is refreshingly challenging, with knotty, complex questions and real peril." Brief moments of these soundtrack snippets evoke that sense of danger, too.
"Pinocchio" isn't the only 2022 release to get creative with its score: for "Black Panther: Wakanda Forever," composer Ludwig Göransson told /Film he took inspiration from the instruments that Mayan peoples used to make music, including seashells, turtle shells, and clay flutes that mimic birdsong. Meanwhile, "The Invitation" composer Dara Taylor told us she used distorted, backwards vocals and everyday sounds including a household sanding project to make the Gothic horror come to life.
While the full score to "Pinocchio" hasn't yet been released, the two tracks we have heard indicate it's a soundtrack that looks fit to match the highly-anticipated film itself — that is, gorgeous and heartfelt. "Pinocchio" is now in select cinemas, and will stream on Netflix beginning on December 9, 2022.