Andor Creator Tony Gilroy Didn't Even Know About The Show's Deepest Star Wars Easter Eggs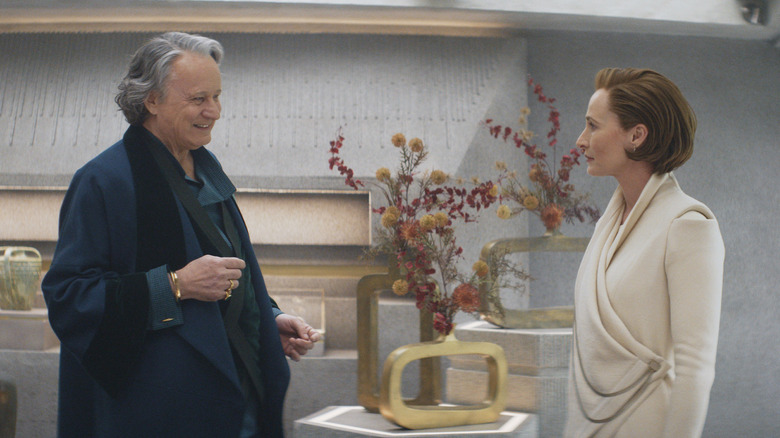 Lucasfilm
"Andor" episode 4 is littered with "Star Wars" Easter eggs in the form of the various trinkets on display at Luthen Rael's (Stellan Skarsgård) antiquities shop on Coruscant. Eagle-eyed viewers have spotted nods to all manner of other "Star Wars" projects in this location, from animated shows like "Star Wars Rebels" to the no-longer-canonical 2008 video game "The Force Unleashed." Even better, they represent a refreshingly subtle type of world-building. They're the kind of background details that enrich the sense of connectivity between the many different corners of the "Star Wars" universe without also distracting from the plot and themes of "Andor."
Indeed, if you've kept up with the wild world of "Star Wars" under Disney's watch since 2012, you've no doubt noticed the so-called "Marvelization" of a galaxy far, far away — that is, Easter eggs and other shared universe elements being given priority over basic storytelling. "Andor," on the other hand, offers a welcome reprieve from this approach. It's apparent that the main objective for the series creator, Tony Gilroy, and his fellow creatives is telling an impactful, topical, and exciting "Star Wars" story, not setting up future spinoffs or getting viewers to point excitedly at their screens every time something with nostalgic value pops into the frame.
Speaking to The Hollywood Reporter, Gilroy said he leaves those shared universe details on "Andor" to creative executive Pablo Hidalgo, playfully dubbing him "the curia of the Vatican" at Lucasfilm. As a result, Gilroy was just as surprised as anyone to find that Luthen's shop was overflowing with Easter eggs:
"Every now and then, they sneak s*** in there that even I didn't know. I was reading online about the antiquities in Luthen's gallery, and the provenance of some of those antiquities was news to me."
Gilroy leaves the finer details to the experts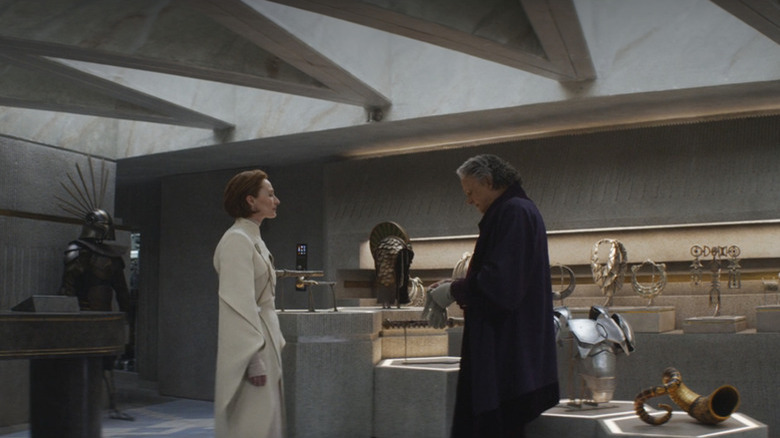 Lucasfilm
Tony Gilroy's lack of reverence for "Star Wars" and its traditions has freed him up to work wonders with "Andor," building on his experience as a co-writer who was heavily involved with the reshoots on the film that directly begat his show, "Rogue One: A Star Wars Story." It's not that he believes Easter Eggs or small technical details don't matter. But Gilroy clearly recognizes that's not his area of expertise and leaves it to others to fill in the series' world-building gaps. He told Variety:
"I have a bunch of resources. I have Pablo Hidalgo, who's the Curia in the Vatican at Lucasfilm. I know him from 'Rogue One.' [The website] Wookieepedia is a tool that one has to really learn how to use, because there are at least four different kinds of canon that I can describe: There's the movie canon, there's the movie canon plus the cartoon canon, then there's the novelized canon, and then there's fanfiction, which actually forms the largest group of the whole thing. So there's that."
Gilroy went on to emphasize that when it comes to the five-year period in the "Star Wars" timeline covered by "Andor," he considers that his "board." He went on to joke about the show's art department managing to "sneak in all that crap into Luthen's gallery" without him knowing, yet made it clear he respects his collaborators. "So many cool people work on the show. There's a deep geekdom in Pinewood, believe me." Perhaps it's that willingness to delegate that has served Gilroy best on "Andor." It's better that he focus on constructing a top-notch narrative. Let other people worry about, say, what the prisoners on Narkina 5 were even making.
New episodes of "Andor" drop Wednesdays on Disney+.