Winston Churchill Was A 'Useful' Tool While Steven Knight Was Writing Peaky Blinders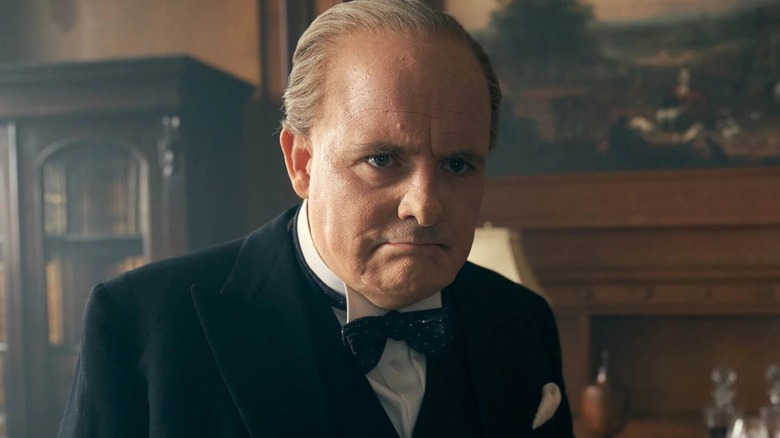 Netflix
Writers know better than most how taking historical figures and dropping them into a world of fictional characters can sometimes run the risk of overwhelming the story at hand. The plot at the center of "Peaky Blinders," for instance, shares several parallels and intersections with actual historical events  taking place during the time period that creator Steven Knight chose to cover — specifically set during the moment in time between both World Wars in early 1900s Birmingham, England. While audiences have gravitated towards the drama of Tommy Shelby leading the Peaky Blinders from the local horse-racing scene in Small Heath to the seat of power at the center of the entire British empire, Knight wrote his scripts in such a way that he could easily integrate several historical figures into the action as well.
From mere name-drops to brief appearances to major supporting roles, the six seasons of "Peaky Blinders" have featured famous faces (or voices, in some cases) such as Al Capone, Charlie Chaplin, the terrifying fascist Oswald Mosley (played by Sam Claflin), activist and union leader Jessie Eden (Charlie Murphy), and even the ever-prickly Alfie Solomons (Tom Hardy). But the most famous of them all would have to be Tommy Shelby's repeated run-ins with a certain Winston Churchill, the shadowy politician who casts an enormously long shadow, both in the history books and in the series, as well.
For Knight, judiciously weaving the future Prime Minister into the narrative required more tact than some might have expected. Most importantly, however, Churchill provided another way to reflect Tommy's own shortcomings and flaws right back at him.
'He was a character that had a lot of similarities to Thomas Shelby'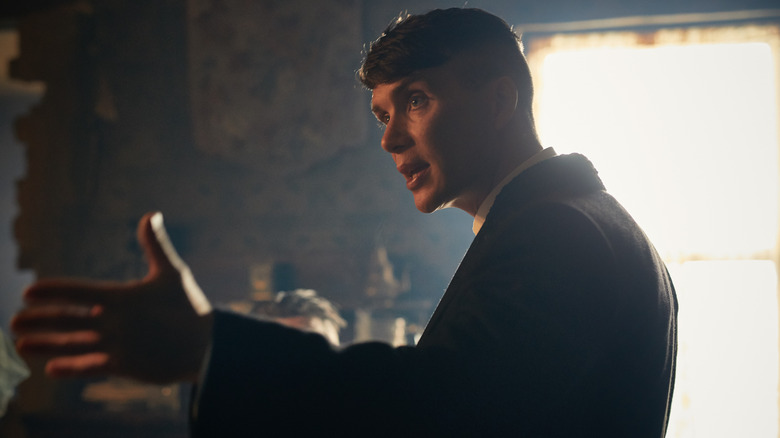 Netflix
Portrayed by a number of different actors at various points of Churchill's life throughout the series (Andy Nyman in season 1, Richard McCabe in season 2, and Neil Maskell in season 5), the famous historical figure plays a surprisingly hands-on role in the early seasons of "Peaky Blinders." The main force behind unleashing the loathsome Inspector Campbell (Sam Neill) upon the Peaky Blinders, yet also the one who saves Tommy at the last possible minute from a ruthless execution at the hands of Campbell's men, Churchill plays an even larger role once the villainous Mosley, a political rival to both Shelby and Churchill, is introduced in later seasons.
In a 2019 interview with Observer, Knight explained his reasoning for incorporating someone so larger-than-life into the otherwise grounded affairs of "Peaky Blinders."
"He's become useful to me as a writer because he was around a lot of the issues that 'Peaky' touches on, not the least of all is the rise of fascism. He was pretty much the lone warning about the dangers of fascism in Europe. But also, he was a character that had a lot of similarities to Thomas Shelby. He suffered greatly with depression and he famously drank a bottle of brandy a day and he smoked his cigars, and yet he always survived. I really liked that idea."
Though he would go on to play a pivotal role in defeating Adolf Hitler in World War II, Churchill obviously contains a checkered history of racism, genocide, and all sorts of unsavory details that makes him ripe for depiction in the moral shades of grey of "Peaky Blinders." Comparisons to the reckless and oftentimes ruthless Tommy Shelby feel apt.
"Peaky Blinders" is currently streaming on Netflix.