Saying Goodbye To Peaky Blinders Wasn't Easy For Sam Neill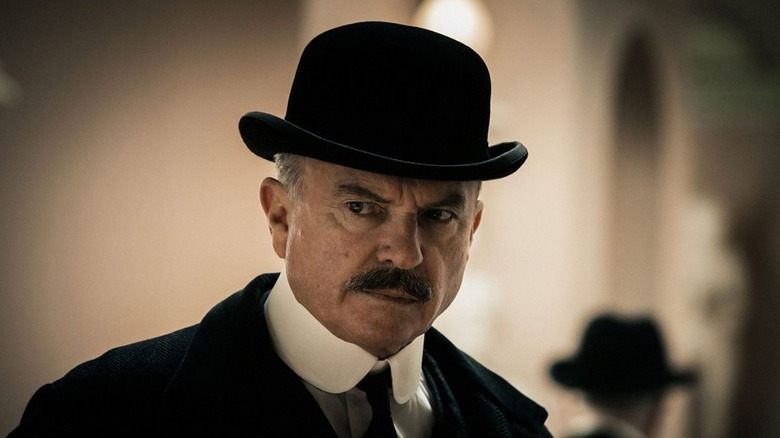 Netflix
Sam Neill is just so good at being bad that it's always a pleasure to see him on screen. From his role of Damien Thorn in "The Omen: III" to the oh-so-sneaky Dr. William Weir in "Event Horizon," we know the guy has a villainous itch to scratch. However, when the actor joined the cast of Netflix's "Peaky Blinders," a more complicated antagonist arose in his portrayal of Inspector Campbell.
As viewers learned while watching the first season, our protagonist, Thomas "Tommy" Shelby, isn't what we'd call a good guy. Then again, neither was his adversary, Inspector Campbell. A guy who believed himself to be superior, he created a necessary friction when going toe to toe with Tommy and his kin, especially when the guy deployed similar methods to Tommy, so really, he was just lying to himself about his own greatness.
Such a complicated character turned sour after his ward (and the lady he fancied) chose Tommy over him at the end of season 1. In a character arc we can only describe as the epitome of masculinity so fragile, Campbell's innate misogyny takes over in season 2 and, ultimately, seals his fate once he rapes the Shelby matriarch, Polly. At this point, it truly was the point of no return for Campbell, but it also spelled the end of where the character could go story-wise. So when the call came from "Peaky Blinders" writer and creator Steven Knight to Neill his time was up, the actor struggled to say goodbye.
Time to say goodbye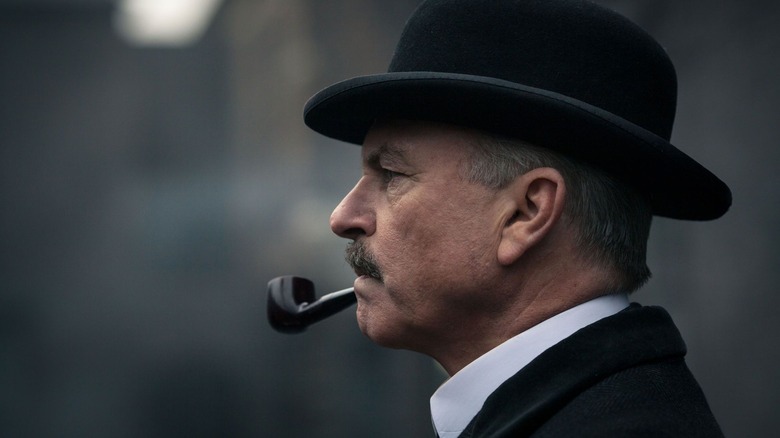 Getting the call is never fun when you're an actor, especially when you're so attached to the role. This was something Sam Neill struggled with after he got the axe from "Peaky Blinders." As Steven Knight explained to Express.co.uk, while Neill was a great guy to work with, he felt the character had run its course. During their phone call, as Knight further explained, Neill had told him, "I don't want to die," and so the creator tried to buy him some time by promising he'd think on it. Needless to say, Knight eventually called Neill back after some time verifying that the character would indeed have to go.
His absence from the show hasn't stopped fans from thinking he might return, but that ship has sailed. For Neill, he has had nothing but nice things to say about the cast and crew of "Peaky Blinders," as he shared previously with RadioTimes.com:
"I absolutely love 'Peaky Blinders.' I think Steve [Knight]'s writing is fantastic. I'm the biggest fan of Cillian [Murphy, who plays Tommy Shelby] and Helen [McCrory] and Paul [Anderson, Arthur Shelby] — I'm always happy to see them back and I kind of missed them."
His complicated Inspector Campbell may have had a short time on the show, but the impact of Neill's performance still lingers years later. So while it was hard for him to say goodbye, he hopefully knows he did a dang good job.